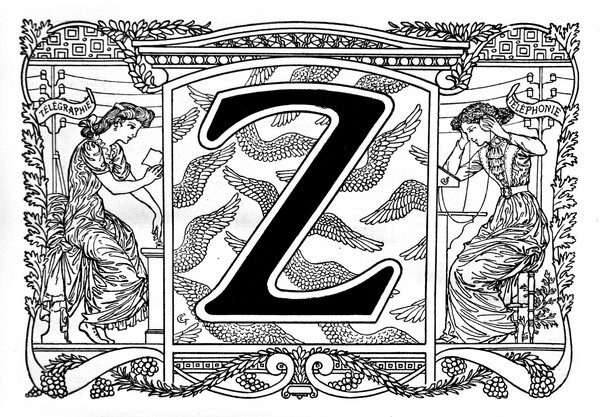 Senyores i senyors, això s'acaba! Hem arribat a l'última lletra de l'abecedari de Liederabend. Gairebé tres anys després d'aquell "A d'amor", hem arribat a la Z.
Com us deia quan vam arribar a la lletra X, la paraula de la Z va ser amb diferència la més difícil de trobar. Vaig recórrer al diccionari cercant inspiració i a la quarta i última pàgina, quan ja havia perdut l'esperança, hi vaig trobar una possibilitat:
zoològic
2 m. [LC] [ZOA] [JE] Recinte espaiós amb diversos vivaris on s'exposen espècies d'animals, especialment feréstecs o exòtics, a la vista del públic.
Podria servir? Hem tingut algunes bèsties per aquí. La majoria feréstegues; d'exòtiques, segons com ens ho mirem, també; si més no, bastant alienes a la música. Pels pèls, però podria servir. Així que: Z de zoològic.
En realitat, més que un zoològic, tenim un aviari. A qualsevol estrofa et pots trobar amb ocells. Refilant, com al Cant dels ocells, convertits en records com a Los pájaros perdidos o convertint el seu silenci part essencial del poema, com a Wanderers Nachtlied II. Si mirem espècie per espècie, els ocells més abundants són els rossinyols. En tenim un de Brahms, un de Schubert i un de Rimsky-Korsakov. De Mahler també, compartint protagonisme amb un cucut o amb un cucut i un ruc. Un altre ocell que apareix sovint aquí i allà és l'alosa, i Brahms dedica al seu cant un lied preciós. Brahms hi torna sovint, als ocells; els coloms fan plorar al poeta a Die Mainacht. No us penseu que tot són ocells petits: tenim la cornella del Winterreise, les cigonyes de Wolf i em permeto citar-ne dos d'implícits: les àligues i els nostres meravellosos pingüins.
Els peixos, qui ho havia de dir, també han tingut el seu moment de glòria; un dels meus lieder preferits de Mahler és el Sermó de Sant Antoni de Pàdua als peixos, i un de Schubert en què Goethe comença dient "Voldria ser un peix" no podem passar-lo per alt. En canvi, de mamífers no anem ben servits. Sí, hem sentit uns quants cavalls, però són mitjans de transport, com a Erlkönig; a banda del ruc que us deia abans, només tenim un boc i rates. Per reforçar el nostre despoblat zoològic i, sobretot, per posar a ratlla les rates, arriba un gat, del qual fins i tot coneixem el nom: Pangur.
Hermit Songs (Cançons de l'ermità) és un cicle de Samuel Barber compost a partir de les traduccions a l'anglès de poemes en irlandès escrits durant l'Edat Mitjana; els autors serien monjos que els haurien escrit en els màrgens dels llibres que estudiaven o il·luminaven. No vull ni pensar-hi, si ho arriba a saber l'abat. Barber va triar nou poemes de tres compilacions diferents. La majoria parlen de religió, com ara The Crucifixion, que vam escoltar fa un temps, però n'hi ha que parlen de la vida quotidiana, com The monk and his cat. El monjo reflexiona sobre com ell i el gat fan cadascú la seva vida sense fer-se nosa l'un a l'altre i tot i així estan junts en bona companyonia.
El compositor va triar aquest poema a l'antologia The Silver Branch, a cura de l'escriptor Seán Ó Faoláin, publicada el 1938. Per algun motiu, la traducció que hi va trobar no li va fer el pes i li va demanar a W. H. Auden que en fes una altra. Remenant una mica he trobat que Pangur Bán (el seu nom en gaèlic, que podríem traduir per "Batà blanc") és un gat molt famós, que va néixer el segle IX a l'abadia de Reichenau, al llac Constança. No us sabria dir què hi feia tan lluny de casa el monjo, però si més no és allà on es va trobar el quadern que contenia el poema original. De traduccions, n'hi ha unes quantes, i, pel que he pogut veure, la d'Auden és més curta que la resta, que tenen vuit estrofes de quatre versos. Tampoc us en sabria dir per què, però en qualsevol cas, és la que va musicar Barber.
Les Hermit Songs es van estrenar el 30 d'octubre de 1953 interpretades per Leontyne Price i Samuel Barber, en un concert que es va retransmetre en directe per la ràdio. No només això, també es va enregistrar, i gràcies a això avui podem escoltar The monk and his cat tal i com ho van fer els primers oients, Espero que us agradi la cançó; no sóc gaire de gats, però m'agrada la relació (o la no-relació) que explica el monjo; és com si només de veure el gat de tant en tant fent la seva tingués prou per a no sentir-se sol.
I fins aquí l'abecedari de Liederabend. Ara ja ho puc dir, em feia una mica de vertigen aquesta sèrie plantejada a llarg termini; tres anys en un blog són una eternitat! Quan vaig acabar la primera sèrie, les deu cançons més tristes, vaig prendre nota mental per fer les següents més curtes perquè havia durat massa i, mireu-me, una sèrie de vint-i-cinc entrades i una de dinou. La propera, que començarà segurament el mes vinent, tornarà a tenir-ne deu i se'ns passara en un no res.
The monk and his cat

Pangur, white Pangur,
How happy we are
Alone together, Scholar and cat.
Each has his own work to do daily;
For you it is hunting, for me, study.
Your shining eye watches the wall;
My feeble eye is fixed on a book.
You rejoice when your claws entrap a mouse;
I rejoice when my mind fathoms a problem.
Pleased with his own art
Neither hinders the other;
Thus we live ever
Without tedium and envy.
Pangur, white Pangur,
How happy we are,
Alone together, Scholar and cat.
Pangur, pangur blanc,
que feliços que som
junts però sols, erudit i gat.
Cadascú té la seva feina diària;
la teva, caçar; la meva, estudiar.
Els teus ulls lluents vigilan el mur;
la meva vista feble està fixada en el llibre.
Tu t'alegres quan les teves urpes cacen un ratolí,
jo m'alegro quan el meu cap desxifra un problema.
Complaguts amb el nostre propi art,
cap dels dos no destorba l'altre.
Així vivim sempre
sense avorriment ni enveges.
Pangur, pangur blanc,
que feliços que som
junts però sols, erudit i gat.