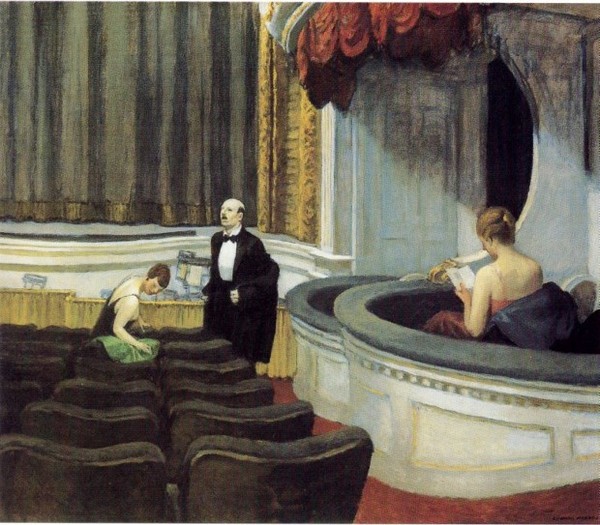 Dos al passadís - E. Hopper
For the past few weeks, many discussions have been held on social media about the cultural sector, so severely affected by lockdown measures for protecting us against the Covid-19 infection. I would say that the scope of the problem is better understood when talking of the book sector, maybe because it's "easier" (don't miss the inverted commas) to focus on the four agents concerned: authors, publishers, distributors and bookshops. However, it looks as if many users involved in those discussions are not able to see the scope of the problem when talking about music or theatre, for instance. I'm not referring to those using the word jester (usually in Spanish, titiritero, it's a long story that has to do with far-right politics); their scorn makes me stop reading; I'm thinking of people genuinely worried about the current circumstances.
That's why I thought of illustrating the situation with a specific example, just as a brief reflection; those of you who attend song recitals know their format is simple enough that everybody who make them possible could be mentioned in a couple of paragraphs.
All starts when an intendant invites a duo to give a song recital. Details are agreed and contracts prepared, often with the singer and pianist's agents. Once everything is ready, the concert dissemination begins: on a printed brochure, on the corporate website, on social networks or in the media, according to the content and graphic materials that also have to be prepared. Once the recital has been presented, tickets start to be sold, at the concert hall or online; someone will take over the box office until the very few minutes before the concert starts.
When the artists live in a different place, someone will deal with their accommodation and transportation. Once they arrive, someone will assist them during the rehearsals, and will assure their dressing rooms are homey. And if the artists arrive but their luggage doesn't (those things do happen), their assistant will turn into a personal shopper. Needless to say that on stage, before the rehearsals or the concert, the artists will find the piano perfectly tuned. A while before the recital begins the doors of the auditorium will open; this implies quite a lot of workers, some visible to the audience, such as ticket control or room staff, others invisible, such as the floor manager and the sound and lighting technicians. Of course, there's a program, where we find the essential information about the pieces to be performed, the biographies of the musicians, a short essay signed by the author and poems and translations also signed; someone has put it all together and has supervised the layout and printing. Also, a talk might be given about the program before the recital, and highly likely, the pianist will need a page-turner.
The concert begins, and, for a couple of hours, we only have eyes and ears for the artists. We won't notice if there is a photographer or if the concert is being broadcast or recorded. When it finishes, we'll go back home really happy and... is that all? Not really. Some critics might have been among the audience, and their work starts right then; we will be able to read their review within hours or a couple of days, often in a specialized medium.
And everybody, absolutely everybody I've mentioned, is direct part of the cultural sector. And absolutely everybody is affected by the present shutdown. Now, let's imagine some more complex events: opera, theatre, circus, a film shooting, an exhibition at a museum. Lots of different people involved, right?
I asked M, who read this article just in case I forgot any of the recital ingredients, to choose a song to musically illustrate it and she chose Die Kartenlegerin [The fortune-teller]. Schumann wrote it in July 1840, just after the cycle Frauenliebe und -leben, and the poem is also by Adalbert von Chamisso, a version of Pierre Béranger's French poem. The character doesn't fit at all the romantic ideal of a young woman, rather it reminds us of a character from a Mozart's opera, the Philine from Wilhelm Meister's Apprenticeship or the female characters in Wolf's Italienisches Liederbuch. As soon as her mother falls asleep over her prayer book, a young woman stops sewing and rushes to a tarot card reading in order to find out which love stories are waiting for her. At each throw a new expectation arrives (Schumann didn't put into music the penultimate stanza, in which the young woman sees an old man who will take her to Paris, turning her into a kind of Manon Lescaut), until the last one shows an old nasty woman that will spoil the fun, and at that moment the mom wakes up. Cards do not deceive!
We're listening to Die Kartenlegerin performed by Juliane Banse and Graham Johnson. I hope we will be able to go to a song recital soon, a song recital with all its ingredients, of course!
Die Kartenlegerin
Schlief die Mutter endlich ein
Über ihrer Hauspostille?
Nadel, liege du nun stille,
Nähen, immer nähen, nein!
Legen will ich mir die Karten.
Ei, was hab ich zu erwarten,
Ei, was wird das Ende sein?
Trüget mich die Ahnung nicht,
Zeigt sich einer, den ich meine,
Schön, da kommt er ja, der eine,
Coeur-Bub kannte seine Pflicht.
Eine reiche Witwe? Wehe.
Ja, er freit sie, ich vergehe,
O verruchter Bösewicht.
Herzeleid und viel Verdruss,
Eine Schul' und enge Mauern,
Karo-König, der bedauern
Und zuletzt mich trösten muss.
Ein Geschenk auf artge Weise,
Er entführt mich, eine Reise,
Geld und Lust im Überfluss.
Dieser Karo-König da
Muss ein Fürst sein oder König
Und es fehlt daran nur wenig,
Bin ich selber Fürstin ja.
Hier ein Feind, der mir zu schaden
Sich bemüht bei seiner Gnaden,
Und ein Blonder steht mir nah.
Ein Geheimnis kommt zu Tage,
Und ich flüchte noch bei Zeiten,
Fahret wohl, ihr Herrlichkeiten,
O, das war ein harter Schlag.
Hin ist einer, eine Menge
Bilden um mich ein Gedränge,
Dass ich sie kaum zählen mag.
Kommt das dumme Fraungesicht,
Kommt die Alte da mit Keuchen,
Lieb und Lust mir zu verscheuchen,
Eh' die Jugend mir gebricht?
Ach, die Mutter ist's, die aufwacht,
Und den Mund zu schelten aufmacht.
Nein, die Karten lügen nicht.
Has my mother finally fallen asleep
Over her book of sermons?
Needle, you now must lie still:
Sewing, ever sewing, -- no! --
I shall read the cards to ascertain my fortune.
Ah, what can I expect?
Ah, how shall it all turn out?

If I am not deceived,
Someone shows himself, the one I have in mind, --
Good! there he comes then, the One,
The Jack of Hearts knew his duty. --
A rich widow? -- oh woe!
Yes, he marries her, I perish!
Oh you dreadful scoundrel!

Heartache and much vexation, --
A school and closely confining walls, --
The King of Diamonds, who must pity
And must finally comfort me. --
A gift [presented] in a courteous manner --
He carries me off -- A journey --
Money and pleasure in abundance!

This King of Diamonds there
Must be a prince or a king
And it would not take much
For me to become a princess myself. --
Here is an enemy who, trying to do me a mischief,
Fawns about his Highness,
And a blonde man is near me.

A secret is revealed,
And I manage to flee in time, --
Farewell all you glories!
Oh that was a cruel blow!
One is lost, a crowd
Throngs about me,
So many people that I can hardly count them.

Does the morose visage appear,
Is the wheezing old woman coming
To chase away my love and enjoyment,
Before my youth has flown? --
Ah! it is my mother, who awakens,
And opens her mouth to scold me. --
No, the cards do not lie!
(translation by Sharon Krebs))
Related articles