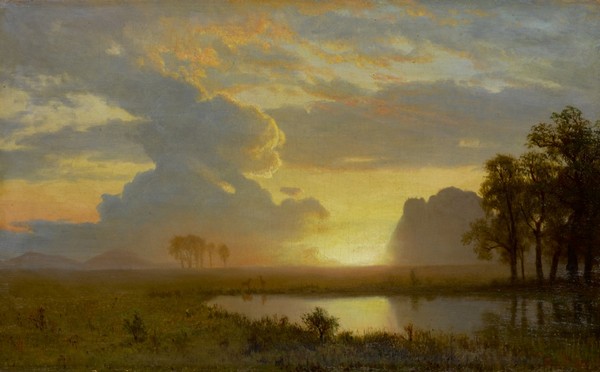 Estes Park - A. Bierstadt
Antonín Dvořák started as a director at the National Conservatory of Music in New York in September 1892. He was reluctant to leave Europe, but when his wife found out about the salary he has been offered, all his excuses became useless, and they packed up and moved. Jeannette Meyer Thurber, a wealthy lady born in New York, a Danish violinist's daughter, was behind that generous offer. After engaging other wealthy music lovers, in 1885, she founded the Conservatory which, according to her desires, would grant scholarships to students who could not afford their fees and would admit women and black people (nowadays, 40% of American orchestras members are women, close to parity, whereas 92% are white). Mrs Thurber had a keen eye for marketing, and she thought that having a famous director to show off, especially on the concerts they had agreed, would help to raise funds for her institution, and that's how Dvořák arrived at New York. Shortly after his settling into the Conservatory, a young black man who was singing while cleaning the halls caught his attention. He was Harry Thacker Burleigh.
Harry was born in Erie (Pennsylvannia) in 1866, the year after the Civil War ended and slavery was officially abolished in the United States. His first contact with music was through his maternal grandfather, who had arrived at Erie after purchasing his freedom and his wife's. His grandfather taught Harry those songs that plantation slaves used to sing, and apparently, he also had his good singing voice, so the boy helped to support his family by singing in churches and sinagogues.
Her mother served at Elisabeth Russell's home, an amateur singer who used to organize musical evenings and didn't miss the opportunity of inviting any prestigious artist who was in the area. Harry was passionate about that new music, and one day his mother found out that he had attended one of the concerts from outside the house, eavesdropping from the window while it was heavily snowing. Before the boy caught a pneumonia, his mother and Mrs. Russell agreed that Harry would serve as doorman at concert days; this way he could listen to the music in a much safer way.
Years went on, the boy's interest in music grew stronger and, convinced of his talent, Mrs. Burleigh and Mrs. Russell sent him to New York, in 1892, to take the Conservatory entrance exam. After four days auditions, the panel decided to reject him, but Frances McDowell (the mother of another important composer-to-be, Edward McDowell), a staff member who was friends with Mrs. Russell, insisted on him taking some additional tests, and finally, the boy was admitted. When Dvořák found him, they were two newcomers to the city. The composer was enthusiastic for traditional music, both for its intrinsic value and for its key role in developing a nation's own music, and made Harry (who, by the way, was a baritone) sing all those songs that were absolutely unknown to him. He took him as an assistant and encouraged him to compose; above all, to harmonize and preserve as a treasure the plantations songs.
Harry Thacker Burleigh built an important career. He harmonized many songs, as Dvořák had suggested, but he also composed chamber works and original songs, he was one of the pioneers of American Art Song. He didn't stop singing; he was hired as a soloist in two affluent temples in Manhattan, the Episcopal Church of Saint George (where he sang nothing less than fifty-two years) and the Sinagogue Emanu-El, and, of course, he embarked on some European tours. He also worked for the recognition of black music and performers, among them, contralto Marian Anderson. He first arranged many of the spirituals we hear in recitals, some of them so well known as Nobody knows the trouble, Sometimes I feel like a motherless child or the one I'm suggesting here, Deep River.
Spirituals are songs created by slaves in American plantations and go far beyond their religious nature; they are also songs of hope, longing, peace, and freedom. Often, like Deep River, they use images from the Old Testament that draws a parallel with slavery. The Jordan river separates the Israelites from the Promised Land, and it's a symbol of eternal life, but, for the slaves, it can also represent the Ohio River: free states were on the other side. The campground the song mentions might be a place of celebration, or the place where souls who have crossed the Jordan gather together, but it might also refer to clandestine encounters between slaves from different plantations.
In addition to a beautiful song, Deep River is a symbol. In 1905, the English composer Samuel Coleridge-Taylor (the son of a physician from Sierra Leone, a descendant of freed slaves), transcribed the spiritual for piano. Maud Powell, who had premiered in the United States the concerts of Tchaikovsky, Sibelius and Dvořák, made a transcription for violin in 1911 and played it in a concert; it was the first time that black music was played in a classical music venue. Burleigh made a first arrangement of Deep River in 1913, for mixed choir, and later, in 1916, he harmonized it for voice and piano. This version is the one sung by Marian Anderson in her massively attended concert at the Lincoln Memorial in 1939, that was radiobroadcast nationwide. The event was organized by the First Lady Eleanor Roosevelt in order to support the singer, once the Daughters of the American Revolution prevented her from singing in her auditorium under the law in force on racial segregation.
This 1916 version is also the one we're listening this week, performed by Lorraine Hunt Lieberson and Peter Serkin, on a live recording in 2004.
Deep River
Deep river,
My home is over Jordan.
Deep river, Lord,
I want to cross over into campground.
Oh, don't you want to go,
To the Gospel feast;
That Promised Land,
Where all is peace?
Oh, deep river, Lord,
I want to cross over into campground.
BONUS TRACK. I saw on Monday a tweet from baritone Roderick Williams presenting a piece he had recorded with pianist Roger Vignoles; the piece in question was Deep River, and I wanted to share it here as well. In this case, the arrangement is by Williams himself. Below the video you will find two links just in case, as the artists suggest, you consider it appropriate to follow them.
Related articles