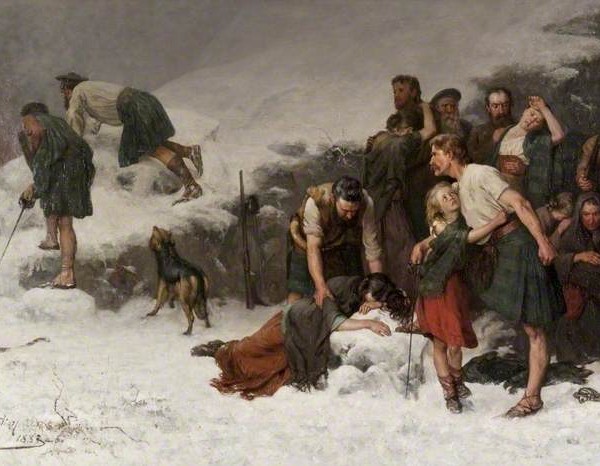 The massacre of Glencoe - J. Hamilton
We can't help believing on the pseudo-romantic idea that true works of art are those made under dictation from a muse: those images of the writer writing a whole novel without rising from his chair or the painter that leaves his studio with tangled hair and a masterpiece on the easel. I'm not saying that there are no works created like that, but let's face it... cinema has done a lot of damage. This pseudo-romantic idea has a corollary: the underrating of commissioned works. How could be art something brought about by a contract? And we forget that artists also enjoy eating regularly and to warm up in winter. And we also forget that Le nozze di Figaro and Michelangelo's Pietà are commissioned works.
The song we're listening today was also commissioned; in fact, they totalled more than 150 songs that, all in all, provided Beethoven with significant incomes and us with many pleasant surprises, because they are little-known works. The commission arrived from George Thomson, a Scottish scholar in traditional music whose aim was collecting and preserving traditional songs as well as spreading and giving them a new life. That's why he edited plenty of them once harmonized by renowned composers. He thought about his potential clients, amateur musicians who used to play domestic music; they and their audience would be familiar with the tunes and the songs would become attractive to everyone.
Thomson was a well-informed man; He commisioned Haydn to arrange some songs while he was staying in England and wrote to Beethoven in 1803. On that occasion, they didn't agree on the fees, but Thomson insisted and in 1809, the composer accepted his first commission, harmonizing about fifty songs. The arrangements would be for a trio of piano, violin and cello, a usual ensemble in British homes, and it was agreed that every part would be attainable for amateur musicians. The problem was that Beethoven and Thomson had different criteria on what "attainable" meant, and the publisher was exasperated with the difficult scores that the composer used to send him. When he would ask him to simplify them, Beethoven refused because he was "certain that the slightest change would change the entire character of the composition". The publisher even said a few years later that he wasted his money, but still, the business relationship lasted ten years, in which three collections of Irish songs, two Scottish, one Welsh, seven British (in general) and a couple of different origins throughout Europe were published.
Someone able to commission music arrangements to Haydn and Beethoven was equally demanding when commissioning new verses for the melodies, and he addressed to great contemporary writers such as Robert Burns or Walter Scott. Scott is author of the song's poem we're hearing today, that tells about the massacre that took place on February 13, 1692 in the Glencoe Valley, when thirty-eight men from the Clan MacDonald were killed by king's soldiers. The murder was done with treason; The MacDonalds had welcomed the soldiers in their home and were attacked at night, while they slept. Among the women and children who fled, about forty still perished during the following weeks, the winter in the Highlands is really harsh.
On the massacre of Glencoe is the number 5 of the collection of Twenty five Irish songs, WoO 152. Two things drew my attention: such elaborate melody, not very usual in a traditional song, and such modern prelude composed by Beethoven. Thomson didn't like this prelude, or maybe he thought it was too sophisticated for the conventional taste of his clients, and he asked the composer to write a new one. Beethoven shouldn't have bothered in the least to go over the song and in those times, posts were often lost and the scores should be copied and sent again so the second version arrived at England only when the first one had already been published. Their contemporaries missed it, but we can enjoy the recordings of both songs. So, Beethoven didn't agree to simplify his arrangements, but at least, for once he made two versions of the same song.
Scott's poem has six stanzas, although it's rarely sung complete. The performance of On the massacre of Glencoe that we're listening (from the first version), with Lorna Anderson and the TrioVanBeethoven, has three stanzas: the first one, in which the poetic voice asks the harpist why he is addressing his song to Glencoe, where nobody can listen; the fourth one, that tells about the treason, and the sixth one, in which the harpist regrets his weakness. I hope you enjoy this unusual work by Beethoven as much as I did the first time I heard it.
On the massacre of Glencoe

Oh! Tell me, Harper, wherefore flow
Thy wayward notes of wail and woe
Far down the desert of Glencoe,
Where non may list their melody?
Say, harp'st thou to the mist that fly,
Or to the dun deer glancing by,
Or to the eagle, that from high
Screams chorus to thy minstrelsy?
The hand that mingled in the meal,
At midnight drew the felon steel,
And gave the host's kind breast to feel,
Meed for his hospitality.
The friendly heart which warm'd that hand,
At midnight arm'd it with a brand
That bade destruction's flames expand
Their red and fearful blazonry.
Long have my harp's best notes been gone,
Few are its strings, and faint their tone,
They can but sound in desert lone
Their grey-hair'd master's misery.
Were each grey hair a minstrel string,
Each chord should imprecations fling,
'Till startled Scotland loud should ring,
"Revenge for blood and treachery!"