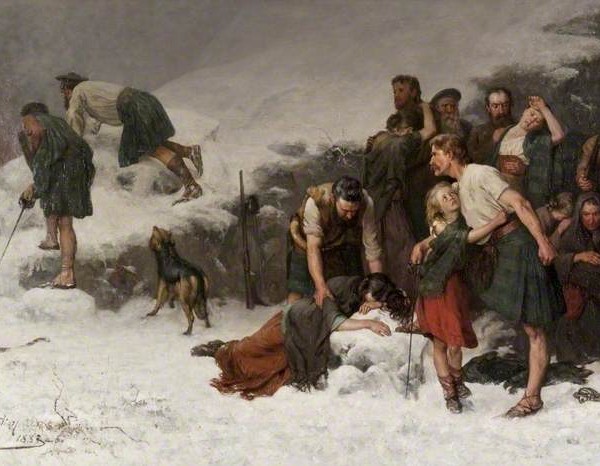 La massacre de Glencoe - J. Hamilton
Ens han ficat al cap la idea pseudo-romàntica que les autèntiques obres d'art són les que es fan al dictat d'una musa: tenim al cap les imatges de l'escriptor que escriu una novel·la sense aixecar-se de la cadira o el pintor que surt de l'estudi amb els cabells esbullats i una obra mestra al cavallet. No dic que no hi hagi obres que no s'hagin creat així, però vaja... el cinema ha fet molt de mal. Aquesta idea pseudo-romàntica té un corol·lari: el menyspreu per les obres d'encàrrec. Com pot ser art una obra suggerida per un contracte? I ens oblidem que als artistes també els agrada fer àpats regularment i escalfar-se a l'hivern. I ens oblidem també que Les noces de Figaro i la Pietà de Miquel Àngel són obres d'encàrrec.
També ho és la cançó que escoltarem avui, que juntament amb les més de cent-cinquanta que l'acompanyen van proporcionar a Beethoven uns bons doblers i a nosaltres un munt de sorpreses agradables, perquè són obres molt poc conegudes. L'encàrrec li va arribar de George Thomson, un escocès estudiós de la música popular que es va preocupar tant de recollir i conservar cançons tradicionals com de difondre-les i donar-hi una nova vida. Per això les editava harmonitzades per compositors de renom pensant en els potencials compradors, músics aficionats que feien música a casa; tan ells com les audiències estarien familiaritzats amb les tonades i això les faria atractives per a tots ells.
Thomson era un home ben informat; va encarregar arranjaments a Haydn durant les seves estades a Anglaterra i va escriure a Beethoven el 1803. En aquella ocasió no es van posar d'acord sobre els honoraris, però Thomson va continuar insistint i el 1809 va aconseguir que el compositor acceptés un primer encàrrec, harmonitzar unes cinquanta cançons. Els arranjaments no serien per a piano sol sinó per a un trio de piano, violí i violoncel, una formació habitual a les llars angleses, i va quedar clar que totes les parts havien de ser asequibles per a músics aficionats. El problema va ser que Beethoven i Thomson tenien criteris diferents sobre el que era "asequible" i l'editor es desesperava amb aquelles partitures tan difícils que li enviava el compositor. Quan li demanava que les simplifiqués, Beethoven s'hi negava, perquè "estava segur que el més petit canvi afectaria per complet el caràcter de la composició.". Tot i les seves diferències i que l'editor va arribar a dir uns anys després que havia malbaratat els diners, la relació comercial va durar deu anys, en els quals es van publicar tres col·leccions de cançons irlandeses, dues d'escoceses, una de gal·leses, set de britàniques, en general, i un parell més de diferents orígens repartits per tot Europa.
Algú que encarregava arranjaments de música tradicional a Haydn i Beethoven picava igualment alt quan encarregava nous textos per a les melodies, i s'adreçava a grans escriptors contemporanis com Robert Burns i Walter Scott. Scott és l'autor del poema de la cançó que sentirem avui, que recorda la matança que va haver el 13 de febrer de 1692 a la vall de Glencoe, quan trenta-vuit homes del clan dels MacDonald van ser morts per soldats del rei. L'assassinat es va fer amb traïdoria; els MacDonald havien acollit els soldats a casa seva i van ser atacats de nit, mentre dormien. De les dones i nens que van fugir encara en van morir una quarantena durant les setmanes següents, l'hivern als Highlands és molt cru.
On the massacre of Glencoe és el número 5 de la col·lecció de vint-i-cinc cançons irlandeses, WoO. 152. Me'n van cridar l'atenció dues coses: la melodia tan elaborada, no gaire habitual en una cançó tradicional, i el preludi tan modern que hi va compondre Beethoven. A Thomson no li va agradar aquest preludi, o va pensar que no seria del gust més convencional dels seus clients, i li va demanar que en fes un altre. Entre que a Beethoven devia fer-li molta mandra tornar-s'hi a posar i que el correu sovint es perdia i calia tornar a fer còpies de les partitures, per quan va arribar la segona versió ja s'havia editat el recull amb la primera i els seus contemporanis se la van perdre, però nosaltres podem escoltar enregistraments de totes dues. Ja ho veieu: Beethoven no acceptava de simplificar els seus arranjaments, però almenys en una ocasió va fer-ne dues versions.
El poema de Scott té sis estrofes, tot i que poques vegades es canten totes. La interpretació d'On the massacre of Glencoe que sentirem nosaltres (de la primera versió), amb Lorna Anderson i el TrioVanBeethoven, en té tres: la primera, en què la veu poètica demana a l'arpista perquè adreça el seu cant cap a Glencoe, si no hi ha ningú; la quarta, que narra la traïció, i la sisena, en què l'arpista es lamenta de la seva feblesa. Espero que us agradi tant com a mi aquesta raresa beethoveniana.
On the massacre of Glencoe

Oh! Tell me, Harper, wherefore flow
Thy wayward notes of wail and woe
Far down the desert of Glencoe,
Where non may list their melody?
Say, harp'st thou to the mist that fly,
Or to the dun deer glancing by,
Or to the eagle, that from high
Screams chorus to thy minstrelsy?
The hand that mingled in the meal,
At midnight drew the felon steel,
And gave the host's kind breast to feel,
Meed for his hospitality.
The friendly heart which warm'd that hand,
At midnight arm'd it with a brand
That bade destruction's flames expand
Their red and fearful blazonry.
Long have my harp's best notes been gone,
Few are its strings, and faint their tone,
They can but sound in desert lone
Their grey-hair'd master's misery.
Were each grey hair a minstrel string,
Each chord should imprecations fling,
'Till startled Scotland loud should ring,
"Revenge for blood and treachery!"
Oh, digueu-me, arpista, per què adreceu
les vostres notes rebels de lament i tragèdia
cap al desert de Glencoe
on ningú no podrà escoltar-ne la melodia?
Digueu, harpista, toqueu per a la boira que vola
o per al cèrvol bru que guaita,
o per a l'àliga, que des d'amunt
crida fent els cors de la vostra balada?
La mà que compartí l'àpat
a mitjanit empomà l'acer traïdor
i el feu sentir a l'amable pit de l'amfitrió
en recompensa per la seva hospitalitat.
El cor amistós que escalfà aquella mà
a mitjanit l'armà amb un ferro
i les flames de la destrucció escamparen
el seu blasó vermell i terrible.
Fa molt que les millors notes de la meva arpa marxaren
poques en són les cordes i feble el seu tocar,
només poden tocar en solitari
la desgràcia del seu amo de cabells blancs.
Si cada cabell blanc fos una corda de joglar
cada acord llançaria una imprecació
fins que l'astorada Escòcia cridés amb veu forta
"venjança per la sang i la traïció!"