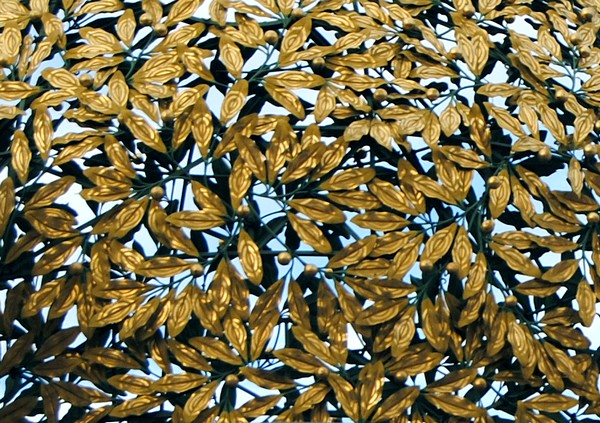 If you like astronomy and observe the starred sky, the name Betelgeuse will sound familiar to you. You know that it's a star in the Orion constellation that can be seen with the naked eye, that it's clearly distinguished by its red light, and that can be seen now in winter if we are in the Northern Hemisphere. You would also know that it's about 600 light-years away, about 600 times greater than the Sun and very cold (about 3500 K, 2000 K less than the Sun); that it's only 8 million years old, and, despite this, it will not last one more a million years.
I don't know a bit of stars; I'm not able to imagine these huge magnitudes, and when I hear the word Orion, I think of Rutger Hauer and Blade Runner. In fact, for me, Betelgeuse is a song, and the first time I heard it I consulted the encyclopedia to find out whether the poet described a real or made up a place. And it was real, and was a star.
I heard Betelgeuse for the first time in a radio recital, and I was impressed. What struck me most was that the song conveyed a feeling of coldness. I do not mean that the singer was singing coldly or routinely, on the contrary; I mean a physical cold (and I was very surprised to know later that Betelgeuse is, in fact, cold). I didn't jot down the song in the blog notebook because back then the blog didn't exist yet, it was many years ago, but I've always kept it in mind.
In his four-verse poem, Humbert Wolfe speaks of an immense place covered with golden leaves for a long, log time. There is no wind blowing, time changes nothing, there is no joy or sorrow, there is neither good nor evil, life nor death. It's the void, and Gustav Holst put it into music, a music that seems to be suspended nowhere. The piano repeats sequences of octaves, which always start with the same three low notes and go high, until suddenly the singer is abandoned to his fate with just a supporting note during the first three verses of the third stanza. The first note in each sequence is indicated mp (mezzo-piano), and the rest are indicated ppp (pianississimo); the last octaves of the song are indicated pppp, and I don't know how we should name that. In addition, the score also indicates una corda, that's to say, the pianist uses the left pedal so as the hammers only strike one string of the group belonging to each key.
Everything is intended for the piano to sound ethereal, but this doesn't mean that the sound is calm and relaxing. The key of the piece is not clear, and this is something our ears don't like at all; our ears hope to have a solid, secure and well-known anchor point, and the song keeps us in a hypnotic instability. Meanwhile, the phrases of the voice vary slowly, and the words "On Betelgeuse" are repeated as a litany. The feeling that prevails, as I told you, is coldness; everything looks very monotonous, very remote, very lonely and very foreign to us. Betelgeuse is a really modern song for its time that surely anticipates what would be Britten's songs years later.
Holst wrote twelve songs, among them Betelgeuse, in 1929: they would be his last, twelve years after the previous ones. All of them have poems by Humbert Wolfe; most, Betelgeuse and nine others, belong to The Unknown Goddess, published in 1925. Holst read this collection in 1927, wrote the poet (a civil servant who used to wrote poetry in his free time) and befriended him. After a private audition, the songs were premiered at Wigmore Hall in London in February 1930. Holst never considered them a cycle, and they were published in different issues; the entire cycle was not published until 1970, entitled Twelve Humbert Wolfe Songs, Op. 48, after Peter Pears and Benjamin Britten recovered it as such. As Holst had not assigned any order to the songs, the publisher published them in the order in which these two musicians had recorded them, and Betelgeuse is the twelfth one.
This cycle recording is the reference recording. I'm talking soon again about this work, and then we'll listen to a song in Pears & Britten version. Today, however, I wanted to share with you the performance of Betelgeuse that I heard so long ago. The sound is not of the best quality and there was a wriggly audience that day (probably because the programme included many songs often as unknown as this one), but I think it is still worth it. It's a very difficult song to perform, because the aim of its monotony is to take the listeners to a distant, barren place, not to bore us, and the performers have to be so expressive that they sound inexpressive, to hypnotize us as Simon Keenlyside and Malcolm Martineau do in this recording. Listen to it once, twice... whatever it takes, because it's a fantastic song.
When you have enjoyed it, I invite you to return to Earth and read this article by Joseph Middleton in The Guardian, which I have also added to the Clippings section of this website. Middleton explains, as an accompanying pianist, the extra cost that the Brexit implies for every performance in Europe. Musicians are affected by these senseless rules and we, the audience, will be affected as well if we are deprived of their music because of administrative proceedings that could easily be improved.
Betelgeuse
On Betelgeuse
the gold leaves hang in golden aisles
for twice a hundred million miles,
and twice a hundred million years
they golden hang and nothing stirs,
on Betelgeuse.
Space is a wind that does
not blow on Betelgeuse,
and time—oh time—is a bird,
whose wings have never stirred
the golden avenues of leaves
on Betelgeuse.
On Betelgeuse
there is nothing that joys or grieves
the unstirred multitude of leaves,
nor ghost of evil or good haunts
the gold multitude
on Betelgeuse.
And birth they do not use
nor death on Betelgeuse,
and the God, of whom we are
infinite dust, is there
a single leaf of those
gold leaves on Betelgeuse.
Related articles