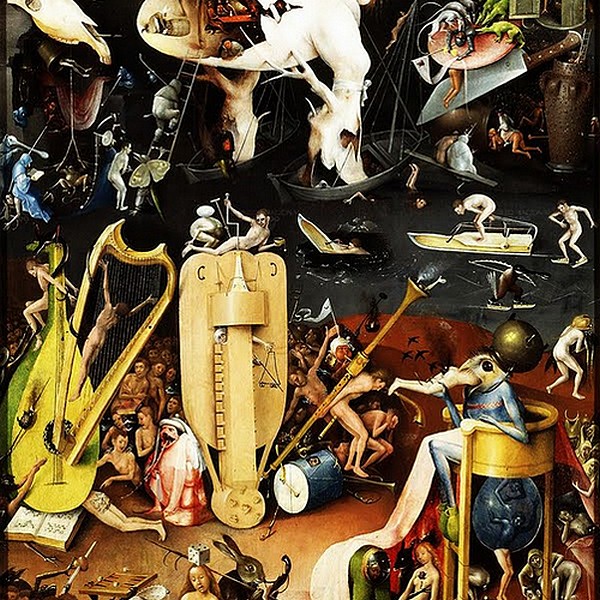 The Garden of Earthly Delights (detail) - H. Bosch
You should jot down this date for your next journey in time: January 29, 1905. That day the Rückert-Lieder, the Kindertotenlieder and three lieder from Des Knaben Wunderhorn (Der Tamboursg'sell, Des Antonius von Padua Fischpredigt and Lied from Verfolgten in Turm) were premiered; Five more Wunderhorn-Lieder completed the programme. The composer, Gustav Mahler, conducted to three singers and members of the Vienna Opera Orchestra and the concert took place at the Kleine Musikvereinsaal.
In addition to the premieres, there are two more reasons that make this concert a candidate for a journey in time (almost as unlikely as to attend nowadays a similar event). The first one, that, for the very first time, an orchestral Lied recital was given. Have you ever wondered why orchestral song recitals are not programmed and we only listen to orchestral lieder as a part of symphony concerts? The other reason that made this concert exceptional was the hall; Today we know it as Brahms Saal, the chamber music hall of Musikverein in Vienna, about six hundred places. In a letter to Richard Strauss written in May that year, Mahler explained that this concert needed a hall of the appropriate dimensions; his songs were chamber music so they should be performed as chamber music for artistic considerations, despite the pressures of commercial considerations. Playing them in a large room, he said, "would mean decidedly lacking in taste". A chamber music hall involved chamber orchestra, of course, and those concerts were held with an orchestra of about thirty-five musicians.
The concert at the Kleine Musikvereinsaal was repeated with some changes on February 3, and later in Graz (also in a chamber music hall), the 1st June. These were the only three times that Mahler conducted the complete Rückert-Lieder ("complete" meaning without Liebst du um Schönheit, which was later published); after that he only included Ich bin der Welt abhanden gekommen in the programme of two symphonic concerts and that same song and Um Mitternacht in a third concert. He played the piano version just once, two years later in Berlin; he added to the program of Vienna and Graz the Songs of a Wayfarer (again, it would be an unusual recital nowadays).
The eighteen Lieder performed in those 1905 concerts are virtually half of the composed by Mahler. Sometimes I think that I talk so little about him because my subconscious is afraid of ending them. But there is still room left, and I've wanted to talk about Um Mitternacht ("At midnight"), an awesome song, for a long time.
In the first verse, the poem (published in Pantheon in 1843) tells us of someone who, waking up feeling fear, gazes at the starry sky and no star smiles at him. These verses remind me of another poem, this one by Eduard Mörike, written a few years earlier (and musicalized by Hugo Wolf, An die Geliebte); There, at the end of the poem, the poetic voice looks for an answer to his fears in the sky and all the stars smile at him; in Rückert's poem they don't, the distressed man remains alone in the middle of the night; there's no light and no hope that can comfort him. His heartbeat and his suffering are his only company, he fights, but he loses, and in the fifth stanza he finally commends himself to God, the only one that has power over life and death. In March 1901, during the convalescence of a serious illness, Mahler chose the ten Rückert poems that he musicalized, and Um Mitternacht was the first to be composed. It is almost inevitable to relate those verses with his recent experience.
A critic who reviewed the recital in Graz, although admired of Mahler's ability and sensitivity, wondered if an orchestra was the best means of expression of Lieder (at that time, it was a rarity) and declared himself puzzled by the new ones. No wonder that he was surprised, since the orchestrations of the new Rückert time had little to do with those of the Wunderhorn time. Mahler uses only wind instruments during the first four stanzas of Um Mitternacht; until in the fifth (triumphal, not resigned) stanza, we don't hear the timpani, harp and piano.
When I hear this song I can't help but think that the composer plays a trick on the singer, that the orchestra doesn't really accompany him; he seems to emphasize his loneliness, as if it were playing the role of the inhospitable night; I have rarely heard a more unprotected singer than in this song. Maybe for this reason, the lied conveys vividly the suffering that the poem describes; somewhat like the third act of Tristan und Isolde, if you know what I mean. My feeling of fragility is acuter in the piano version, which is really gaunt; the solitude of the voice is shaking. The descendant scales, that in the orchestral version change their color and at some point seem to offer some consolation, are unrelenting; where the orchestration is sparse, the piano seems to disappear. Both versions are wonderful and that's why today I suggest you listen to both of them; this week I'm taking you more of your time. The recording of the orchestral version is one of the imperative, with contralto Kathleen Ferrier and Bruno Walter (Mahler's disciple) conducting the Vienna Philharmonic Orchestra; The piano recording is in charge of a Mahler expert, Thomas Hampson, and the great Wolfram Rieger.
I hope that, if you listen to Um Mitternacht for the first time, you agree with something that our critic in Graz wrote: "There are Mahler songs that are impossible to remember but which, at the same time, are impossible to forget."
Um Mitternacht (versió orquestral)

Um Mitternacht (versió amb piano)

Um Mitternacht
Hab' ich gewacht
Und aufgeblickt zum Himmel;
Kein Stern vom Sterngewimmel
Hat mir gelacht
Um Mitternacht.
Um Mitternacht
Hab' ich gedacht
Hinaus in dunkle Schranken.
Es hat kein Lichtgedanken
Mir Trost gebracht
Um Mitternacht.
Um Mitternacht
Nahm ich in Acht
Die Schläge meines Herzens;
Ein einz'ger Puls des Schmerzens
War angefacht
Um Mitternacht.
Um Mitternacht
Kämpft' ich die Schlacht,
O Menschheit, deiner Leiden;
Nicht konnt' ich sie entscheiden
Mit meiner Macht
Um Mitternacht.
Um Mitternacht
Hab' ich die Macht
In deine Hand gegeben!
Herr über Tod und Leben
Du hältst die Wacht
Um Mitternacht!
At midnight
I awoke
and gazed up to heaven;
No star in the entire mass
did smile down at me
at midnight.
At midnight
I projected my thoughts
out past the dark barriers.
No thought of light
brought me comfort
at midnight.
At midnight
I paid close attention
to the beating of my heart;
One single pulse of agony
flared up
at midnight.
At midnight
I fought the battle,
o Mankind, of your suffering;
I could not decide it
with my strength
at midnight.
At midnight
I surrendered my strength
into your hands!
Lord! over death and life
You keep watch
at midnight!
(translation by Emily Ezust)