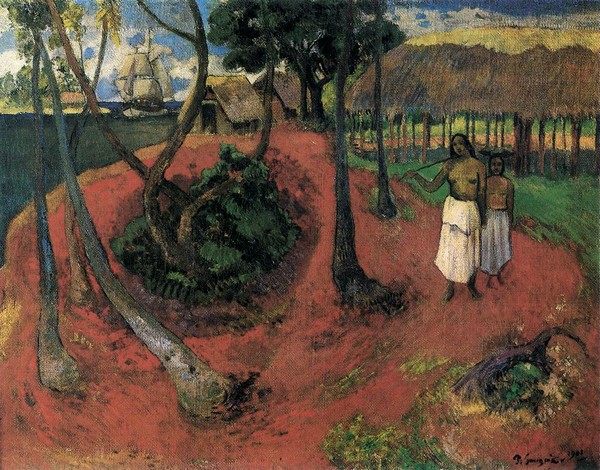 Idyll in Tahiti - Paul Gauguin
Although most of the Art Song pieces are songs written from poems, there are exceptions in the repertoire, such as songs that became emancipated from a theatre piece. The best-known case is the Romanze aus "Rosamunde", which was originally part of Schubert's incidental music for the play Rosamunde, Prinzessin von Zypern by Helmina von Chélzy. The play fell into obscurity, the rest of the music is barely performed (please programmers, it is a beautiful work!), but the Romanze is one of Schubert's most widely performed songs, in the version made by the composer himself for voice and piano.
There are (at least) two other famous songs that made the same way, from the stage to the concert hall, both written more than a hundred years later, during the Second World War: Les chemins de l'amour, written by Poulenc for the play Léocadia, by Jean Anouilh, and Youkali by Kurt Weill, our song this week (as you will see, is not exactly the same cas as the other two). One more song to be mentioned, although it was originally part of a film score, is The field of the dead, that we heard a while ago, an excerpt from the music that Sergei Prokofiev wrote for Alexander Nevsky, Einsenstein's film.
Although during his European period he composed works for the concert halls, the passion of Kurt Weill was the theatre, and his best-known works are written for the stage. During the 1920s it was immensely popular in Germany; he premiered many works, of which we remember above all Die Dreigoroschenoper (from 1928) and Aufstieg und Fall der Stadt Magahonny (from 1930), both with a libretto by Bertolt Brecht. In 1933, with the Nazi rise to power, his life changed: like so many Jews, Kurt Weill, at thirty-three, had to go into exile. First to Paris and later, in 1935, to the United States.
One of the works he composed during his brief stay in Paris was the stage music for Marie Galante, a play by Jacques Deval, the adaptation of a novel by the same author published in 1931. The protagonist is Marie, a young woman who is kidnapped in Bordeaux and abandoned in Panama; there, without knowing anyone, her only way to raise money for the passage back to France is prostitution (when an official asks her how does she earn her living, she answers: "I receive men," and the official notes as a profession "fille galante", hence the title of the work). But she is involved in espionage affairs, and only her lifeless body will come back to France.
Kurt Weill wrote fourteen musical numbers for the play, of which seven were sung; it was the first time he composed music from texts that were not in German, and once he was in the United States he composed only from English texts. The piece we know today as Youkali was the sixth number, Tango, but it was a orchestral piece; a few months after the premiere, Roger Fernay, a Deval's collaborator, wrote the lyrics and renamed it as Youkali. That's why I told you that it was a different case: first it was the music, and then, the lyrics. The text refers to a distant and ideal land, where fairies live; the land of our dreams, where there is only happiness and pleasure, where concerns vanish, and our love is with us. Somehow, similar to the Ganges banks described by Heinrich Heine a century earlier. That's why I wrote about Auf Flügeln des Gesanges two weeks ago; I was preparing this post and I thought they were saying the same thing; cherries follow strange paths.
Marie Galante's music had a complex life. In 1934, Weill made an orchestral suite from some numbers, and eventually re-used some parts for other works (as he had re-used music previously written in Marie Galante). In 1935, Heigel partially published Marie Galante, and in 1946 he published Youkali. In 1997, musicologist and composer Kim H. Kowalke, a scholar of Weill's work, arranged the Chansons cabaretistiques cycle from pieces by Marie Galante and other works, and in 2017 he made one more collection, Chansons des quais, olny with songs from Marie Galante. As far as I know, it has not yet been possible to recover the full score of Marie Galante.
There are countless versions of Youkali; all of them, relatively recent, because the song remained unpublished for many years, until Lotte Lenya, Weill's widow, found who could be her successor as performer of her husband's works: soprano Teresa Stratas. The result of this kind of transfer of power was the 1981 album The Unknown Kurt Weill, which included Youkali. Of course, the best known performance of Youkali is that of Stratas and you probably know it, so I suggest a recent one, that of Barbara Hannigan and Alexandre Tharaud.
With this atypical song, we finish our regular season. Next week we'll welcome the students of the ESMUC Master in Lied one more year, this time in a reduced edition, and then we will focus on the Schubertíada, which this year has many, many recitals. Enjoy your journey to Youkali!
Youkali
C'est presque au bout du monde
Ma barque vagabonde
Errant au gré de l'onde
M'y conduisit un jour
L'île est toute petite
Mais la fée qui l'habite
Gentiment nous invite
À en faire le tour
Youkali, c'est le pays de nos désirs
Youkali, c'est le bonheur, c'est le plaisir
Youkali, c'est la terre où l'on quitte tous les soucis
C'est, dans notre nuit, comme une éclaircie
L'étoile qu'on suit, c'est Youkali
Youkali, c'est le respect de tous les vœux échangés
Youkali, c'est le pays des beaux amours partagés
C'est l'espérance qui est au cœur de tous les humains
La délivrance que nous attendons tous pour demain
Youkali, c'est le pays de nos désirs
Youkali, c'est le bonheur, c'est le plaisir
Mais c'est un rêve, une folie
Il n'y a pas de Youkali
Et la vie nous entraîne
Lassante, quotidienne
Mais la pauvre âme humaine
Cherchant partout l'oubli
A, pour quitter la terre
Su trouver le mystère
Où nos rêves se terrent
En quelque Youkali
It is almost in the end of the world,
My boat wandering
at the mercy of the waves
Took me there one day.
This island is small,
But the fairy that lives ther
Gently invite us
To take a tour
Youkali, it is the land of our desires
Youkali, it is happiness and pleasure,
Youkali, it is the land where one leaves all cares
It is the light in our night
The star we follow, that's Youkali.
Youkali, it is the respect of all the taken vows
Youkali, it is the country of beautiful love,
It is the hope in the heart of all humans,
The deliverance that we wait for tomorrow,
Youkali, it is the land of our desires
Youkali, it is happiness and pleasure,
But it is a dream, is madness,
There is no Youkali.
And life drags us down
tiresome, unadventurous
But the poor human soul
Seeking everywhere oblivion
has known, to leave the earth
to find the mystery
where our dreams take refuge
in some Youkali
Related articles