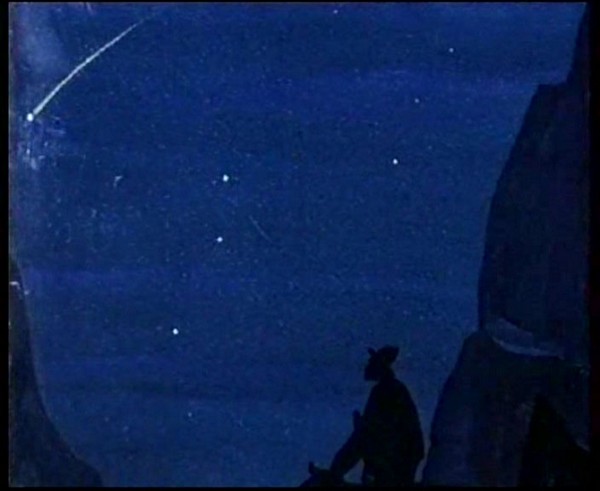 Star of the hero 1932 - N. Roerich
Those of my friends who are also music lovers, and I hope I can consider as friends at least some of Liederabend readers, know that baritone Simon Keenlyside really influenced my relationship with song; however little you follow this blog you'll find him here and there to musically illustrate the articles. In 2013, he was so kind as to accept a four-hands interview with friend Alejandro Martínez; back then, I shared the part of this interview directly related to Art Song. Nine years later I've had the pleasure of talking with him again about song; about his career, about his composers and poets, about his relationship with music… I'm sharing his thoughts with my readers, splitting the conversation in two weeks. I hope you'll find it as interesting as I did. Once again, thank you very much, Simon, for your time.
Simon Keenlyside made his debut at Wigmore Hall on 14 May 1987, as the winner of the 1986 Richard Tauber Memorial Prize. The concert leaflet, which you can see here, was the starting point of the talk.
Oh, God! It's a long time ago. Of course, I remember it. It was a great honour for me to work with Geoffrey [Parsons]. Geoffrey was very kind to me and I really enjoyed the work. I remember enjoying very much, Dichterliebe. Even though he was famous, we had many rehearsals, and I thought it was quite surprising. I saw him looking at me like a cat looking at a mouse, which is lovely... He was so kind. When you're a beginner, and you work with a famous pianist accompanist, you must accept that they will be teaching you. But young people want to do what they want to do; I was young, and a song can speak to a 25-year-old differently, but in a perfectly validly way as it can to a 65-year-old.
I also remember telling him after the concert, "Geoffrey, I'm not going to ask you to work with me anymore." And he said, "OK, but why?" I said, "Because if young singers always work with famous pianists, where will the next generation of pianists come from?" And he liked that, he said, "I like that answer". That's how I began with Malcolm Martineau. Malcolm was the official accompanist of that competition, so I met Malcolm at the same time, and I enjoyed his company very much. And I'm still with him, 35 years later.
About piano accompanists and how he understands the voice and piano duos, he told me:
If my life were divided just between concerts and recitals, then I might experiment a little bit more with different pianists. But I don't do so many recitals. I mean, recitals are half of my life in my head, but in reality it's not half of my working. And I don't see Malcolm that often… I'm very used to Malcolm. He knows German and French, academically, he does speak a bit, but he prefers not to. But his knowledge of the syntax and the grammar is perfect. He knows every single word you're saying when you're saying it. If you make a mistake, he'll correct you; if you go wrong, he'll catch it. He's great. He's wonderful. I really enjoy working with him.
I worked with Emmanuel Ax sometimes, and I really, really enjoyed that; I also used to work with Julius Drake. With Graham Johnson too, at the beginning but also later. I really love the way Graham plays Schubert; he doesn't play with a pedal, and he's just a bit like the old pianists. And he loves Schubert so much… In fact, I had some concerts last year with Graham, but they were cancelled, of course.
I want it to be a duet. I very often choose the programmes to show the piano voice; for example, in a song like Hugo Wolf's Lied vom Winde, the real voice is the piano; I make comments in there, little comments, but the real star of that song is the piano. I look for a conversation with somebody who I enjoy having music conversations with. For example, we did a Poulenc section two years ago, and I asked Malcolm if he would play a Poulenc piece for 5 minutes, I think it makes it interesting.
What do I want from a pianist? I want to feel free. I know it's not really free, that's what rehearsal is for. What I want myself is what I would call rehearsed spontaneity. So, you've rehearsed enough and set the parameters, so you can be spontaneous in the detail. And I love the detail. The agreements are within this parameters, within this range. And then in the performance, you might need more breath or less breath, or you might need to change the emphasis on a word or something that you can do that without losing your friend. I love that.
I usually turn the piano. Malcolm was generous and allowed me to do that so that I can see him face to face. Because I want contact. I want contact with the audience, but I want contact even more with my partner. A string quartet plays in a U shape, they don't play in a flat shape. So, I don't want to be in front of the piano back here. Those days are gone, I think, the days of "you follow me". Not anymore.
My father was a chamber music player. And song is my version of chamber music. I love it. Personally, I think the record companies are not very intelligent, they want money, and they're not always interested in music, in my opinion. I'm not going to mention any names, but you see a famous singer with a famous concert pianist, and it doesn't work. And it doesn't work because they don't do chamber music. A piano accompanist is a specialist pianist, just as good as a concert pianist, but in a different media. But these record companies don't think that.
The programme of that debut concert (Histoires naturelles by Ravel, Songs and Proverbs of William Blake by Britten and Dichterliebe by Schumann) could be a nowadays programme, he still sings those works, but over the course of these thirty-five years there are some composers who could be considered the axis of his repertoire. Let's say Schubert, Wolf, Fauré and Poulenc.
Yes, all of them. People say to me, why don't you sing English song? If you give me a choice of Schubert, Schumann, Brahms, Wolf, and of course, Ravel, Poulenc Debussy or Fauré, on the one hand, and then you offered me all the English songwriters, I'm not going to take them. Because for me the complexity, the laminations, the profound wonder of the German and French repertoire completely eclipse any English song. I do some English song sometimes, but I do it for fun. I very often say on the platform at the end of those recitals "and now I'm going back to my master, Schubert"; at the end as encore, just Schubert. Because I think I'm going home.
Opera talks about the big questions, about culture, inequality, sexual inequality, political inequality, unfairness. That's what opera does, the big themes of our society. And song is quite the opposite. I only thought of this when I was about 50 because people kept asking me: "what's the difference?". The song repertoire is more about your life, opera is not. Songs are how you feel. How are you? How do you survive without love, with love, with children, without children, sad, happy, alone, travelling, or not travelling? The song repertoire really reflects my life on the road. Everything that I struggle with, all I'm joyful with is in the song repertoire. All those issues which are frustrating to me or happy to me. You know, I'm on my own and travelling forever. And the music gives me such joy and such comfort… Yes, the opera does that too, but the song repertoire specifically talks about it, and it changes all the time. A song which I might have loved when I had no children, now, ten years later, I love it for a completely different reason.
I wanted to ask him about three songs, three pieces that I particularly associate with him, and the first came out spontaneously in the conversation.
A song like Die Sterne. I used to sing that a lot. I'm not embarrassed about talking the truth. How can you have a relationship when you are ten months on the road for 20 years? I couldn't keep them, I kept messing them up. So, I would sing this song, it said, well, don't worry, one day I'd be fine. When I sang Die Sterne I didn't sing out of any depressed way because I didn't feel that. I just thought, well, I don't know how I can find somebody to share my life with, but hope they will come. And then it happened, and so the song doesn't mean the same anymore. I haven't sung it for a long time because I did find a woman that I wanted to live with, and I did fall in love. And I didn't feel the need to sing into the ether, to the universe.
Or a song about loneliness. I don't feel it anymore. When I'm standing on the stage in Vienna, I am home. When I'm in Liceu, in Berlin, in Met, I am home. That stage is my home and I feel that very often, I love this dirty stage. You are all sitting in this beautiful gold seats and that makes me uncomfortable. I'm sitting In the place where hundreds and thousands of ordinary performers have been before. And I love it; It comforts me when I see this filthy, thick floor. I love it. I'm home, so things change.
I also wanted to ask him about works that are part of the standard repertoire, but he does not sing. For example, he sings the Kerner-Lieder by Schumann, but he doesn't sing the two Liederkreise. And as a result of this question, we talk about foreing languages, memory, and music stands.
Yes, I do the Kerner-Lieder, it's my favourite, but not very often; I've only done it three or four times in the last 10-15 years. And that's true. I didn't do the Liederkreise.
Because I'm a foreigner, I always thought, well, I'm behind. I know that if you've got two singers who are absolutely the best, both singing German, the German one will be more interesting because it's his mother tongue. They've got the detail, the nuance. The tiniest of bends will be perfection, and mine will not be. I can be good, but I'll never be somebody speaking their own language. Of course.
But the point is: A poem is a jewel, in any language, and you walk around it. You walk around it and underneath it and look at the light coming through it, and you see their facets. When you learn a poem, you keep walking around it. When you write a poem, it's the same thing. You're walking around a memory in your head, to get this energy more and more compact and more and more hard, and trying to clarify something which you can't. A poem is just like music, you're trying to recreate in words what music does. So, a poem is one image and another image, and another. If I spend weeks on a poem, which I will, and then years and then decades, I'm not so at a disadvantage from any German because I can say the words, my pronunciation is good and I'm looking at this jewel for so long. But I'm always thinking I'm behind, so I was always pushing, pushing all my life, learning more and more and more and more.
My repertoire is huge. If they're going to kill everybody, they shouldn't kill me until the end because I'm like a library and I can write down these poems. So if they burn all the libraries… Do you know Fahrenheit 451? I'm like that. But you can't do everything.
And actually, Hans Hotter, the great singer, complained at the end of his life. He said: "this fashion for doing everything from memory is a new one and not a good one." It's interesting to know that what he is saying is that before the fifties, sixties, they did it with music sheet. And I've started now. If you use one piece of paper with a couple of poems on it, that means you can keep doing new stuff all the time, which I like. I don't want to have the music there, but if I can put in maybe two new songs each time, I can keep up. So if you can do it from memory, fine, but if you can do it with music and perform it well, so what? Christian Gerhaher, the wonderful Christian, he uses to sing with music stand. So what? It doesn't matter, he's great. He's just the most marvellous artist, he takes risks. Sometimes I'm listening to him, and I just laugh because I think, how did you dare to do that? And you did it! He's wonderful. And he's so modest. He doesn't even know how good he is.
Wolf and his Mörike-Lieder could not be left out. And, while we're at it, synesthesia... and music, always music.
People say, why don't you do the Italianisches [Liederbuch], or the Spanisches [Liederbuch]? Well, you know why? Because I don't love them all the way through. I love some songs, some change my body chemistry, just like with the Mörike from start to finish, is like Winterreise for me, and I know it's not a cycle. Every single song is a total masterpiece. I think it was Geoffrey Parsons who told me for the first time, but since then many people, many Austrians and Germans have said to me, in the Musikverein, in the Konzerthaus: "it's funny how the British are the biggest champions of Hugo Wolf. Why is that?" I don't know. I have been asked in Munich: please, not too much Wolf. I just love it, and that's strange, to me.
When I think of music or composers… we were talking about laminations, but also they are... It's like synaesthesia, when all the senses combined, that is how Wolf's music is. You can see a person's character, you can hear their thoughts, you can smell them. It's all muddled up all at once. All, everything in one.
You think of certain composers as colours, too; when I think of Schubert, he's brown, and got lots of yellow and red in him as well; Brahms maybe is a bit more brown and incredible, but when I think of Hugo Wolf, the colours are scintillation, it's like a bonfire, at the end it sparks, it is so extreme. Wolf is just this great spectrum of paints thrown on to a canvas. I love that it is so unexpected. It takes you this direction, and then when you're running full momentum in this direction, he rips you into another direction. I find that very exciting.
I still am as passionate about music. It's the currency of my life. Sure, my children are my most important thing. But music is my way of making sense of this ridiculous world, wonderful world, frustrating world, annoying world; values that I do believe in, values I don't believe in, society's mores that I have to follow, that I don't want to follow. Music expresses all of that and keeps me calm. And it's like spending your muscles, spending all your energy, love that. So, you're finished and empty, and you go and have a beer and talk with friends. It's nice. All energy is gone. What will happen when it's finished? I'll be fine. My children, my wife, will look at me and say, Who are you? [he laughs]
Next week, to close this two-part article, we'll listen to the Lied Simon Keenlyside chose to finish. But I just asked him for one, so this week I'm choosing the song, and I think, after what we read, Die Sterne is a good choice. It is a live version, recorded in 2010 at Wigmore Hall, and the pianist is Julius Drake.
To be continued...
Die Sterne

Wie blitzen die Sterne so hell durch die Nacht!
Bin oft schon darüber vom Schlummer erwacht.
Doch schelt' ich die lichten Gebilde drum nicht,
Sie üben im Stillen manch heilsame Pflicht.
Sie wallen hoch oben in Engelgestalt,
Sie leuchten dem Pilger durch Heiden und Wald.
Sie schweben als Boten der Liebe umher,
Und tragen oft Küsse weit über das Meer.
Sie blicken dem Dulder recht mild ins Gesicht,
Und säumen die Tränen mit silbernem Licht.
Und weisen von Gräbern gar tröstlich und hold
Uns hinter das Blaue mit Fingern von Gold.
So sei denn gesegnet du strahlige Schar!
Und leuchte mir lange noch freundlich und klar!
Und wenn ich einst liebe, seid hold dem Verein,
Und euer Geflimmer lasst Segen uns sein!
Please follow
this link
if you need an English translation.
Related articles