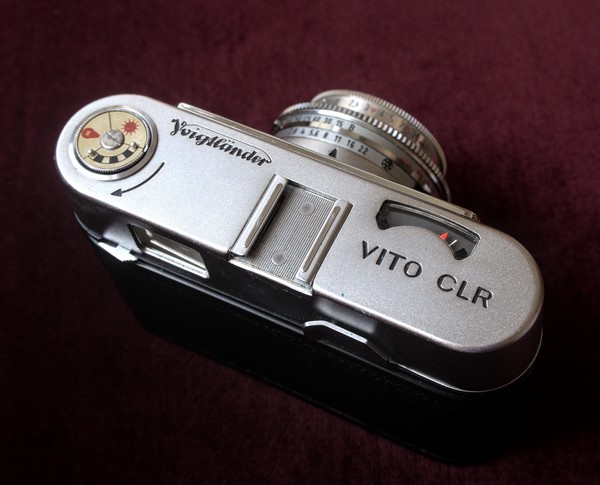 If you are interested in photography, you will have noticed that the camera in the illustration is a Voigtländer, one of the oldest brands. The company was founded in Vienna in 1756 (the year Mozart was born!) and was back then dedicated to the manufacture of precision instruments. In 1840, Peter Wilhelm Friedrich Voigtländer, the founder's grandson, produced the first mathematically calculated photographic lens, instead of the approximate lenses used until then, and he also produced the first metal camera for daguerreotype. Not only did the new camera have a sharp lens, but its design reduced the time needed to take a photograph by twenty times (previously, exposures took around fifteen minutes). The camera was successful, and within two years about six hundred units were sold. If you browse the Internet, you will find some examples of the photographs it took.
Peter Wilhelm Friedrich Voigtländer married in 1845 Nanny Langehmeim, the daughter of a judge, the widow for five years of Otto Gustav Sommer, and the mother of an eight-year-old son, Hans, our man this week. After a few years of living in Vienna, the family and the company settled in Braunschweig (a city with about 50,000 inhabitants at that time), where Nanny and Hans were born. As you can see, our man's father was not a photographer, he was a manufacturer of cameras and lenses, and actually, he wasn't his father, but his stepfather, although he was the only father he met. But we won't let the truth get in the way of a good story, will us? In fact, Hans Sommer surname wasn't Sommer, but Zincken; this was the surname of his father's family; for some reason that I didn't understand, both versions of the surname had been used for generations; he signed his professional writings as "Hans Zincken, known as Sommer".
The little Hans displayed a great talent for music, and he loved it deeply, but his father didn't want him to receive any musical training beyond the usual at the school; his training was oriented towards the family business, which he would eventually inherit. When he turned seventeen and the time came for him to enter the factory, his father changed his mind and did not allow him to do so. Hans then said, "ah, so I can study music!". But Herr Voigtländer's "Nein!" should have heard even in Hannover, 100 km far from Braunschwieg... And Hans left for the University of Göttingen to study Physics and Mathematics. There, while studying what his father wanted (which he liked very much), he was finally able to learn composition because, as we know, the German musical world was a small world. At the university, he befriended two professors, the renowned mathematicians Dedekind, with whom he made music, and Lejeune-Dirichlet, who had married Rebecca Mendelssohn, so he was Felix and Fanny's brother-in-law. It was at his home that he became friends with Clara Schumann, Joseph Joachim and Johannes Brahms, and through the latter he began to study with composer Julius Otto Grimm.
When he returned home as a Ph.D., he joined as a professor of mathematics his pre-university centre; in 1875 the centre became the Technical University of Braunschweig and Sommer, its director. He also worked in Voigtländer, now he had permission to do so. On the one hand, as a specialist in dioptrics, he designed some lenses and photographic objectives of the time; on the other, he formed his younger brother, who would finally inherit the company.
In addition, he devoted himself to musicological research and patronage; he acquired the immense library of composer and friend Wilhelm Meves, who collected manuscripts and documentation as old as from the 16th century; in 1863 he founded the Braunschweig musical association and was its artistic director until 1870, and the best of the best performed there: Schumann and Joachim, and also Hans von Büllow or Ferdinand Hiller. In 1875, after befriending Richard and Cosima Wagner, he founded the Wagnerian association of his city, which provided economic support to the Bayreuth Festival since its first edition. His activity as a composer, however, was minimal. In 1865, he premiered a singspiel in one act, Der Nachtwächter, signed with pseudonym, E. T. Neckniz; some Lieder and chamber music were also performed in private circles. It was not until 1876 that he published his first work, that he signed as Hans Sommer (without mentioning the surname Zincken); his op. 1 was a collection of songs.
Until 1881 arrived and everything changed…
But we'll talk about that next week. We finish this post with one of his lieder, Venetianisches Gondellied, No. 2 of the collection Aus dem Süden, Op. 18, composed between 1885 and 1886. The performers will be Jochen Kupfer and Marcelo Amaral. A year ago we listened to a Lied with the same name by Felix Mendelssohn; the original text was by Thomas Moore and the German version by Ferdinand Freiligrach. The first two stanzas of Sommer's Lied are the same, but add two more of them by unknown author, as far as I know.
I think it's a lovely Lied; how do you feel about this first contact (that being the case) with Hans Sommer?
Venetianisches Gondellied
Wenn durch die Piazetta
Die Abendluft weht,
So weißt du, Ninetta,
Wer wartend dort steht.
Du weißt, wer trotz Schleier
Und Maske dich kennt,
Du weisst, wie die Sehnsucht
Im Herzen hier brennt.
Ein Schifferkleid trag' ich
Zur selbigen Zeit,
Und zitternd dir sag' ich:
"Das Boot ist bereit!
O, komm'! jetzt, wo Lunen
Noch Wolken umziehn,
Laß durch die Lagunen,
Geliebte uns fliehn!"
Wenn leuchtend der Mond schon
In silberner Pracht
Am Himmelszelt strahlend
Entgegen dir lacht,
Denn harrend am Ufer
Dein Liebster schon weilt,
O denke die glückliche
Stunde enteilt.
Mit Mantel und Zither
Ist er schon am Ort,
Sein Sang dir verkündet:
Dein Trauter ist dort;
O komm jetzt, o komm jetzt
Nicht immer wie heut,
Nicht immer wie heut
Ist das Boot schnell bereit.
When through the piazetta
The evening wind blows,
Then you know, Ninetta,
Who stands there waiting.
You know who, despite veil
And mask, recognizes you
You know how longing
Burns in this heart here.

I wear the garments of a sailor
At the same time,
And tremblingly I tell you:
"The boat is ready!
Oh come now when Luna
Is still shrouded in clouds;
Through the lagoons,
Beloved, let us fly!"
When the shining moon already
In silvery splendour
In the heavens beamingly
Smiles at you,
Then upon the shore
Your beloved already waits anxiously,
Oh realize that the happy
Hour is passing rapidly away.
With mantle and zither
He is already present,
His singing announces to you
That your trusted lover is there;
Oh come now, oh come now,
Not always as it is today,
Not always as it is today
Shall the boat be ready so quickly.
(translation by Sharon Krebs)
Related articles