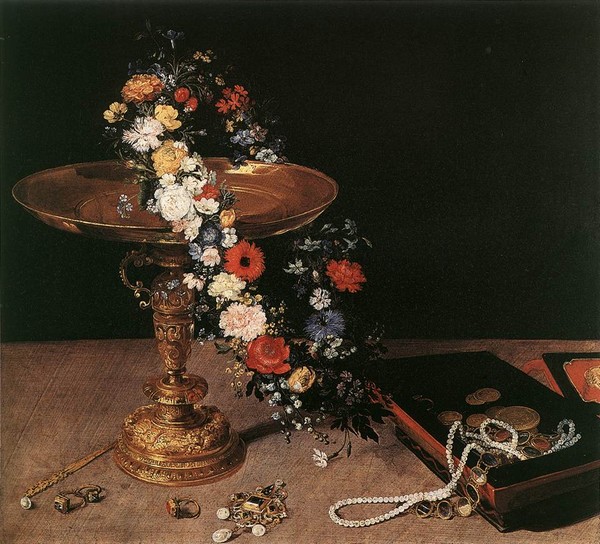 Still-Life with Garland of Flowers and Golden Tazza - J. Brueghel
Einst [Once long ago] is a minimal song. It only has fourteen bars, the vocal line doesn't go beyond a fifth (the distance between C and G on the C major scale that we all know) and, as for dynamics, neither voice nor accompaniment moves from piano. The poem is also minimal, only a four-verse stanza that tells us about an absence. Its shortness leaves us with no idea if the poetic voice is sad, disappointed, resentful, resigned... This ambiguity transferrers to music, which doesn't seem to have a beginning or an end, and leaves us waiting for a continuation that does not arrive. You will notice when you listen to it that it's as a breeze.
This song is composed by someone we usually associate with songs of wide melodies, daring high notes and exuberant piano. Don't you think about this when you hear Franz Liszt's name? In songs such as O lieb, so lang du lieben kannst or the Tre sonetti di Petrarca? There are works from his first stage, which date back to the 1840s, when he was a young pianist admired for his virtuosity. As we know, however, Liszt's career was very long, and his style evolved and tended to sobriety; a good indication of this trend is the Petrarch's revision.
Einst was composed around 1878, and was published in 1879 the eighth volume of the anthology Gesammelte Lieder, the first to be published since 1860. After years of retirement in Rome, Liszt now divided his time between this city, Weimar and Budapest, dedicated to composition and teaching. Musicologists believe that some of his works at this time were experimental, and Einst would be one of these experiments. The poem is by Friedrich von Bodenstedt (whom we also know as the poet of Ein Traum by Edvard Grieg); he and Liszt first met in the late 1860s and became friends. It appears that it was after one of his meetings in Budapest between 1877 and 1878 that he composed three Lieder with his poems, of which Einst is the second.
Bodenstedt was born in 1819 in Peine, near Hanover. At the age of twenty-two he became a tutor to a family in Moscow, and two years later he travelled to Tbilisi, where he studied with the Azerbaijani poet Mirzə Şəfi Vazeh. In 1851, he published Lieder des Mirza Schaffy, a volume of translations that was really successful; when in 1874 he published a sequel, Aus dem Nachlasse des Mirza Schaffy [From the legacy of Mirzə Şəfi Vazeh], in which our poem included, he clarified that the poems were his originals, inspired by his teacher's poetry.
I told you before that Einst is an ambiguous Lied, and this ambiguity reaches interpretation. The tempo indicated in the score is allegretto; since we know that the tempo indications are flexible, we find animated, almost playful versions, as well as slow and thoughtful. While the first ones last about thirty seconds, the second ones last almost twice as long, so different performances of the same song can be. I suggest we listen to a performance that I find gorgeous, a slow, most nuanced and intense one, with baritone Konstantin Krimmel and pianist Daniel Heide.
Just one more thing, in case you're in Barcelona next week: this wonderful baritone will be singing Schumann and Wolf at the Palau de la Música on Thursday 2, accompanied by a pianist not to be missed, Ammiel Bushakevitz. Just saying!
Einst
Einst wollte ich einen Kranz dir winden
Und konnte keine Blumen finden!
Jetzt find ich Blumen fern und nah,
Ach! aber du bist nicht mehr da!
Once long ago I wanted to twine you a wreath
And I couldn't find any flowers!
Now I find flowers near and far,
Ah! but you are no longer there!
(translation by Sharon Krebs)
Related articles