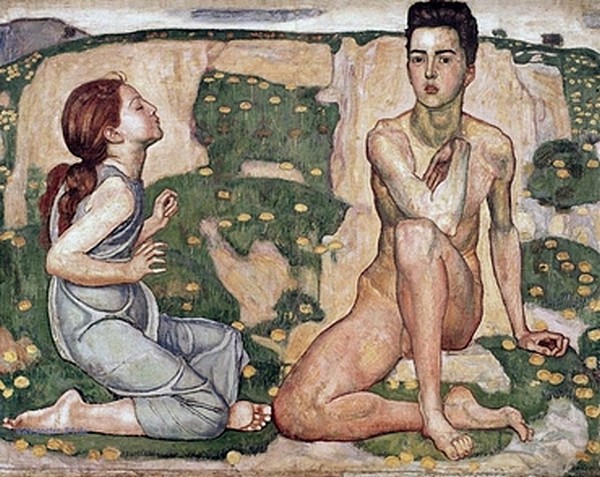 La primavera - F. Hodler
There are plenty of songs about spring; so many that it has been difficult for me to choose just one. The first choice to be made was, should it be a sad or a happy song? (Because poets can become sad and melancholic even in view of spring); I chose happy, so I discarded some of those songs. Among the happy ones, I firstly thought of sharing with you
Frühlingsmorgen
by Mahler, because it's a "sister" song with last week's (
Erinnerung
and
Frühlingsmorgen
are by the same poet and were composed during the same period). Finally, though, we are listening to
Frühlingslied
, by Schumann, because we haven't heard yet any duet on this blog (a reason as good as any other).
In 1849, Schumann's family lived in Dresden and moved to Keisha in the countryside when the revolution broke out, because the health of the head of the family was not good enough to endure such disturbances. During his retreat, Schumann met again with Lied, which he had long abandoned, since the great 1840. Among the cycles he wrote during his stay in Kreischa is
Liederalbum für die Jugend
, op. 79, a collection that was the equivalent of his Album für die Jugend, a work for children. The
Liederalbum
has 29 songs for one and two voices which Schumann ordered by increasing difficulty. Nine of the poems are by August Heinrich Hoffmann von Fallersleben, but we can also find poems by two poets as common in Lieder as Möricke and Rückert and two great poets as Schiller and Goethe. In fact, the last song of the cycle is
Mignon
, or, in other words,
Kennst du das Land
, that we listened some weeks ago in post about Wilhelm Meister's series.
Frühlingslied, the 19th song in the cycle and written after a poem by Fallersleben, is a celebration. The snowdrops announce the arrival of spring and a great welcome is prepared: the spring is the king! (I know that many of you are thinking of the spring as a queen, but in German
König
has masculine genre). It is welcomed as kings are welcomed in fairy tales, with music and joy, because she's fair and gentle and enlightens everybody, good or bad, gentlemen or servant. This song reminds me of Mendelssohn's Midnight Summer's Dream, happy and festive.
We're listening to
Frühlingslied
performed by Felicity Lott and Ann Murray, the duet par excellence, accompanied by Graham Johnson. I hope it passes on the joy and makes you smile. If you need more spring songs you can stay with Schumann's cycle, pay attention: no. 3
Frühlingsbotschaft
, no. 4
Frühlingsgruss
, no. 20
Frühlings Ankunft
, no. 24
Er ist 's
, no. 27
Schneeglöckchen
; all of them about spring. Do you wonder when Schumann wrote the cycle? In spring, of course.
Frühlingslied
Schneeglöckchen klingen wieder,
Schneeglöckchen bringen wieder
Uns heitre Tag, und Lieder.
Wie läuten sie so schön
Im Tal und auf den Höhn:
Der König ziehet ein,
Der König ist erschienen.
Ihr sollt ihm treulich dienen
Mit heitrem Blick und Mienen,
O laßt den König ein.
Er kommt vom Sterngefilde
Und führt in seinem Schilde
Die Güte nur und Milde.
Er trägt die Freud und Lust
Als Stern an seiner Brust,
Ist gnädig jedermann,
Den Herren und den Knechten,
Den Guten und den Schlechten,
Den Bösen und Gerechten,
Sieht alle liebreich an.
Ihr aber fragt und wißt es,
Und wer's auch weiß, vergißt es,
Der König Frühling ist es.
Entgegen ihm mit Sang,
Mit Saitenspiel und Klang!
Der König ziehet ein,
Der König ist erschienen.
Ihr sollt ihm treulich dienen
Mit heitrem Blick und Mienen,
O laßt den König ein!
Please visit this link if you need an English translation.