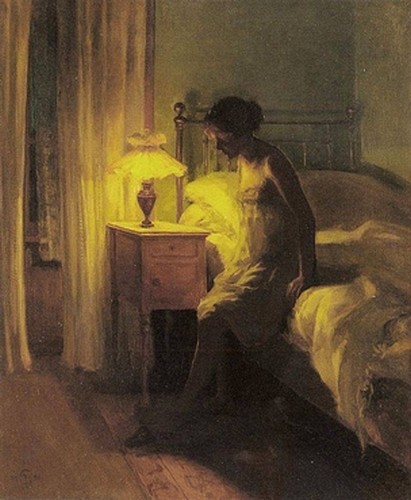 The Bedroom - P. Ilsted
Two of them are part of Liederkreis, op. 39, both taken from the same recording by Dietrich Fischer-Dieskau and Gerald Moore: the 4th song, Mondnacht and the last one, Frühlingsnacht. Both are inspired by the night but with a very different nature.
From Sechs Gedichte aus dem Liederbuch eines Malers, op. 36, we listened to Liebesbotschaft, performed by Gerald Finley and Julius Drake. A song that, as I told you back then, I listened non-stop for some time.
Sarah Connolly presents a varied recital with six different composers; to illustrate this post, I chose one of her songs by using the same last week criteria: a song I particularly like. But before talking about it, let's review the two program songs we've already heard:
Last summer I wrote two posts about Chamisso and Schumann and their cycle Frauenliebe und -leben; We enjoyed the first two lieder from the cycle: Seit ich ihn gesehen and Er, der Herrlischte von allen, performed by Kathleen Ferrier and John Newmark and by Elisabeth Grümmer and Aribert Reimann respectively.
Now, I'm talking about this week's song, Sleep, one of the four songs by Ivor Gurney that Sarah Connolly and Malcolm Martineau will perform (today we're listening to their performance too). Ivor Gurney is an English composer born in 1890; it belongs, therefore, to a generation whose life was traumatized by the First World War. Gurney deserves more than four lines so I'm thinking of devoting a regular post to him in Autumn. This week, we're listening to a song written before the war, when Gurney was still a student. Do you remember that last week we talked about Nacht und Träume and how dreams bring peace to our hearts? In Sleep, the fourth of the Five Elizabethan Songs by Gurney, the poet begs the sleep to come and give him some peace. Maybe it's a matter of empathy but I always hear a sleepless guy trying to get some sleep while the piano rocks him. Will he be able to fall asleep? I would say that the piano will give us the answer.
Sleep 
Come, Sleep, and with thy sweet deceiving
Lock me in delight awhile;
Let some pleasing dreams beguile
All my fancies; that from thence
I may feel an influence
All my powers of care bereaving.
Though but a shadow, but a sliding,
Let me know some little joy!
We that suffer long annoy
Are contented with a thought
Through an idle fancy wrought:
O let my joys have some abiding!