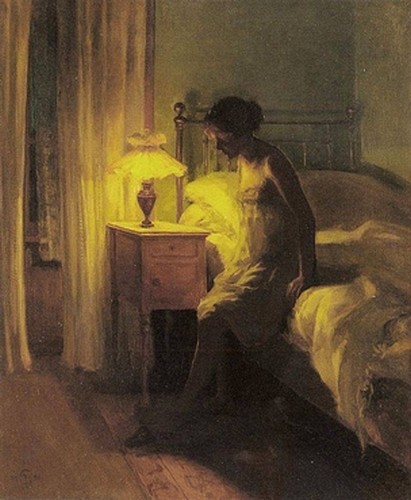 El dormitori - P. Ilsted
Continuem amb el repàs dels recitals de cançó de la Schubertíada a Vilabertran, aquest cop ens aturarem en els de
Matthias Goerne i Alexander Schmalcz
(diumenge 23 d'agost) i
Sarah Connolly i Malcolm Martineau
(dijous 27 d'agost).
El programa de Goerne estarà dedicat íntegrament Schumann; dels lieder que interpretarà nosaltres n'hem parlat de tres:
Dos d'ell formen part del Liederkreis, op. 39, tots dos extrets del mateix enregistrament de Dietrich Fischer-Dieskau i Gerald Moore; es tracta del quart, Mondnacht, i del dotzè i darrer, Frühlingsnacht. Tots dos inspirats en la nit però d'esperit ben diferent.
De Sechs Gedichte aus dem Liederbuch eines Malers, op. 36, vam escoltar en la interpretació de Gerald Finley i Julius Drake, Liebesbotschaft, un lieder que us explicava vaig escoltar a tothora durant un temps.
Sarah Connolly presenta un recital molt variat amb sis compositors diferents; per il·lustrar aquesta entrada he triat una cançó seguint el mateix criteri que la setmana passada, és una cançó que m'agrada especialment. Però abans de presentar-la ens aturarem en els dos lieder d'aquest programa que ja hem escoltat:
L'estiu passat vaig dedicar dues entrades a Schumann i Chamisso i el seu cicle Frauenliebe und -leben i vam escoltar els dos primers lieder del cicle: Seit ich ihn gesehen i Er, der Herrlischte von allen, interpretats per Kathleen Ferrier i John Newmark i per Elisabeth Grümmer i Aribert Reimann. respectivament.
Ara sí, ara us presento la nova cançó, Sleep, una de les quatre cançons d'Ivor Gurney que faran Sarah Connolly i Malcolm Martineau (i que nosaltres escoltarem interpretades per ells mateixos). Ivor Gurney és un compositor anglès nascut el 1890; pertany, per tant, a una generació que va veure la seva vida trasbalsada per la I Guerra Mundial. Gurney mereix més que quatre línies estiuenques així que a la tardor li dedicaré una entrada com cal; de moment, avui escoltarem una cançó escrita abans de la guerra, quan encara era un estudiant. Recordeu que la setmana passada parlàvem de Nacht und Träume i de la pau que els somnis porten al nostre cor? A Sleep, la quarta de les Five Elizabethan Songs de Gurney, el poeta prega al son que vingui i li procuri ni que sigui uns instants de pau. Serà per empatia però sempre hi sento la cançó d'un insomne intentant adormir-se mentre el piano el bressola. Ho aconseguirà? Jo diria que el piano ens en dóna la resposta.
Sleep
Come, Sleep, and with thy sweet deceiving
Lock me in delight awhile;
Let some pleasing dreams beguile
All my fancies; that from thence
I may feel an influence
All my powers of care bereaving.
Though but a shadow, but a sliding,
Let me know some little joy!
We that suffer long annoy
Are contented with a thought
Through an idle fancy wrought:
O let my joys have some abiding!
Vine, son, i amb el teu dolç engany
tanca'm en una estona de plaer;
deixa que alguns somnis plaents enganyin
totes les meves il·lusions; que des d'allà
pugui sentir una influència
privat de qualsevol preocupació.
Ni que sigui una ombra, per fugaç que sigui,
deixa'm conéixer una mica de joia!
Els que patim tan llargament
ens acontentem amb un pensament,
amb una vana fantasia:
deia que la meva joia duri encara una estona!