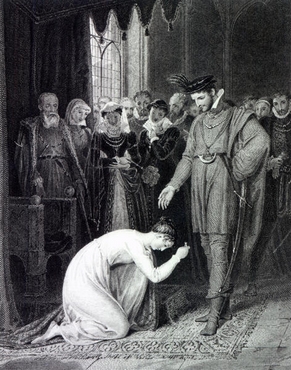 Ellen Douglas mostrant l'anell, de "La donzella del llac" de Walter Scott - R. Westall
We finish here our review of the recitals at the Schubertiade Vilabertran; The closing concert will take place on August 29th. It is a very special concert because, for the first time,
choral lieder
by Schubert is performed at the Schubertiade. The artists will be soprano Elena Copons, pianist Francisco Poyato and Cor de Cambra de la Diputació de Girona conducted by Pablo Larraz.
Elena Copons and Francisco Poyato will perform some Lieder about the night; I'vei already shared two of them:
Abendstern, which we listened almost three years ago, when I gave you (only) five reasons to love Schubert. The performers were Anthony Rolfe-Johnson and Graham Johnson.
Nachtstück, which has been chosen by three singers in this year's Schubertiade; Our version was that of Fritz Wunderlich and Hubert Giesen.
We haven't listened yet to any choral song by Schubert, we won't miss out this opportunity! Franz Schubert wrote in the summer of 1825, Sieben Gesänge aus Walter Scotts "Fräulein von See", ie seven songs from the poem "The Lady of the Lake" by Walter Scott. Five out of these seven songs are for voice and piano (including the three Ellen's songs that Sarah Connolly will sing in her recital at the Schubertiade) and two are for choir. We're listening to one of those choirs, Coronach, subtitled Totengesang der Frauen und Mädchen. The title says it all; this piece is a poignant song in memory of Duncan, one of the characters of the poem. We're listening the version of the RIAS Kammerchor conducted by Marcus Creed; the pianist is Philipp Mayers.

And so we say goodbye to the SV15; August is also getting to its end, I should start thinking of going back to normal...
Coronach
Er ist uns geschieden vom Berg und vom Walde
Wie versiegte Quelle, als Not uns bedrängte.
Die Quelle wird fliessen, genährt von dem Regen,
Uns scheint nie mehr Freude, dem Duncan kein Morgen.
Die Hand des Schnitters nimmt reife Ähren,
Unser Trauergesang klagt blühende Jugend.
Der Herbstwind treibt Blätter, die gelben, die welken,
Es blüht' unsre Blume, als Mehltau sie welkte.
Ihr flüchtigen Füsse, du Rat in Bedrängnis,
Du Arm im Streite, wie tief ist dein Schlummer.
Wie Tau auf den Bergen, wie Schaum auf dem Bache,
Wie Blas' auf der Welle bist ewig geschieden.
He is gone from our mountains and forests
like a dried-up spring, in our direst need.
The spring will flow again, nourished by the rain.
But joy will shine no more for us, and no morning will dawn for Duncan.
The hand of the reaper takes ripe ears of corn,
our lament mourns the bloom of youth.
The autumn wind scatters leaves, yellow and withered; your flower
was in full bloom when mildew tainted it.
Swift feet, counsel in distress,
strong arm in battle – how deep is your slumber.
Like dew on the mountains, like foam on the stream,
like surf on the waves, you have gone for ever.