If you missed the previous posts of the series on Wilhelm Meister's songs, click here for past entries.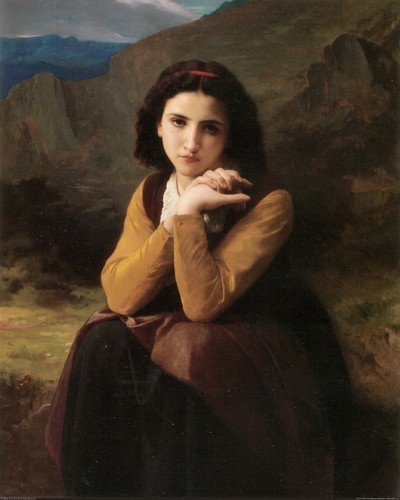 Mignon - W. A. Bouguereau
In the
previous
post of Wilhelm Meister's series, I talked about Mignon, who was then very ill. Wilhelm went to visit her and took Felix with him. Natalie told him that the girl had changed. She was disguised as an angel for a birthday party and she didn't want to wear back her boyish clothes again. The doctor, and now we get into the 16th post and the Chapter 3 in the VIII book, tells him some more things that Natalie had learned from Mignon. The most important is that the girl virtually lives only for him:
"The strange temper of the child seems to consist almost exclusively of deep longing; the desire of revisiting her native land, and the desire for you, my friend, are, I might almost say, the only earthly things about her. Both these feelings do but grasp towards an immeasurable distance, both objects lie before her unattainable."
The doctor also talks about the night after the performance of Hamlet, when Wilhelm was visited by a woman in his room. Do you
remember
that night's party when everyone, children included, drank too much? Wine gives Mignon courage to go to Wilhelm's bedroom; she wants to spend the night with him because she eavesdropped Philine talking with other women about "passing a night beside the man they loved" and she, naive, thought of a "happy and confiding rest." When she is about to go into Wilhelm's place, she sees another woman going in, and then Wilhelm, who closes the door:
"Mignon's agony was now unutterable: all the violent feelings of a passionate jealousy mingled themselves with the unacknowledged longing of obscure desire, and seized her half-developed nature with tremendous force. Her heart, which hitherto had beaten violently with eagerness and expectation, now at once began to falter and stop; it pressed her bosom like a heap of lead; she could not draw her breath, she knew not what to do; she heard the sound of the old man's harp, hastened to the garret where he was, and passed the night at his feet in horrible convulsions."
Moreover, soon after telling this story to Natalie, Mignon again suffers an attack; the doctor can hardly save her life. Wilhelm finally understands the girl feelings and feels terribly guilty and sad. He renounces to see her, he doesn't want to distress her, but the doctor urges him to visit her and later on, they will decide what to do. Wilhelm goes into Mignon's room and finds the girl with Felix on her lap; Mignon "looked like a departed spirit, he like life itself: it seemed as if Heaven and Earth were clasping one another." The girl welcomes Wilhelm gently and, following the doctor's advice, from that day they spent long hours together, often wandering along the garden. Some days later, Therese, who has accepted Wilhelm's marriage proposal, arrives at the castle. The two children run to welcome her and Natalie scolds Mignon, now her heart is beating too fast! Therese addresses to Wilhelm as "My friend, my love, my husband! Yes, forever mine!" Mignon hears it, puts her hand on her chest, screams and falls dead. Can you imagine Wilhelm's despair?

The girl's funeral takes place in the castle's hall known as "Hall of the Past". The remains of Natalie's uncle are in that room, in a coffin with a sumptuous marble figure of a man holding a roll that says "Remember to live" (the words that started this series) Nearby, there is another ancient sarcophagus that fits for a young, slight person; where Mignon will rest. At the (secular) funeral the attendees, in addition to Wilhelm, are Lothario, Natalie, Therese and Friedrich, who happens to be the youngest brother of those three; Jarno also attends, as well as the Italian marquis who happened to be in the castle on business trip. When the abbot removes the veil that covers the girl's embalmed body, the Marquis is shocked: he recognizes the tattoo on her arm. Mignon is his niece who disappeared many years ago. But nothing else is explained at the moment, so if you really want to know Mignon's story, you'd better wait for a few weeks!

Music plays an important role in the funeral, with four children singing in the room and two invisible choirs, located behind the curtains. The choir welcomes the dead girl ("May no boy, no maiden follow!"), children express their grief; the choir tells the children that Mignon is now an angel and encourages them to play again; Finally, all celebrate life. As you can see, that's not a song, I guess we could call it a cantata. Artur Rubinstein and Robert Schumann composed a piece on this text; The former, as part of his cycle on Wilhelm Meister's songs, the later wrote his Requiem für Mignon, op. 98/b immediately after his Lieder aus Wilhelm Meister Gesänge, op. 98/a.

We're making an exception and listening to an excerpt from Schumann's Requiem; we followed Mignon chapter by chapter and won't let her go without saying goodbye. Schumann divided his work into six parts; we're listening to the fourth one, In euch lebe die bildende Kraft, where children say they miss Mignon and the choir tells them to look at her with the eyes of their mind. Our version will be that of Claudio Abbado conducting the Chamber Orchestra of Europe; the children will be Barbara Bonney, Dalia Schaechter and Briggite Poschner and the choir the Vienna Opera Choir. .
In euch lebe die bildende Kraft

CHOR
 In euch lebe die bildende Kraft, die, das Schönste, das Höchste hinauf, über die Sterne das Leben trägt.
KNABEN
 Aber ach! wir vermissen sie hier, in den Gärten wandelt sie nicht,  sammelt der Wiese Blumen nicht mehr. Lasst uns weinen, wir lassen sie hier! Lasst uns weinen und bei ihr bleiben!
CHORUS
Awake in your souls the imaginative power, which carries forth, what is fairest, what is highest, Life, away beyond the stars.
BOYS
But ah! we find her not here; in the garden she wanders not; the flowers of the meadow she plucks no longer. Let us weep, we are leaving her here! Let us weep and remain with her!
(translation by Thomas Carlyle)