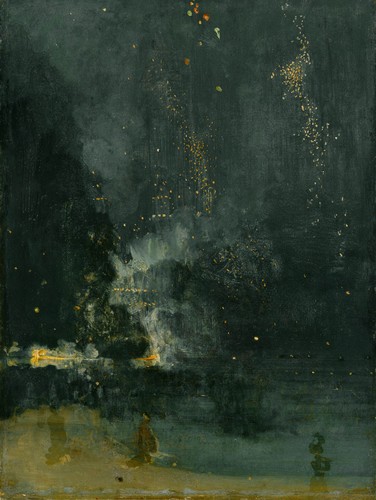 Nocturne in Black and Gold - J. Whistler
On 31th August 1888, Hugo Wolf had just come back to Vienna from Bayreuth and was staying at his friend Friedrich Eckstein's place, a house in a busy neighborhood. The composer was walking along the garden trying to read some poetry by Joseph von Eichendorff but noise from a nearby factory disturbed him, and someone whistled and a carpet was rhythmically being shaken. How on earth could he concentrate on reading! Suddenly, however, he got into the house, sat at the piano and composed
Verschwiegene Liebe
in one go. That's how Ernst Decsay explains it in his composer's biography, the first one to be published; maybe he embellishes a bit the story but truth is that Wolf borrowed his friend his house near Lake Attersee, much quieter, and between 21st and 29th September, he wrote ten Lieder on Eichendorff's poems since he used to compose very fast when he was inspired.
Verschwiegene Liebe
, n. 3 of Wolf's Eichendorff-Lieder, is a great song, one of those rare moments of perfect happiness which are very occasionally found in the songs.
The poem is included in the epic poem
Robert und Guiscard
, written by Eichendorff in 1855, two years before his death. Guiscard (an 11th century Norman knight) is in a room with the window opened, breathing the scent of lilacs in bloom in the moonlight; he's waiting, Marie usually goes for a walk at this hour, and he sings those verses "from the depths of his heart,". As I've only read
Robert und Guiscard
in regard to the poem, I don't really know anything else about the relationship between Guiscard and Marie and, considering only the poem, I can't tell if, at that precise moment, Guiscard is happy or sad.
Shall we focus on the poem? It has two stanzas of seven lines, and we find the most important ideas, thoughts and love, at the end of each verse. They are surrounded by landscape: night, clouds, hills, fields. Pure romanticism, don't you think? And this proud verse,
Gedanken sind frei
(Thoughts are free) and an adjective that, according to my interpretation and my limited knowledge of German, is the keyword of the poem:
verschwiegen
. Duden dictionary defines the verb
verschweigen
as "
bewusst nicht sagen; verheimlichen
" that is, not to say something consciously, to hide it. The poem speaks of a love that is kept deliberately secret but still I don't know if that's a reason to sadden the poet...
When Wolf intervenes, in my opinion, doubts dissipate: there is no conflict, no tension in the song, it's a perfect moment. The song is strophic and the sheet indicates "
Sanfte Bewegung und immer sehr zart
" (smooth motion and very delicate); the first piano notes indicated "
ausdruckvoll und weich
" (expressive and soft touch) and the voice "
leise
" (softly); throughout the song, the piano rocks as well as thoughts rock in the poem, and there is a silence at the end of every phrase as there are silences in the poem. At the vocal line, Wolf enhances, on the one hand, the adjective I mentioned before, verschwiegen, and on the other hand, the last verses of both stanzas. The central syllable of
verschwiegen
is emphasized with the highest note of the song, a long note that, faithful to the poem, has to be sang in
pp
, that is, almost "silent." Then comes the last verse, that in the first stanza is
Gedanken sind frei
; the second syllable of
Gedanken
also reaches the same high note, which is twice as long as the previous word, and from here, there is a crescendo until the end of the sentence; the voice opens and sings proud and free. In the second stanza, the phrase is modified slightly: the highest (and even longer) note lies on
schön
, but this time the voice grows first louder and then softer, that is, the singer does what is called a messa di voce, to finish the song again in pianissimo.
I would like to know your opinion. For me, Verschwiegene Liebe is one of the more peaceful, intimately joyful love songs that I've ever known, and its hidden secret reminds me of another great Lieder, Schubert's
Geheimes
. I'm sharing with you my favourite version, I always come back to it, the one by Ian Bostridge and Antonio Pappano. For once, a tenor wins a baritone (although I really like the performance of Wolfgang Holzmair and Imogen Cooper).
Just one thing before listening to the song. Do you remember the series
Lied goes Pop
? This Lied is included in Barbra Streisand's album Classical Barbra,
here
her version and what Bostridge
said about it
:
"My first experience of Hugo Wolf was as a child, hearing Verschwiegene Liebe (Silent Love) on Barbra Streisand's Classical Barbra album (much praised by both Leonard Bernstein and Glenn Gould). I remembered the song years later, and it drew me back to Wolf. Thank you, Barbra."
Verschwiegene Liebe

Über Wipfel und Saaten
In den Glanz hinein –
Wer mag sie erraten,
Wer holte sie ein?
Gedanken sich wiegen,
Die Nacht ist verschwiegen,
Gedanken sind frei.
Errät' es nur eine,
Wer an sie gedacht,
Beim Rauschen der Haine,
Wenn niemand mehr wacht,
Als die Wolken, die fliegen –
Mein Lieb ist verschwiegen
Und schön wie die Nacht.
Over treetops and corn
 and into the splendor -
 who may guess them,
 who may catch up with them?
 Thoughts sway,
 the night is mute;
 thoughts run free. 
 Only one guesses,
 one who has thought of her
 by the rustling of the grove,
 when no one was watching any longer
 except the clouds that flew by -
 my love is silent
 and as fair as the night. 
(translation by Emily Ezust)