Since September 2013 I'm posting regularly in English in addition to Catalan. If you want to read this post translated to English, please use the automatic translator on the right column.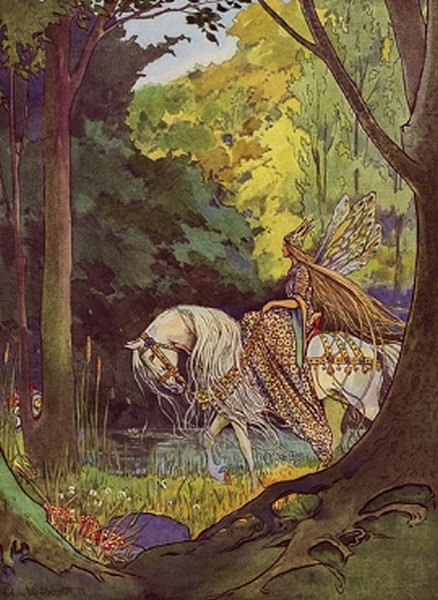 La reina dels elfs - A. von Volborth
Carl Loewe va ser conegut a Viena com el "Schubert de l'Alemanya del Nord". Havia nascut dos mesos abans que Schubert i, casualitats de la vida, fou també el dotzè fill d'un mestre. Ben aviat va destacar per les seves aptituds musicals i el Loewe adolescent va començar una carrera com a compositor que va durar més de cinquanta anys; en la cronologia liederística, de les primeres cançons de Schubert a les cançons de Brahms a la seva trentena.
Loewe, que va morir el 1869, va gaudir de l'èxit en vida, no només com a compositor sinó també com a intèrpret de les seves cançons: es va fer famós fent concerts en els que cantava les seves obres acompanyant-se ell mateix al piano, un cas ben atípic a la història del lied. A la seva extensa obra (unes cinc-centes cançons) el que més destaquen són les balades, cançons narratives que acostumen a centrar-se en els temes més habituals de l'època: l'edad mitjana, la mitologia, els elements sobrenaturals... Cançons extravertides en contraposició a les cançons introvertides que són habitualment els lieder (m'estalvio filar prim i entrar en la discusió sobre què és i què no és lied en sentit estricte). Loewe no és un compositor de primera fila com els seus contemporanis Schubert, Schumann i Brahms, però entre les seves balades es troben obres mestres del gènere com la que escoltarem avui, escrita el 1860: Tom der Reimer (Tom el poeta). El poema és de Theodor Fontane i es basa en Thomas The Rhymer, una balada escocesa del segle XIV.
Thomas Learmouth va ser un noble i poeta escocès que va viure el segle XIII, al qual s'atribueixen profecies que s'han acomplert al llarg de la història. La balada explica com Thomas es troba al bosc amb la reina de les fades (o dels elfs, segons les interpretacions), que l'adverteix que si intenta fer-li un petó haurà de ser el seu esclau durant set anys; a Thomas li sembla una gran idea i evidentment li fa el petó. La cançó de Loewe acaba amb Tom i la reina cavalcant cap al País de les Fades, però la llegenda escocesa continua: passats els set anys la reina retorna Tom al reialmet dels mortals i li regala, com a record, el do de veure el futur.
Tom der Reimer és una cançó encantadora, amb una melodia variada i un piano expressiu que amb el seu llarg preludi ens situa prop del rierol a on es trobaran Tom i la fada; sentirem també la seva campaneta d'argent i el galop del seu cavall i com que la història té final feliç podrem acabar la cançó amb un somriure als llavis. Segons els qui el van escoltar, Loewe era un molt bon intèrpret. Cantaria aquesta balada tan bé com ho fa Dietrich Fischer-Dieskau? S'acompanyaria tan bé com ho fa Gerald Moore?
Tom der Reimer
Der Reimer Thomas lag am Bach,
Am Kieselbach bei Huntly Schloß.
Da sah er eine blonde Frau,
Die saß auf einem weißen Roß.
Sie saß auf einem weißen Roß,
Die Mähne war geflochten fein,
Und hell an jeder Flechte hing
Ein silberblankes Glöckelein.
Und Tom der Reimer zog den Hut
Und fiel auf's Knie, er grüßt und spricht:
"Du bist die Himmelskönigin!
Du bist von dieser Erde nicht!"
Die blonde Frau hät an ihr Roß:
"Ich will dir sagen, wer ich bin;
Ich bin die Himmelsjungfrau nicht,
Ich bin die Elfenkönigin!"
"Nimm deine Harf und spiel und sing
Und laß dein bestes Lied erschalln!
Doch wenn du meine Lippe küßt,
Bist du mir sieben Jahr verfalln!"
"Wohl! sieben Jahr, o Königin,
Zu dienen dir, es schreckt mich kaum!"
Er küßte sie, sie küßte ihn,
Ein Vogel sang im Eschenbaum.
"Nun bist du mein, nun zieh mit mir,
Nun bist du mein auf sieben Jahr."
Sie ritten durch den grünen Wald,
Wie glücklich da der Reimer war!
Sie ritten durch den grünen Wald
Bei Vogelsang und Sonnenschein,
Und wenn sie leicht am Zügel zog,
So klangen hell die Glöckelein.
Thomas el poeta jeia vora el rierol,
el rierol de còdols prop del castell de Huntly.
Allà va veure una dona rossa
que muntava un cavall blanc.
Muntava un cavall blanc
amb la crinera finament trenada
i penjant d'aquesta trena lluïa
una lluent campaneta d'argent.
Tom el poeta es llevà el barret,
feu una genuflexió, saludà i digué:
"Tu ets la Reina dels Cels,
no ets d'aquest món"
La dóna rossa aturà el cavall:
"Et diré qui sóc:
No sóc la Mare de Déu,
sóc la reina dels elfs!
Pren la teva lira, toca i canta,
fes que soni la teva millor cançó!
Però si beses els meus llavis
seràs el meu esclau durant set anys!"
"Perfecte! Set anys servint-te,
no m'espanten, reina meva!"
Ell la besà, ella el besà,
un ocell cantava des d'un freixe.
"Ara ets meu, vine amb mi,
ara ets meu durant set anys"
Cavalcaren a través del verd bosc
i el poeta era immensament feliç!
Cavalcaren a través del verd bosc,
entre el cant dels ocells i la llum del sol,
i quan ella estirà suaument de les regnes
s'escoltà el so cristal·lí de la campaneta.