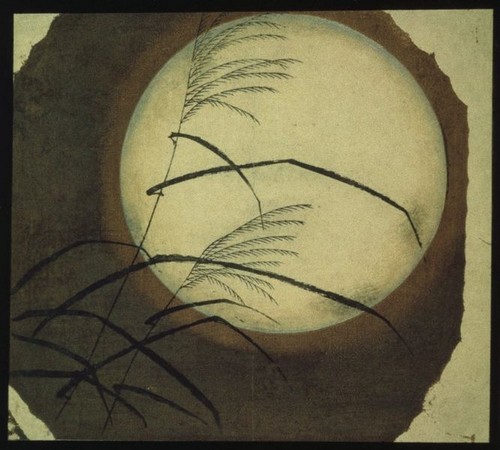 Wind blown grass across the moon - U. Hiroshige
Last post about the SV16! Today, I'm speaking about our last Lied recital this summer, on September 2nd. Anna Lucia Richter and Michael Gees will perform a programme entirely devoted to Schubert (actually the only one, along with Die schöne Müllerin with Peter Mauro and Helmut Deutsch). Shall we review the songs we've listened so far on Liederabend?
It's time to introduce one more song from SV16 recital. I chose An den
Mond
, D. 259, not to be mistaken for
An den Mond
, D. 193,
An den Mond,
D. 296 or
An den Mond,
D. 468. My own trick for not getting lost among so many catalogue numbers is to identify songs that share their title by their first verse, that's to say,
An den Mond
, D. 259 (Füllest wieder Busch und Tal). But, in this case, it isn't enough because the D. 296 has the same poem. So today, we're talking about
An den Mond
, D. 259 (
Füllest wieder Busch und Tal
), written by Schubert from a poem by Goethe in August of that hyperactive
1815
. The song is simple and strophic (Schubert reordered the stanzas by taking them in pairs). We're listening to a classical version, that of Dietrich Fischer-Dieskau and Gerald Moore.
And after this post, September arrives... I'll do my best to get back to normal asap to prepare our new course together…
An den Mond, D. 259

Füllest wieder Busch und Tal
Still mit Nebelglanz,
Lösest endlich auch einmal
Meine Seele ganz.
Breitest über mein Gefild
Lindernd deinen Blick,
Wie des Freundes Auge, mild
Über mein Geschick.
Rausche, Fluss, das Tal entlang,
Ohne Rast und Ruh,
Rausche, flüstre meinem Sang
Melodien zu,
Wenn du in der Winternacht
Wütend überschwillst,
Oder um die Frühlingspracht
Junger Knospen quillst.
Selig, wer sich vor der Welt
Ohne Hass verschliesst,
Einen Freund am Busen hält
Und mit dem geniesst,
Was, von Menschen nicht gewusst
Oder nicht bedacht,
Durch das Labyrinth der Brust
Wandelt in der Nacht.
You fill bush and valley again
quietly with a splendid mist
and finally set loose
entirely my soul.
You spread over my domain
gently your gaze,
as mildly as a friend's eye
over my fate.
Murmur, river, beside the valley,
without rest and calm;
murmur on, whispering for my song
your melodies,
Whenever you, on winter nights,
ragingly flood over,
or, in the splendor of spring,
help swell young buds.
Blissful is he who, away from the world,
locks himself without hate,
holding to his heart one friend
and enjoying with him
that which is unknown to most men
or never contemplated,
and which, through the labyrinth of the heart,
wanders in the night.
(translation by Emily Ezust)