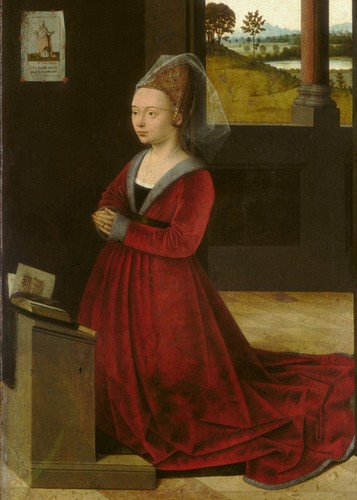 Portrait of a Female Donor - P. Christus
We're reaching our third and last post of this mini-series in collaboration with Isabel Villagar and her blog
La brújula del canto
. As usual, a warm welcome to her readers. As you may remember, we thought of focusing on the most famous Lieder, so famous indeed that we might not know they're Lieder; The seed of the series was
an article
I posted four years ago. We previously listened to the most famous work of Brahms, his lullaby (one of his lullabies, in fact); Also, the best known work of Haydn, the German National Anthem, and today we're listening to the best-known work of Schubert. And yes, the three of them are Lieder. However, this Schubert's work, despite being his best-known, wasn't written by Schubert. Or not exactly. Or not entirely. Perhaps I should explain myself, shouldn't I?
I'm quite sure that all of you know this pretty well. Please, raise your hand if you've never heard it at a wedding!
This video is an excerpt from the film
Serenade
, directed by Anthony Mann in 1956, and Mario Lanza sings (while Sara Montiel looked at him rapturously) what we all know as Schubert's Ave Maria. And yes, he wrote the music but no, he never wrote those lyrics.
Schubert wrote this music from a poem by Walter Scott, a fragment of his work
The lady of the lake
, which tells a story of love and fights located in Scotland in the sixteenth century. In 1825, Franz Schubert wrote Sieben Gesänge aus Walter Scott's "Fräulein von See" from the translation that Adam Storck did of Scott's poem. Out of seven songs, five are for voice and piano and are sung by three characters in the play: Normann, Malcolm and Ellen; the other two are choral songs performed by a male choir and a female choir respectively. The female one,
Coronach
, is a funeral song that we listened almost a year ago, in a post about the Schubertiade Vilabertran.
Ellen Douglas is the heroine of Scott's poem, and she sings three of the five lieder; the last one, which is the sixth part of the cycle, is simply known as
Ellen Gesang III
and it's a prayer to the Virgin Mary; In this story of struggles and rivalries, she, her father and her fiancé are in danger so Ellen begs for protection. This Lied quickly became popular in Schubert's circles. He and his friend Johann Michael Vogl used to perform it quite often (at that time there was no problem if a baritone sang the maid words) and at some point, someone substitute the original poem for the catholic prayer.
No one knows exactly how it happened. Most probably, all started because the three stanzas of the Lied begin with the words "Ave Maria!" The first references come from some decades after Schubert's death and the religious version became so popular that almost masked the original one. The problem, if we can say so, is that we know it as "Ave-Maria-by-Schubert", when my dearest Schubert wouldn't never ever have made such a clumsy version of his song, cramming the prayer words into the tune. Do you think I'm exaggerating? This is the Latin text of the Ave Maria:
Ave Maria, gratia plena,
Dominus tecum, benedicta tu in mulieribus,
et benedictus fructus ventris tui Iesus.
Sancta Maria mater Dei,
ora pro nobis peccatoribus,
nunc, et in hora mortis nostrae.
Amen
And that's what Mario Lanza sings on the video (fortunately enough, he only sings the first part):
Ave Maria
Gratia plena
Maria, gratia plena
Maria, gratia plena
Ave, ave dominus
Dominus tecum
Benedicta tu in mulieribus
Et benedictus
Et benedictus fructus ventris
Tui, Jesus.
Ave Maria
History is merciful and conceals the name of the well-intentioned gentleman who thought how great was the idea of turning the Lied into Ave Maria… Since you heard this version many times, I invite you to listen to Schubert's song, where words and music fit together perfectly well, as the apple of my eye deserves it. It will be the version of Gundula Janowitz and Irwin Gage.
If you go back to that first post,
It rings a bell!
, maybe you'll miss one of the songs I mentioned there in this mini-series, Schubert's
Ständchen
. In fact, I'm not talking about it because I did it some time ago; maybe you would like to go into this
link
to know more about that beautiful song and, above all, listen to it...
Thanks Isabel for suggesting this contribution and thanks to the readers who came from La brújula del canto, I hope you'll keep visiting this website. No matter where you come from, next week, I'll be waiting for you. In the meantime, you have a great Midsummer Eve!
Ellens Gesang III

Ave Maria! Jungfrau mild,
Erhöre einer Jungfrau Flehen,
Aus diesem Felsen starr und wild
Soll mein Gebet zu dir hinwehen.
Wir schlafen sicher bis zum Morgen,
Ob Menschen noch so grausam sind.
O Jungfrau, sieh der Jungfrau Sorgen,
O Mutter, hör ein bittend Kind!
Ave Maria!
Ave Maria! Unbefleckt!
Wenn wir auf diesen Fels hinsinken
Zum Schlaf, und uns dein Schutz bedeckt
Wird weich der harte Fels uns dünken.
Du lächelst, Rosendüfte wehen
In dieser dumpfen Felsenkluft,
O Mutter, höre Kindes Flehen,
O Jungfrau, eine Jungfrau ruft!
Ave Maria!
Ave Maria! Reine Magd!
Der Erde und der Luft Dämonen,
Von deines Auges Huld verjagt,
Sie können hier nicht bei uns wohnen.
Wir woll'n uns still dem Schicksal beugen,
Da uns dein heil'ger Trost anweht;
Der Jungfrau wolle hold dich neigen,
Dem Kind, das für den Vater fleht.
Ave Maria!
Ave. Maria! maiden mild!
Listen to a maiden's prayer!
Thou canst hear though from the wild,
Thou canst save amid despair.
Safe may we sleep beneath thy care,
Though banished, outcast, and reviled
Maiden! hear a maiden's prayer;
Mother, hear a suppliant child!
Ave Maria!
Ave Maria! undefiled!
The flinty couch we now must share
Shall seem with down of eider piled,
If thy protection hover there.
The murky cavern's heavy air
Shall breathe of balm if thou hast smiled;
Then, Maiden! hear a maiden's prayer,
Mother, list a suppliant child!
Ave Maria!
Ave. Maria! stainless styled!
Foul demons of the earth and air,
From this their wonted haunt exiled,
Shall flee before thy presence fair.
We bow us to our lot of care,
Beneath thy guidance reconciled:
Hear for a maid a maiden's prayer,
And for a father hear a child!
Ave Maria!
(Walter Scott)