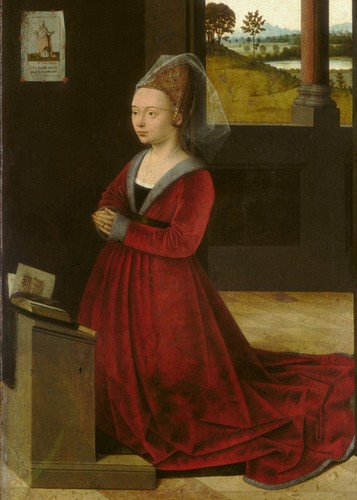 Retrat d'una dona donant - P. Christus
Arribem a la tercera i darrera entrada de la minisèrie en col·laboració amb Isabel Villagar i el seu blog
La brújula del canto
; com sempre, donem la benvinguda especialment als lectors que arriben per aquest camí. Com segurament recordareu, i si no ja us ho recordo ara, vam pensar de centrar-nos el els lieder més cèlebres, tan cèlebres que potser no sapiguem que són lieder, arran d'una
entrada
que vaig escriure fa gairebé quatre anys. A la primera part de la minisèrie vam escoltar l'
obra més coneguda de Brahms
, la seva cançó de bressol (una de les seves cançons de bressol, de fet), a la la segona,
la més coneguda de Haydn
, l'himne nacional alemany, i avui escoltarem la més coneguda de Schubert. I sí, totes tres són lieder. Ara, que la de Schubert, tot i ser la més coneguda de Schubert, no la va escriure Schubert. O no ben bé. O no del tot. Potser que us ho expliqui, no?
Oi que tots, absolutament tots, coneixeu això? Que alci la mà qui no ho hagi sentit mai en un casament:
Aquest vídeo és un fragment de la pel·lícula
Serenade
, dirigida el 1956 per Anthony Mann, i el que Mario Lanza canta mentre Sara Montiel se'l mira extasiada ho coneixem tots com l'Ave Maria de Schubert. I sí, Schubert en va escriure la música però no, no hi va posar aquesta lletra.
Schubert va escriure aquesta música per a un poema de Walter Scott, un fragment de la seva obra
The lady of the lake
, que narra una història d'amors i lluites situada a Escòcia al segle XVI. El 1825, Franz Schubert va escriure els
Sieben Gesänge aus Walter Scotts "Fräulein von See"
, a partir de la traducció que Adam Storck havia fet de l'obra d'Scott. Dels set cants, cinc són lieder per a veu i piano cantats tres personatges de l'obra: Normann, Malcolm i Ellen; els altres dos són cants corals, interpretats per un cor masculí i un altre de femení, respectivament. El cant femení,
Coronach
, és un cant fúnebre que vam escoltar fa gairebé un any, aprofitant que era part del programa de cloenda de la Schubertíada.
Ellen Douglas és l'heroïna del poema, i a ella li corresponen tres dels cinc lieder; el darrer, que és la sisena peça del cicle, es coneix senzillament com a
Ellens Gesang III
i és una pregària de la jove a la Mare de Déu; en aquesta història de lluites ella, el seu pare i el seu promès són en perill i Ellen demana protecció. Aquest lied de seguida es va fer popular en el entorn de Schubert, ell i el seu amic Michael Vogl l'interpretaven sovint (en aquella època no hi havia cap problema perquè un baríton cantés les paraules de la donzella) i en algun moment algú va substituir les paraules de Scott per les de l'oració.
No se sap ben bé com va anar, sembla ser que el tercer cant d'Ellen es va començar a cantar amb el text de l'Ave Maria unes dècades després de la mort de Schubert, segurament perquè les tres estrofes del lied comencen amb les paraules Ave Maria! La versió religiosa es va fer tan popular que pràcticament va emmascarar la versió original. El problema, si en podem dir així, és que es coneix com a "Ave-Maria-de-Schubert" i el pobre Schubert mai de la vida hauria fet una versió del seu lied amb tan poca traça, entaforant-hi les paraules de l'oració amb calçador. Penseu que exagero? Aquest és el text de l'Ave Maria en llatí:
Ave Maria, gratia plena,
Dominus tecum, benedicta tu in mulieribus,
et benedictus fructus ventris tui Iesus.
Sancta Maria mater Dei,
ora pro nobis peccatoribus,
nunc, et in hora mortis nostrae.
Amen
I aquest és el text que canta Mario Lanza en el vídeo (per sort, només en canta la primera part):
Ave Maria
Gratia plena
Maria, gratia plena
Maria, gratia plena
Ave, ave dominus
Dominus tecum
Benedicta tu in mulieribus
Et benedictus
Et benedictus fructus ventris
Tui, Jesus.
Ave Maria
El senyor que va pensar que seria bona idea fer servir la música de Schubert per fer-ne un Ave Maria segurament ho va fer amb molt bona voluntat però es va quedar descansat... Per sort, la Història ens va amagar pietosament el seu nom. Com que aquesta versió l'haureu sentit un munt de cops, us convido a escoltar el lied de Schubert, on paraules i música lliguen perfectament, com correspon al rei d'aquesta casa. Serà la versió de Gundula Janowitz i Irwin Gage.
Si heu recuperat aquella primera entrada,
Aquesta em sona!
, potser trobareu a faltar que no parli en aquesta minisèrie de la cinquena cançó que hi esmentava, Ständchen, de Schubert. No ho he fet perquè en vaig parlar en una altra ocasió ara fa gairebé dos anys; si voleu recuperar-la i, sobretot, escoltar un lied tan preciós,
aquí
la teniu.
Gràcies a la Isabel per proposar-me la col·laboració i gràcies als lectors que heu arribat des de La brújula del canto, espero que continueu visitant aquest web. Us espero a tots, vingueu d'on vingueu, la setmana vinent. Que tingueu una molt bona revetlla de Sant Joan!
Ellens Gesang III

Ave Maria! Jungfrau mild,
Erhöre einer Jungfrau Flehen,
Aus diesem Felsen starr und wild
Soll mein Gebet zu dir hinwehen.
Wir schlafen sicher bis zum Morgen,
Ob Menschen noch so grausam sind.
O Jungfrau, sieh der Jungfrau Sorgen,
O Mutter, hör ein bittend Kind!
Ave Maria!
Ave Maria! Unbefleckt!
Wenn wir auf diesen Fels hinsinken
Zum Schlaf, und uns dein Schutz bedeckt
Wird weich der harte Fels uns dünken.
Du lächelst, Rosendüfte wehen
In dieser dumpfen Felsenkluft,
O Mutter, höre Kindes Flehen,
O Jungfrau, eine Jungfrau ruft!
Ave Maria!
Ave Maria! Reine Magd!
Der Erde und der Luft Dämonen,
Von deines Auges Huld verjagt,
Sie können hier nicht bei uns wohnen.
Wir woll'n uns still dem Schicksal beugen,
Da uns dein heil'ger Trost anweht;
Der Jungfrau wolle hold dich neigen,
Dem Kind, das für den Vater fleht.
Ave Maria!
Ave Maria! Dolça Verge,
escolta la pregària d'una verge;
que des d'aquesta roca freda i salvatge
voli cap a tu la meva oració.
Dormirem tranquils fins demà,
malgrat la crueltat dels homes.
Oh Verge, contempla les afliccions d'una verge!
Oh mare, escolta una filla que t'implora!
Ave Maria!
Ave Maria puríssima!
Quan jaiem damunt la roca per dormir
i ens cobreixi la teva protecció,
la dura pedra ens semblarà flonja.
Si somrius, flaires de roses s'escampen
per aquest abisme sufocant.
Oh mare, escolta les pregàries d'una filla!
Oh, Verge, et crida una verge!
Ave Maria!
Ave Maria, Verge puríssima!
Els dimonis de la terra i de l'aire,
expulsats del favor dels teus ulls,
no poden viure aquí amb nosaltres.
Ens volem doblegar silenciosos al destí
cap al qual ens empeny el teu sant consol;
inclina't benigne cap a la verge,
cap a la filla que prega per un pare!
Ave Maria!
(traducció de Manuel Capdevila i Font)