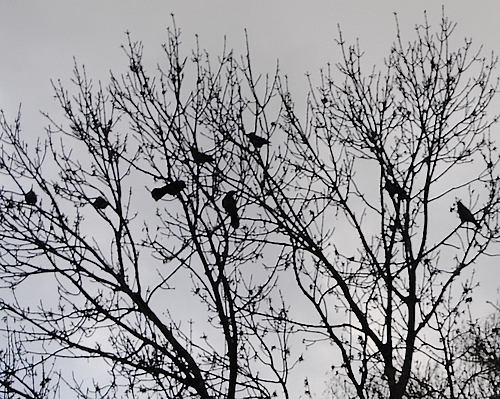 Time and again, if I raise my eyes from my notebook, I see (according to Mr Google) yellow-legged gulls, that is, huge seagulls, perched on a near house, waiting for anything edible. When they leave, pigeons may come, but they won't stay there together: pigeons learned years ago, that they should flee from gulls. At home, there are also blackbirds and a few birds whose name I don't know: They are small as sparrows but slimmer, naughtier and noisier. Collared doves also approach, but they are more cautious. When I go out, I'll see pigeons, monk parakeets (again I googled) and sparrows on the street; perhaps a magpie, and little more. But one day, I saw a crow. And when my brain got to terms with that information, I stopped and turned around. The crow was still there, pecking, surrounded by pigeons, and someone as startled as I was, took a picture. I don't know if neighbourhoods closer to the hills in Barcelona are as used to sharing their streets with crows as they're to wild boars, but in my neighbourhood, Gràcia, it was a pretty amazing event.
I must admit that I hardly know anything about birds. In fact, I can't say if that bird with black feathers, so black and shiny that looked blue, was a raven or a crow, because I can only distinguish them if I see them together (ravens are larger than crows). However, those birds, so unusual in Barcelona, are very common in many cities in Europe! I've seen a flock of birds throwing themselves at tables in a terrace to pick at the leftovers, as seagulls do here, or staying peacefully in parks, as pigeons do here too (I took the picture that illustrates this post at the Stadparkt in Vienna, near the Schubert monument). Their presence is (or was, I'm not sure) taken as a bad omen; They symbolize death because of their omnivore diet (so, they are carrion birds). Since I'm not used to them, my references are biased; let's say Poe's
The Raven
o Hitchcock's
The birds
. But when I saw that crow (or raven) I thought of Schubert, Müller and their
Winterreise
.
Müller dedicated a poem from
Winterreise
to a crow,
Die Krähe
; it's the 11th, placed between
Der greise Kopf
and
Letzte Hoffnung
; in Schubert's cycle, it's placed between the same titles but it's the 15th song (
remember
that the composer realized after writing the first twelve songs that he had been working with an incomplete edition of the poems). The crow is the first living being that the wanderer meets; in fact, the bird has been there since he left home. In the previous song, he regrets being still so young, so far away from death; however, he colligates now the crow with his own death and asks the crow to be faithful to him to his grave. May he be asking for the faithfulness he didn't get from his beloved?
Are there "light songs" in
Winterreise
? "Light" meaning that they allow us a little rest among so much distress. And if this is so, is one of them
Die Krähe
? I would say it depends on the performers. At the first stanza, the singer usually adopts a descriptive tone. The piano doubles the voice with his left hand, while the high notes from his right hand represent the crow fluttering around the wanderer. The pianist could play those high notes in a way that the music became disturbing, as if the man had a hallucination, or he could play them as simply describing the bird. In any case, he will probably suggest the character of the whole song.
At the second stanza, the man addresses the bird as "
Wunderliches Tier
" strange creature; strange, different, that doesn't fit. Those words about such a common bird (in Müller's contexts) always drew my attention. Is it strange, uprooted, as the wanderer himself is? As always, there are so many questions in this cycle! At the third stanza, the piano plays again those high notes, and the wanderer asks the crow to remain with him to his grave. The singer can address the crow with different moods: rage, irony, sarcasm, resignation, even sweetness. And believe me, to hear somebody talking tenderly to an ill-omened creature and begging it not to abandon him is one of the most striking things that can be experimented during a
Winterreise
. As if, at that moment, we would realise that we've irretrievably lost him.
The feeling we experience will depend on the way the performers take which is more difficult to grasp if we hear it isolated; nonetheless, I wonder how you'll feel our version. It's that of Christopher Maltman and Graham Johnson, recorded live at the Wigmore Hall, and I feel calmness, even with a pinch of irony ...
Die Krähe

Eine Krähe war mit mir
Aus der Stadt gezogen,
Ist bis heute für und für
Um mein Haupt geflogen.
Krähe, wunderliches Tier,
Willst mich nicht verlassen?
Meinst wohl, bald als Beute hier
Meinen Leib zu fassen?
Nun, es wird nicht weit mehr geh'n
An dem Wanderstabe.
Krähe, laß mich endlich seh'n,
Treue bis zum Grabe!
If you need an English translation please visit this
link