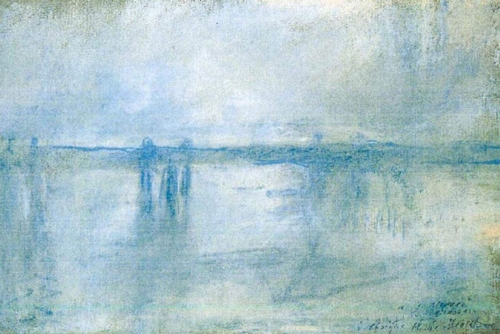 Charing Cross Bridge, London - C. Monet
Sibelius' songs are not as well-known as they should; most of them are based on poems in Swedish, a language which is not familiar to many singers; the fact that the composer used his own language is as natural as it is that it became a barrier for the singers. At his time, the song's profits came mainly from the sale of scores, and Sibelius' market was reduced; maybe that's why his publisher, Robert Lienau, suggested him to compose a cycle from poems in German; Sibelius had lived some time in Germany, so the language didn't become a trouble. I don't know if this initiative to expand his market was financially worthwhile for the composer and the editor, I hope so, but if the aim was to compose some songs that, eventually, would become famous, I'm afraid it didn't work. The six German songs, collected as opus 50, are hardly known and most recordings are, like the rest of his songs, from Swedish or Finnish singers.
Lately, however, there have been some more brave singers who have dared to sing Sibelius. Gerald Finley, for example. A few weeks ago, a recording devoted to Sibelius music with the baritone and the Bergen Philharmonic Orchestra, conducted by Edward Gardner, was released. It includes some orchestral works, others for baritone and orchestra and songs originally written for voice and piano. The orchestration of these pieces is, in some cases, by the composer himself; in others, it belongs to Sibelius' contemporary composers and six of them are from the Finnish composer Einojuhani Rautavaara. These new orchestrations were commissioned by Gerald Finley; Rautavaara chose the songs, orchestrated them between 2013 and 2016 (the year of his death) and brought together under the name
In the Stream of Life
. Three of the songs belong to the opus 57, two to the opus 13, Sibelius' probably best known song,
Svarta rosor
, op. 36/1, and one of German Lied,
Die Stille Stadt
, op. 50/5. I chose the last one to share with you all.
Sibelius almost wrote all his songs, around 100, between 1888 and the end of World War I; the Opus 50 is from 1906, when the composer was forty-one. The six of them are based on poems by contemporary poets; in the case of
Die stille Stadt
,
Richard Dehmel
, to whom we listened in two Strauss' lieder. When I heard the song, I thought it was familiar to me, both music and verses reminded me of something and it wasn't Strauss. I listened some more times until I finally found what it was: Schoenberg (another contemporary of Sibelius, Strauss and Dehmel), who in 1900 had written
Erwartung
op. 2/2 with verses of the same poet (not to be mistaken with Erwartung, the monodrama by Schoenberg too). Actually, it's not that bot songs sound similar it's the atmosphere they share: the night and an air of mystery. We'll be listening to
Erwartung
some other day (I'll try to write all my "some other day" before the season ends) and today we'll focus on
Die stille Stadt
.
According to this title, The silent town, a peaceful scene might be expected: the night falls on the town, while fog blurs the outlines... However, as it happens in a lieder by Schubert that we heard some time ago, Meeres Stille, there's something disturbing. Then, we find out there's a traveler who is terrified. Of course, it's very different to watch the fog from inside a safe home or being out in the open. Finally, the poem tells of a light, a song of praise and children; we don't know who they are and to whom they praise, but we feel that the traveler is safe. Or maybe he's not; do the voice and the accompaniment say different things? The voice is marked as mezza voce at first, then pp and its line of singing is serene. But I'm not sure the accompaniment is so... I thought it would be interesting to share Rautavaara's orchestrated version and the original version by Sibelius, performed by Soile Isokoski and Ilkka Paananen. Listen to both and let's see if it's really a quiet night...
Die stille Stadt

Die stille Stadt (versió orquestral)

Liegt eine Stadt im Tale,
Ein blasser Tag vergeht.
Es wird nicht lange dauern mehr,
Bis weder Mond noch Sterne
Nur Nacht am Himmel steht.
Von allen Bergen drücken
Nebel auf die Stadt,
Es dringt kein Dach, nicht Hof noch Haus,
Kein Laut aus ihrem Rauch heraus,
Kaum Türme noch und Brücken.
Doch als dem Wandrer graute,
Da ging ein Lichtlein auf im Grund
Und durch den Rauch und Nebel
Begann ein leiser Lobgesang
Aus Kindermund.
A town lies in the valley;
A pallid day fades.
It will not be long now
Before neither moon nor stars
But only night will be seen in the heavens. 
From all the mountains
Fog presses down upon the town;
No roof may be discerned, no yard nor house,
No sound penetrates through the smoke,
Barely even a tower or a bridge. 
But as the traveller became filled with dread
A little light shone out,
And through smoke and fog
A song of praise began,
Sung by children.
(translation by Sharon Krebs)