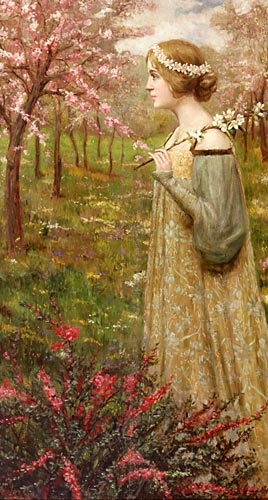 Primavera - E. Aman Jean
My friend I asked me a few days ago why hadn't I written a post about the arrival of spring. I told her that I've done it some years; I usually think of it but then, for one reason or another, the weeks pass by and I'm late. However, there's an easy way to avoid that, as easy as to write the date down in my notebook, as I do with other dates. So I thought a little more and I found out why I don't write about spring; It's so obvious that I didn't realise: I don't really like spring. One of my favourite moments of the year is when branches are on full bud, and almond trees begin to bloom; something has changed, and now the sun begins to warm and evenings are a bit longer. But that's not in spring, that's still in mid-January. If we're lucky enough and have some cold days in February, we can enjoy one of the luxuries of winter: to feel the fresh air in contrast to the heat of the sun on our face. I told you some years ago about this time of the year, in relation to a beautiful lieder of Schumann,
Erstes Grün
.
But spring...
Ordre et beauté
, don't you remember? No doubt that spring is beautiful, but it's clearly chaotic. It amazes me how many people associate spring with nice weather and feel disappointed when suddenly the temperature lowers and it seems winter again. Each year the same disappointment. But that's spring! The only steady thing of spring is its unsteadiness. Now it's sunny, then cloudy, or windy, or it rains, it's cold, it's hot... The atmospheric pressure can't stay still for a while and there is pollen everywhere (if you aren't sensitive to neither of them, congratulations). Finally, the day comes when spring is steady (Heine and Schumann were smart guys, that happens
Im wunderschönen Monat Mai
), but it lasts only a few weeks because then comes the heat and... I better leave this topic for another day.
Inexplicably, poets like spring. Maybe it's because suddenly flowers bloom everywhere, the air is full of their scents, birds are excited and the whole thing becomes irresistibly cheerful. Or because they are from lands where winter is cold, dark and endless, and the outburst of nature is a blessing. What I said, inexplicable. They like to write lots of poems about spring, and then the composers have no choice but to write lots of beautiful songs about spring. So many, that this year I had reserved this week to one of them. But then my friend I asked me to talk about Im Frühling by Franz Schubert so I decided to change it.
Im Frühling is of the most famous lieder of the apple of my eyes, no wonder. The poet, Ernst Schulze, speaks of a spring landscape and remembers that he once was very happy at that place, with a woman. Nothing has changed: the flowers, the sun, the fountain, the reflection of the sky in the water... but at the same time everything is different because she is no longer there. In 1826, Schubert set to music this poem, written in 1815. He reorganised the six stanzas to three and composed a strophic lied; in fact, modified strophic, because he introduced some modifications at the vocal line. The accompaniment, however, are variations on the theme developed in the first verse. And the result is wonderful. Please pay attention to how the voice ends the phrases that the piano begins. Pay attention, too, to the voice rising when it sings "
hell
" (clear) at the first stanza, where it speaks of the clear blue sky; on "
Quell
" (spring) at the second, when the sky reflects into the water; on "
ihr
" (her) at the third. In this case, there isn't any explicit reference to the sky, but we think about it because we hear the same music than previously. Finally, please note the change of key at the third stanza: suddenly, everything is darker. Before ending the song, however, there's light again. Full of longing, but light.
My dear I explained to me that she got moved when listened to Ian Bostridge singing this song in Valencia, some years ago; other people have talked me about that recital. Today we're listening, of course to the same performers, Bostridge and Julius Drake. Enjoy the song and, especially, enjoy the spring!
Im Frühling

Still sitz ich an des Hügels Hang,
Der Himmel ist so klar,
Das Lüftchen spielt im grünen Tal,
Wo ich beim ersten Frühlingsstrahl
Einst, ach, so glücklich war.
Wo ich an ihrer Seite ging
So traulich und so nah,
Und tief im dunkeln Felsenquell
Den schönen Himmel blau und hell,
Und sie im Himmel sah.
Sieh, wie der bunte Frühling schon
Aus Knosp' und Blüte blickt!
Nicht alle Blüten sind mir gleich,
Am liebsten pflückt' ich von dem Zweig,
Von welchem sie gepflückt.
Denn alles ist wie damals noch,
Die Blumen, das Gefild;
Die Sonne scheint nicht minder hell,
Nicht minder freundlich schwimmt im Quell
Das blaue Himmelsbild.
Es wandeln nur sich Will und Wahn,
Es wechseln Lust und Streit,
Vorüber flieht der Liebe Glück,
Und nur die Liebe bleibt zurück,
Die Lieb' und ach, das Leid!
O wär ich doch ein Vöglein nur
Dort an dem Wiesenhang!
Dann blieb' ich auf den Zweigen hier,
Und säng ein süsses Lied von ihr,
Den ganzen Sommer lang.
Quietly I sit on the hill's slope.
The sky is so clear;
a breeze plays in the green valley
where I was at Spring's first sunbeam
once - ah, I was so happy;
Where I walked at her side,
So intimate and so close,
and deep in the dark rocky spring
was the beautiful sky, blue and bright;
and I saw her in the sky.
Look how colorful Spring already
looks out from bud and blossom!
Not every blossom is the same for me:
I like best to pick from the branch
from which she picked hers.
For all is as it was back then:
the flowers, the field;
the sun does not shine less brightly,
nor does the stream reflect any less charmingly
the blue image of the sky.
The only things that change are will and illusion:
Joys and quarrels alternate,
the happiness of love flies past
and only the love remains -
The love and, ah, the sorrow.
Oh, if only I were a little bird,
there on the meadow's slope --
then I would remain here on these branches
and sing a sweet song about her
the whole summer long.
(translation by
Emily Ezust
)