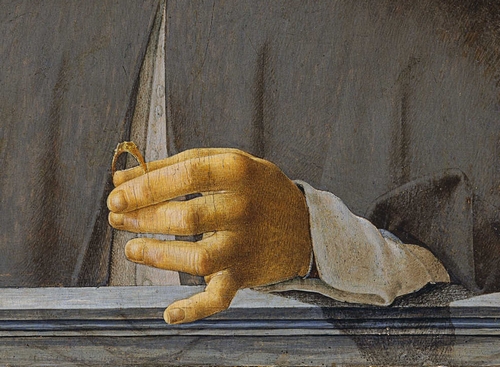 Portrait of a Man with a Ring (excerpt) - F. del Cossa
It has been a long time since I spoke of
cherries and songs
for the very first time. You know, you pick a cherry from the bowl and there are some other tied together; you hear a song and others come to mind because, somehow, there are bonded to the first one. When we listened to
Die
stille
Stadt
, by Jan Sibelius, I told you that the atmosphere reminded me of another song; it took me some time to find which one, perhaps because the bond was too subtle. Today I would like us to hear that song,
Erwartung
, by Arnold Schoenberg, so you can consider if they are "cherry-songs". From an objective point of view,
Erwartung
and
Die
stille
Stadt
have in common the poet Richard Dehmel, and the night, although there are very different nights: in the first song, the fog is so thick that a wanderer is about to get lost; in the second one, the night is so clear that we can even appreciate some colors. They have one more thing in common, the time of composition:
Die Stille Stadt
is from 1906 and
Erwartung
from 1899.
That year, 1899, Schoenberg wrote nine works based on poems by Richard Dehmel; I'm talking about "works" intead of "songs" because one of them, the most famous, is the string sextet
Verklärte Nacht
(Transfigured Night). This poem, as well as
Erwartung
and most of the songs of 1899 are taken from the same collection,
Weib und Welt
(Woman and World), published in 1896. A couple of weeks ago, when talking about
Strauss' Ophelia
, I told that things had begun to change at the turn of the 20th century, when some people was talking more openly about some taboo issues, but society wouldn't accept those changes without resistance. Dehmel was taken to court accused of blasphemy and immorality and condemned; the pages including the poem
Venus Consolatrix
should be torn out of all the copies of
Weib und Welt
not sold yet.
You never know what crosses a censor's mind, but the poem of our song shouldn't irritate them as much as other, because it's not a explicitly erotic poem;
Erwartung
speaks of waiting, of anticipation. A narrator distances us from the couple and the emotions arrive at us smoothed; in some way, it's as if we were watching a picture. The scene is illuminated by moonlight; the man takes off a ring and kisses it, a gesture that anticipates the date. That ring with three opals calls my attention; it makes me think of a woman ring; I imagine a man ring more plain, with a single gem. Maybe the woman gave him the ring as a pledge? I like the way Dehmel plays with colors: the opals are pale like the moon, and their gleams are green like the pond where the man waits and red like the city where the woman is. A dead oak is the element that suggests that the man and the woman are close; the last verse confirms this.
Erwartung
is one of the early works of Schoenberg; according to the scholars, the best of Schoenberg songs with Dehmel's poems. It was composed when he was twenty-five (ten years later he would write his first atonal works) and not published until 1904; it's the first of the
Vier Lieder
, Op. 2 (not to be confused with the monodrama
Erwartung
, Op. 17, with a libretto by Marie Pappenheim). I love the elegance with which Schoenberg recreates Dehmel's scene, with a tempo so slow (
sehr langsam
) that it seems that at some point the tension should decline; however, some indications here and there keep it until the end. For example, the word "
Mond
" is marked "etwas
zögernd
" (somewhat slackening); perhaps as a reflection of the moon on the water? The gesture of kissing the ring is indicated as "
steigernd
" (intensifying), but the brightness of the eyes when doing so is "
zurückhaltend
" (reserved). And then we look towards the woman and the music returns to the very slow tempo of the beginning. It's really a fine song.
Erwartung
is regularly sung by sopranos (although the tenor Walter Pieau premiered it); it's not usual that a baritone sings it, and I love it. So, as Konrad Jarnot recorded our song (with pianist Urs Liska), that's the version I'm sharing. As always, I hope you like it, even if "your" version needs a soprano!
Erwartung

Aus dem meergrünen Teiche
Neben der roten Villa
Unter der toten Eiche
Scheint der Mond.
Wo ihr dunkles Abbild
Durch das Wasser greift,
Steht ein Mann und streift
Einen Ring von seiner Hand.
Drei Opale blinken;
Durch die bleichen Steine
Schwimmen rot und grüne
Funken und versinken.
Und er küßt sie, und
Seine Augen leuchten
Wie der meergrüne Grund:
Ein Fenster tut sich auf.
Aus der roten Villa
Neben der toten Eiche
Winkt ihm eine bleiche
Frauenhand.
Please visit this
link
if you need an English translation.