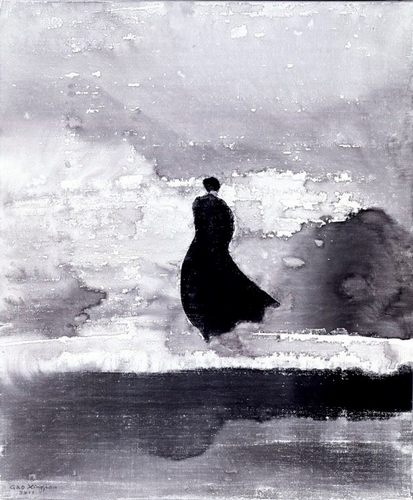 Dona surant - Gao Xing Jian
Presenting the song recitals at the Schubertiade Vilabertran is becoming a tradition here on Liederabend. The festival's schedule rules our postings and this year, four out of five recitals will take place during the same week (and what a great week that will be!), so we'll devote only three posts to them. Today's post is about the opening recital, on August 17, with
Ilker Arcayürek and Wolfram Rieger
; Next weeks' will be on recitals by
Matthias Goerne and Alexander Schmalcz
and
Sarah Connolly and Malcolm Martineau
and the third one will be on recitals by
Kate Royal
and
Christoph Prégardien
, both again with Malcolm Martineau. As always, they will be short posts where I'll go over the songs we have already heard and suggest a new one.
In February, when I presented the festival, I told you that if someone asked me: "Why Schubert?" my answer would be addressing he or she to Ilker Arkayürek and Wolfram Rieger's recital. The young tenor has prepared a wonderful program, entirely devoted to the apple of my eyes; the songs are very representative, among other reasons because half of them are from those two poets that Schubert more often musicalized, Goethe and Mayrhofer. So far, we've heard many of the songs included in this concert, so I'd better begin with them.
The musical illustration of today's post will be Die Liebe hat gelogen (Love has lied), one of the two Lieder that Schubert wrote with poems by August von Platen, in March or April 1822. It is an emotionally intense and at the same time, sober song; the piano accompaniment reminds us a funeral march and the vocal line moves in a very narrow range. Schubert added to the poem, in two verses, the repetition of the first one, so that after the shocking last verse, Du armes Herz, lass ab, (Cease, my heart, cease), we return to the serene sadness of the beginning. We will listen to Die Liebe hat gelogen in the version of Florian Boesch and Malcolm Martineau.
Die Liebe hat gelogen

Die Liebe hat gelogen,
Die Sorge lastet schwer,
Betrogen, ach, betrogen
Hat alles mich umher!

Es fliessen heisse Tropfen
Die Wange stets herab,
Lass ab, mein Herz, zu klopfen,
Du armes Herz, lass ab.


Love has lied,
Worries burden me heavily;
I am deceived, alas! deceived
By everything around me!
Bright tears run
Down my cheeks;
Cease, cease your beating,
Cease, my heart, cease!
(translation by Emily Ezust)