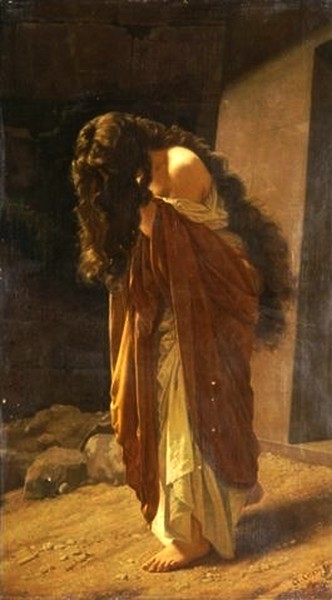 Penitent Magdalene - A. Ciseri
Remember them that are in bonds, as bound with them; and them which suffer adversity, as being yourselves also in the body. Hebrews, 13:3

To Jordi Cuixart, Jordi Sánchez, Oriol Junqueras, Joaquim Forn, Jordi Turull, Josep Rull, Carme Forcadell, Carme Bassa, Raül Romeva, Carles Puigdemont.
Last June, I told you about a Lied by Schoenberg, Erwartung, the first out of the four Lieder included in the composer's opus 2. While preparing that article, I also listened one more time to those three other songs and I jotted down the second one for today's post; it's Schenk mir deinen goldenen Kamm (Give me your golden comb), which is probably not so well known as Erwartung but equally gorgeous.
The four poems of opus 2 are by Richard Dehmel, from his book Weib und Welt (Woman and world), published in 1896. In June, I already mentioned the attacks against this collection; Dehmel was accused of blasphemy and obscenity and the court determined that the poem Venus consolatrix should be torn from all those remaining unsold copies. In 1897, other reports followed this one to a court in Munich; In 1900, another trial was held, this time in Berlin, a lawsuit against five writers and illustrators, because "that corrupts the taste of the public or scars them away from purchasing new poetry books"; About Dehmel's book, it was also said that some passages exclusively dealt with "extramarital sexual relations or perverse sexual inclinations". This time, however, the sentence was favourable to the poet; it was argued that the collection of poems was "thoroughly allegorical and philosophical collection", that is, "very heavy fare and suitable only for literary connoisseurs", so the readers would be able to understand the author's intend and wouldn't perceive the verses as obscene.
Between both trials' dates, in 1899, Schoenberg wrote his four Lieder, which were published in 1904. Erwartung anticipates the encounter of a couple, but it isn't an explicitly erotic poem; I would say that Schenk mir deinen goldenen Kamm clearly spokes of the sexual attraction between a man and a woman; What really stands out is that the man is Jesus and the woman, Mary Magdalene. It's also s striking the way Dehmel entitled the poem: Jesus bettelt, which we can translate for "Jesus begs". I wasn't able to find out if this poem was among the blasphemous or obscene, but we wouldn't be surprised if it was, would we? We all remember how, a century later, Martin Scorsese's The Last Temptation of Christ was censored in several countries and the fanatics burn some theatres in Paris where the film was shown, causing one death and several wounded.
As I said earlier, the Lied is gorgeous. The vocal line recalls the declamations that Wolf used so wisely, while the piano reminds us the Wagnerian harmonies and chromatisms. What Schoenberg achieves, and I quote a few words from the German critic Werner Oelmann, is "a Lied of extraordinary beauty, tender and enigmatic." Most of the recordings are performed by sopranos, but I chose, as I did with Erwartung, the version of Konrad Jarnot and Urs Liska. You know, sopranos' interpretations tend to uplift, while baritones remain usually firmly on the ground, and, in this case, this closeness is particularly important for me.
In this half-holiday week, I present a shorter post and a very special song. Did you realize that Holy Week songs are always special? I hope you enjoy this song and your Easter week!
Schenk mir deinen goldenen Kamm

Schenk mir deinen goldenen Kamm;
Jeder Morgen soll dich mahnen,
Daß du mir die Haare küßtest.
Schenk mir deinen seidenen Schwamm;
Jeden Abend will ich ahnen,
Wem du dich im Bade rüstest,
O Maria!
Schenk mir Alles, was du hast;
Meine Seele ist nicht eitel,
Stolz empfang ich deinen Segen.
Schenk mir deine schwerste Last:
Willst du nicht auf meinen Scheitel
Auch dein Herz, dein Herz noch legen,
Magdalena?
Give me your golden comb;
each morning should remind you
that you kissed my hair.
Give me your silken sponge;
each evening I will envision
you preparing for your bath,
O Mary!
Give me everything that you have;
my soul is not vain,
proudly I receive your blessing.
Give me your heaviest burden;
will you not also lay your
heart upon my head,
Magdalene?