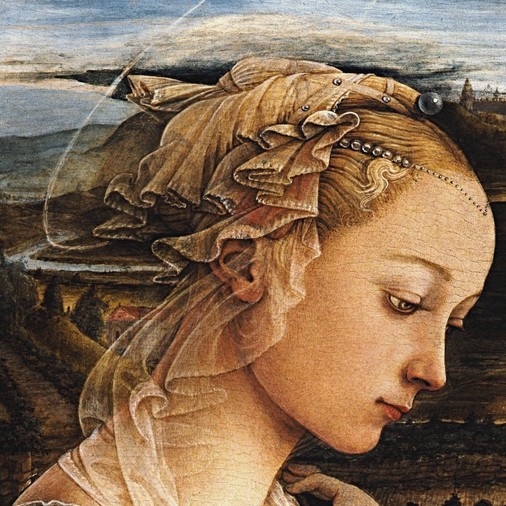 Madonna amb el Nen i dos àngels (fragment) - F. Lippi
At the beginning of this story, Friedrich von Hardenberg is twenty-two. He's a young man from a noble family, extremely intelligent and sensitive, passionate about literature, philosophy and science. He has spent four years in university and works as an apprentice (eventually, he should manage the salt mines that his father manages) and he keeps studying and writing. Then he first meets the other key person in the story, Sophie von Kühn, who is twelve. According to people who knew them, the girl is not especially brilliant, nor especially beautiful, nor especially anything, She is an ordinary girl, but she captivates Friedrich in such a way that that same day he writes to his brother Erasmus: "I decided on my life in 15 minutes". Four months later, on March 17, 1795, Sophie becomes thirteen and the couple gets engaged. Only both families know about the engagement, because the fiancée is extremely young, even for the custom of that time.
Friedrich adored Sophie, she was his muse. His engagement ring included her portrait and the inscription Sophie sey mein Schuz Geist ("Sophie, be my protector spirit"). Legally, the couple could have got married one year later, when she reached fourteen, but they couldn't even consider it; In November 1975, Sophie was ill from tuberculosis, that spread to her bones. The poor thing endured three major operations in two months (it's terrible to think that patients were conscious during the operations, the unbearable pain hardly mitigated with laudanum) but it was all in vain. she died two days after turning fifteen. Her death left a deep mark in Friedrich's work; His inclination towards mysticism sharpened and Sophie, definitely idealized, often merged in his writings with the object of his religiousness. Still, the young man got engaged again the year after Sophie's death. This wedding didn't take place either; Friedrich died three years later, in 1801, at twenty-eight, from tuberculosis, too.
1798, the year of his second engagement, was also when Friedrich von Hardenberg began to use his known pseudonym: Novalis. The publication of his work wasn't completed until the middle of the 20th century, but the few works published during his life and shortly after his death were enough to consecrate him as one of the most important figures of the German Romanticism. One of his first publishers was Ludwig Tieck (known here as Die schöne Magelone's poet) and one of his first published works, in 1802, was Geistliche Lieder (Sacred Songs), a collection of fifteen poems about religion.
Schubert composed in May 1819 five Lieder from those poems, all five catalogued with the same title, Geistliches Lied; really useful. Today we're listening to the first one, the D.658, known for a while as Marie; the poem, written in 1799, is the last one from Novalis' collection. It's a very short Lied, in theory, a prayer to the Virgin Mary, but we shouldn't forget Friedrich and Sophie's story: to whom addresses the poet? There are scholars who take for granted that the image of Sophie and the Virgin Mary are merged.
And what about the song? I don't know if Schubert knew Novalis' biography, but this Lied is considered both as religious and as profane. The point is that the few recordings existing are sung by women, all of them except one. This indicates a religious song; Not that prayer is a matter for women, but the soprano voice is usually associated with heavenly matters. For instance, I hear definitely religious the first version I'm sharing with you, with Mitsuko Shirai and Harmut Höll. The only version I know sung by a man is that of Dietrich Fischer-Dieskau and Gerald Moore (that proves that Marie is not a female song because Fischer-Dieskau didn't sing songs for ladies), and in I hear it clearly profane. So, listen to them, and let me know what do you think, please. In my opinion, they're really different.
I'm talking about this Lied, a little gem, because it's one of the pieces included in Marie Seidler and Joseph Middleton song recital next Sunday in Barcelona, the first concert of the second season of the Schubert Lied Project. Let's see how they propose this song!
As usually, I also share the links to the songs in the programme that we've listened so far, just in case you want to go over them.
Enjoy
Geistliches Lied (Marie)
, religious or profane, and, if you're in Barcelona next Sunday, I hope you enjoy the recital!
Geistliches Lied (Marie) - Mitsuko Shirai

Geistliches Lied (Marie) - Dietrich Fischer-Dieskau

Ich sehe dich in taüsend Bildern,
Maria, lieblich ausgedrückt,
Doch keins von allen kann dich schildern,
Wie meine Seele dich erblickt.
Ich weiss nur, dass der Welt Getümmel
Seitdem mir wie ein Traum verweht
Und ein unnennbar süsser Himmel
Mir ewig im Gemüte steht.
In countless pictures I behold thee,
O Mary, lovelily expressed,
But of them all none can unfold thee
As I have seen thee in my breast!
I only know the world's loud splendour
Since then is like a dream o'erblown;
And that a heaven, for words too tender,
My quieted spirit fills alone.
(translated by George MacDonall)