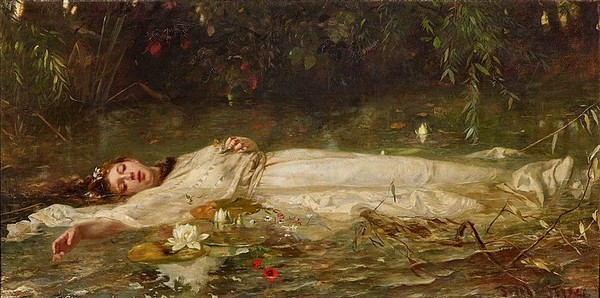 Ophelia - F. Heyser
This is the last post about the Schubertíada Vilabertran; For different reasons, I'm really looking forward to the three last song recitals so get ready, we have a lot of music to listen.
Thursday 29 August: Violeta Alarcón, Èric Varas, Irene Mas Salom i Marc Serra
This is the second year of the Schubertiade Academy with Professor Wolfram Rieger, a great pianist and a great pedagogue. Unlike the usual masterclasses, the Academy is an intensive four-day course with only two duos, which will end with the concert on Thursday afternoon. Violet Alarcon and Èric Varas, Irene Mas Salom and Marc Serra, are young or very young people; They're talented, enthusiastic and willing to learn; don't you think it promises to be exciting? A little bird told me that, among others, they will perform these lieder that we heard here so far:
Thursday 29 August
: Spanisches Liederbuch, with Marie Seidler, Manuel Walser and Wolfram Rieger
The evening concert next Thursday is one of the highlights of this Schubertíada Vilabertran (and there were many highlights!). To perform entirely the Spanish Songbook by Hugo Wolf is unusual; selected songs are programmed from time to time, and that's great, but the whole cycle... that's very special. We have a unique opportunity to immerse ourselves in one of the worlds of the beloved Wolf, with two very good singers really involved with the project. To begin with, a sample of the Spanisches Liederbuch, three lieder:
Friday 30 August: Katharina Konradi and Eric Schneider
We all fell in love with Katharina Konradi when he opened the Schubertíada Vilabertran last year; next Friday she will do the last song recital this year (the Cuarteto Casals will close the festival on Saturday). I love her programme and I'm really excited about the first part, where she alternates between songs by György Kurtág and by Robert Schumann. We listened on Liederabend to a song by every composer and one more song by Clara Schumann:
The Schubertíada is, among other things, a time to discover music. One of the most heard sentences at the chatting post-concert is "How I liked X, I didn't know it!" Maybe it was the first time we listened to it; or maybe not, but this time we were more receptive or the interpretation caught us. The point is that we go home with a treasure in our hands. The song I chose to share among those included in these three programs is one of my most recent discoveries; It's such a small and delicate song that it can be easily missed, that's why I chose it. I'm talking about Herzeleid, that belongs to opus 107 by Schumann and will be performed by Konradi and Schneider.
If you pay attention to the poem by Titus Ulrich, you will realise that this article could also have been called "Ophelia and Schumann" (you know, we have Ophelia and Brahms, Ophelia and Strauss,...) Our performers will be, once more time, artists of the Schubertíada: next February Christian Gerhaher and Gerold Huber will give a concert at the Palau de la Música.
Herzeleid

Die Weiden lassen matt die Zweige hangen,
Und traurig ziehn die Wasser hin:
Sie schaute starr hinab mit bleichen Wangen,
Die unglückselge Träumerin.
Und ihr entfiel ein Strauss von Immortellen,
Er war so schwer von Tränen ja,
Und leise warnend lispelten die Wellen:
Ophelia, Ophelia!
The willow branches hang weakly,
and the water mournfully flows in:
she gazed fixedly down with pale cheeks,
the unlucky dreamer.
And from her hands dropped a bouquet of immortelles -
it was so heavy with tears -
and gently the waves whispered a warning:
"Ophelia, Ophelia!"
(translation by Emily Ezust