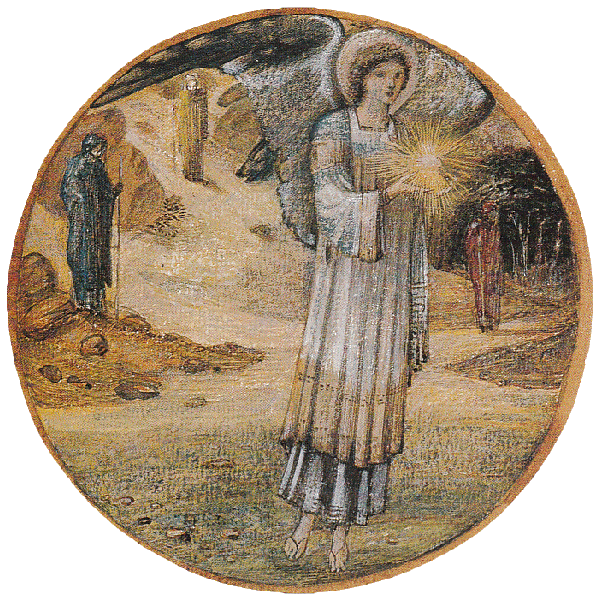 Little star of Bethlehem (Flowers Book) - E. Burne-Jones
I'm not sure how it's happened, but Christmas is here. And so, it's also time for three shorter posts with three Christmas songs for today, Christmas Day and New Year's Day.
This week, the chosen composer is Charles Ives, that gentleman who used to sell insurances during the day and write music at night. Ives stayed away from the classical music establishment, while being really attached to the ordinary life of American people, and both things reflect in his work; he was a free spirit and his music not only wasn't academic, but also extremely original. Some time ago, we listened to a small sample of his originality, Memories, a song about two memory episodes of his childhood, one pleasant and the other, sad; If you didn't listen to it back then, let me suggest you do it now because you shouldn't miss the playful children in the first part!
The song by Ives we're listening today, A Christmas Carol, has nothing to do with Memories, it's almost a hymn that fits the common idea of a Christmas song: the star, the Child, the angels... We don't know for sure when he composed it; it may have been in 1894, when he was twenty; in any case, before 1897. He surely wrote it for family celebrations at Christmas, though he suggested it could also be sung in church; other sources indicate that it was intended as a church song from the very beginning. We don't even know for sure who wrote the lyrics. According to Ives, it was traditional, but they were later attributed to the composer; probably, both statements are true, and Ives took some easily recognizable pieces of Christmas carols here and there to make a collage.
This week, I would like to dedicate this song to my friend A; her birthday was yesterday, and she's too far away for a hug. I hope she will like to find here Gerald Finley singing A Christmas Carol, accompanied by Julius Drake. I hope that you all enjoy the song!
A Christmas Carol
Little star of Bethlehem!
Do we see thee now?
Do we see thee shining
O'er the tall trees?
Little Child of Bethlehem!
Do we hear thee in our hearts?
Hear the Angels singing:
Peace on earth, good will to men!
Noel!
O'er the cradle of a King,
Hear the Angels sing:
In Excelsis Gloria,
Gloria!
From his Father's home on high,
Lo! for us He came to die;
Hear the Angels sing:
Venite adoremus Dominum.
Related articles