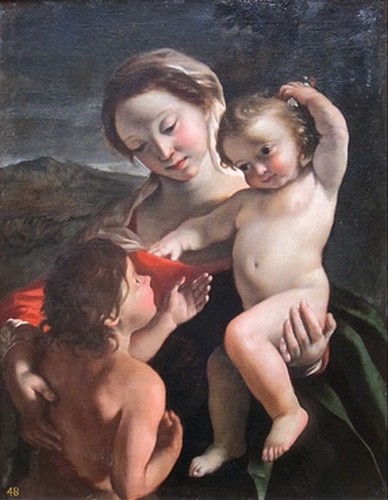 The Madonna and Child with the Infant Saint John the Baptist - G. Lanfranco
It's Christmas Time. In this year's calendar, three weeks to go until Three Kings' Day and, as always, my three respective posts will be related to these dates. To begin with, we have one of the most usual Christmas musical images, a lullaby; after all, we celebrate a child's birth. So far we've listened to Brahm's
Geistliches Wiegenlied
, Britten's
That jongë Child
and
Balulalow
and Strauss's
Weihnachtslied
; today, we add a song by Barber to our list,
A Slumber Song of the Madonna
.
A Slumber Song of the Madonna
is the first of
Ten Early Songs
, written between 1925 and 1937; Samuel Barber wrote it when he was only fourteen, from a poem by Afred Noyes. This English poet is well known for many of you. However, for those who don't know him (actually, I didn't so I had to do some research) let me tell you that he's the author of one of the most famous poems in English literature,
The Highwayman
; at least that rings a bell as there are many versions and interpretations of it, including a film. Well, this poem,
The Highwayman
, was published in 1907 in
Forty Singing Seamen and Other Poems
, which includes a group of seven poems called
Slumber Songs of the Madonna
. Barber, a compulsive poetry reader throughout all his life, chose the first of these poems to compose his very first song; at least, his oldest of those published.
Those works written by very young composers are fairly common and we've already listened to some of them, starting with the impressive
Gretchen am Spinnrade
that Schubert composed at seventeen; however, the maturity of those pieces always amazes me. Talking about the lullaby by Samuel Barber, what amazes me the most is how it conveys both love and, above all, a mother's fear. This emotional depth became eventually one of the main features in the composer's music; Remember, for instance,
The Crucifixion
, a kind of mirror of
A Slumber Song of the Madonna
, composed almost thirty years later, where we feel the love and fear of the mother in a very different context.
But now, it is time for hope and light so we'll remain with the child in his cradle. And talking about children, I would like to share with you a note that Samuel Barber wrote to his mother; You might know it already because it has been widely spread but I hope that, if it's the case, you'll like to read it again. As I said before, Barber wrote the song we're listening today when he was fourteen, but his musical vocation arrived much earlier, and when he was nine he admitted to his mother:
NOTICE to Mother and nobody else

Dear Mother: I have written this to tell you my worrying secret. Now don't cry when you read it because it is neither yours nor my fault. I suppose I will have to tell it now without any nonsense. To begin with I was not meant to be an athlet [sic]. I was meant to be a composer, and will be I'm sure. I'll ask you one more thing.—Don't ask me to try to forget this unpleasant thing and go play football.—Please—Sometimes I've been worrying about this so much that it makes me mad (not very),

Love,

Sam Barber II
This note so tender, so ingenuous and still, so mature, shows us how worried the young Sam was about being different or disappointing to his parents. And even so, what a great determination he had at nine!

Before listening to A Slumber Song of the Madonna, performed by Cheryl Studer and John Browning, let me tell you something more prosaic: I'm really sorry but I had to enable comment moderation because, despite the captcha, this web was spammed. Please, keep writing your comments as I'll post them as soon as possible.

Merry Christmas!
A Slumber Song of the Madonna

Sleep, little baby, I love thee;
Sleep, little king I am bending above thee;
How should I know what to sing?
Here in arms as I sing thee to sleep!
Hush-a-by low,
Rock-a-by so.
Kings may have wonderful jewels to bring!
Mother has only a kiss for her King.
Why should my singing
So make me to weep?
Only I know that I love thee!
Love thee, my little one, Sleep!