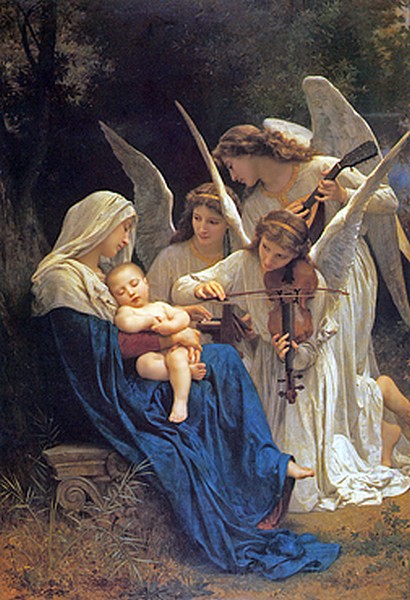 Song of the angels - W.A. Bouguereau
Today is The Boxing Day. As I told you last week, this is going to be a very short post, just to invite you to listen to one more song from A Ceremony of Carols.
Last week we listened to That Yongë Child, one of the carols that Britten added when he revised his work after its premiere. After that revision, the number 4 of the collection was divided in two parts: 4a, That Yongë Child, sang by a boy soprano, and 4b, Balulalow, one of original seven carols set. This part is what we are listening today; in this piece, the boy soprano begins the performing and the choir joins him at the second verse.
The recording is the same I introduced last week: the Copenhagen Boys' Choir, the harpist Enid Simon and Benjamin Britten as a conductor.
See you next year!
Balulalow
O my deare hert, young Jesu sweit
Prepare thy creddil in my spreit,
And I sall rock thee to my hert,
And never mair from thee depart.
But I sall praise thee evermoir
With sanges sweit unto thy gloir;
The knees of my hert sall I bow,
And sing that richt Balulalow!