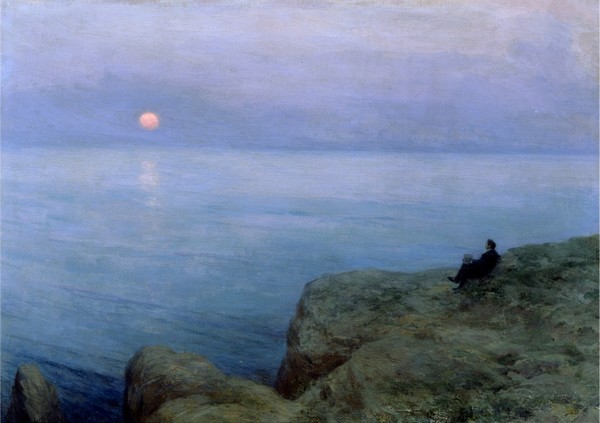 Aleksandr Pushkin at the Seashore. L. Pasternak
What superpower would you like to have? The ability to be invisible, to read minds or to fly? I wish I had the gift of tongues. To understand any language as if it were my native one. I would even be happy with a minor superpower: the ability to reach C1 level in any given language within a bunch of months.
Among other reasons, I would ask for this superpower because I feel quite uneasy when I don't understand the songs that I listen: Polish, Czech, Hungarian, Swedish, Basque... I can't understand a word. Sure, translations really help to get a rough idea of the poem but if I want to share the song with you, I must carry out some research. Since the're often less-known works, many of the references are in their own language; I'm really grateful to machine translator services that, with a little imagination, make these resources comprehensible.
However, those machine translators are no useful for poems; I usually find an English translation, but that's not that easy for a Catalan one; my only choice is to translate from a translation, or from more than one, to finally suggest a Catalan version which I don't know how far from the original poem is Can you see my linguistic frustration?
And that's not all: Polish, Czech, Hungarian, Swedish, Basque... and Russian. I don't even know the Russian alphabet! In this case, researching is more difficult, and a phonetic transcription of the poem is needed, both to Catalan and English. That's why I don't usually post about the extensive, wonderful Russian repertoire, and that's why a Russian song, Певец (Pevets, The singer), a strong recommendation from a friend of mine, has been waiting in my notebook for a long time.
Fortunately, the poem is by Aleksandr Pushkin which simplifies things greatly; at least, we regard him as one of the greatest Russian writers; for many scholars, the most important poet. And, regarding Art Song, as important as Goethe for Lied or Verlaine for mélodie. Beyond his literary career, he was one of those people who love living on the edge: he fell in love many times, and he kept a list with her lovers' names (yes, exactly, Madamina, il catalogo è questo); he liked gambling, and we all know winning is not always possible; he challenged and was challenged to a duel many times. In the 19th century, duels were banned in Russia, and maybe for that reason or because he was persuaded to abandon the fight by dutiful seconds, Pushkin only fought four times. Nevertheless, he died in 1837, at thirty-eight, from those bullet wounds from his last duel. What a wasted life.
Despite dying so young, his work is extensive. Opera fans have heard of four titles at least: Eugene Onegin (speaking of duels) and The Queen of Spades, which inspired Tchaikovsky's operas; Boris Godunov, known through Mussorgsky, and Mozart and Salieri, that successively inspired Rimsky-Korsakov's opera, Shaffer's play, and Forman's film. Pushkin also wrote a great deal of poetry, which, on expert opinion, doesn't reflect at all his excessive personality; poetry is elegant, and refined in which beauty and nature are often present. You'll find a beautiful sample musicalized by Rakhmaninov below, at the "Related articles" section.
Pevets is probably not his most representative poem, it's an early work, written in 1816. At that time, Pushkin was studying at the Tsarskoye Selo Lyceum, the boarding school founded by the Tsar Alexander I five years ago for educating youths from noble families, such as Pushkin's. One of his friends there was Aleksandr Bakunin, and they often visited his mother and his sister. Ekaterina was four years older than the boys, and she was pretty, according to her portraits. Pushkin fell in love with her, she was the second name on his list, and he dedicated some poems included in his cycle of elegies to her, among them, Pevets.
The poem tells us about the singer of love who sings of his sadness. We know him through the questions the narrator asks: Have you heard the singer? Have you seen him? Has it made you sigh? Three questions and three stanzas with a regular structure that make us think of a strophic song, like the one that Anton Rubinstein composed. Although we don't hear the singer in the poem, the song seems to be sung by him, accompanied by his pipe. While we hear the voice, the accompaniment is almost unnoticeable, as if it would sing a cappella; when the voice is silent we hear his instrument. It's a melancholic song, I would say unmistakably Russian, no matter how German his education was.
I can't tell you much more about this piece. Anton Rubinstein, one of the greatest pianists of the 19th century, conductor, and composer of a huge amount of pieces, is lesser-known outside Russia. Pevets is the sixth song from his Opus 36, a collection I found with two names: Twelve Russian Folk Songs and Zwölf Lieder aus dem Russischen von F. Bodenstedt. I presume that the first one talks about folk songs as Herder understood them, because the twelve poems are by well-known authors; the second name tells us that the songs are translated into German. Since they were written before their publication in 1850, I would say (not quite sure) that he composed them in Russian and published them later in both languages.
Our version of Pevets is that of Sergei Lemeshev and Semyon Stuchevsky. If the text is familiar to you, maybe it's because Tchaikovsky included it in Eugene Onegin; the song Tatyana and Olga sing at the first scene of the opera, while their mother talks with the nanny and remembers when she was young. Two consecutive weeks going to the opera!
Pevets
Slïkhali l vï za roshchey glas nochnoy
Pevtsa lyubvi, pevtsa svoyey pechali?
Kogda polya v chas utrenniy molchali,
Svireli zvuk unïlïy i prostoy,
Slïkhali l vï?
Vstrechali l vï v pustïnnoy tme lesnoy
Pevtsa lyubvi, pevtsa svoyey pechali?
Sledï li slyoz, ulïbku l zamechali,
Il tikhiy vzor, ispolnennïy toskoy,
Vstrechali vï?
Vzdokhnuli l vï, vnimaya tikhiy glas
Pevtsa lyubvi, pevtsa svoyey pechali?
Kogda v lesakh vï yunoshu vidali,
Vstrechaya vzor evo potukhshikh glaz,
Vzdokhnuli l vï?
Please follow
this link
if you need an English translation. And this is the original Russian poem, for those of you that can read it:
Слыхали ль вы за рощей глас ночной
Певца любви, певца своей печали?
Когда поля в час утренний молчали,
Свирели звук унылый и простой
Слыхали ль вы, слыхали ль вы?
Встречали ль вы в пустынной тьме лесной
Певца любви, певца своей печали?
Следы ли слёз, улыбку ль замечали,
Иль тихий взор, исполненный тоской,
Встречали вы, встречали вы?
Вздохнули ль вы, внимая тихой глас
Певца любви, певца своей печали?
Когда в лесах вы юношу видали,
Встречая взор его потухших глаз,
Вздохнули ль вы, вздохнули ль вы?
Related articles