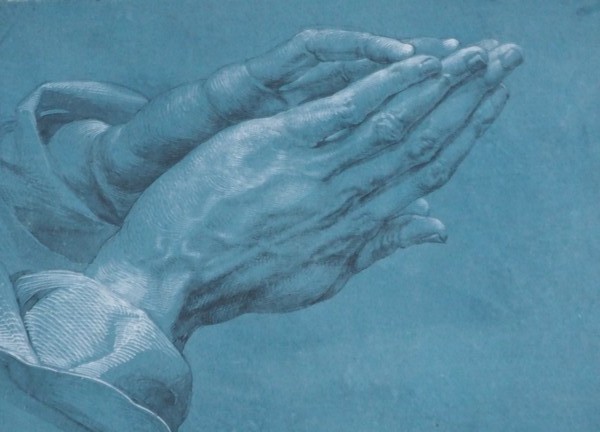 Mans pregant - A. Dürer
L'any 2020 havia de ser recordat pels aficionats a la música com l'any de celebració del 250è aniversari del naixement de Beethoven. Qui ens havia de dir a primers d'any, quan discutíem si la música del compositor havia de ser o no tan present a les temporades dels auditoris, que acabaríem recordant el 2020 com l'any en què els auditoris van tancar.
L'estiu ha començat a retornar-nos la música, i a la segona setmana de la Schubertíada hi haurà força obres de Beethoven: dimecres 26 (avui, si esteu llegint això el dia que es publica) amb la pianista Imogen Cooper; divendres 28 amb el Cosmos Quartet i, per la part que ens toca, els dos últims recitals de lied: dijous 24 amb Matthias Goerne i Alexander Schmalcz i dissabte 29 amb el Kallias Ensemble.
Comencem parlant del segon, que ens proposa una faceta poc coneguda de Beethoven, els seus arranjaments de cançons tradicionals. Aquestes obres, encarregades per un editor escocès, no hauríem d'entendre-les com un caprici o una anomalia; a banda de ser molt interessants des del punt de vista musical, encaixen perfectament en el context cultural de l'època, com miro d'explicar en aquest article que trobareu al programa de mà dels recitals de lied de la Schubertíada. El dia 29 escoltarem una bona colla de cançons europees, de les quals tenim per aquí The massacre of Glencoe, i Come fill, fill, my good fellow!
Matthias Goerne, que farà sessió doble de concerts, cantarà Beethoven i també Brahms. Els lieder que ha triat d'aquest darrer compositor són poc coneguts, molt macos i no n'hem escoltat cap, i per això m'he rumiat si parlar-ne aquí. Finalment, he optat per donar-li el màxim de protagonisme a Beethoven, i l'estimat Brahms queda per un altre dia. I com que el cicle An die ferne Geliebte és prou conegut, i el vaig presentar el dia que n'escoltàvem el primer lied, Auf dem Hügel sitz ich spähend, escoltarem un tast de l'altre cicle que cantarà Goerne, els Gellert-Lieder.
El senyor Christian Gellert va publicar el 1757 un recull de cinquanta-quatre poemes anomenat Geistliche Oden und Lieder ("Cançons i odes sacres"); com indica el títol, els poemes són de caràcter religiós. El llibre va ser un èxit, i Carl Philip Emanuel Bach el va musicar complet l'any següent. Beethoven no va ser tan agosarat i va triar-ne només sis poemes per posar-hi música; el recull es va publicar com a Sechs Lieder nach Gedichten von Gellert, op. 48 ("Sis cançons amb poemes de Gellert") i avui dia parlem senzillament dels Gellert-Lieder. Els va compondre entre el 1801 i el 1802 (és a dir, vint-i-cinc anys abans de compondre An die ferne Geliebte); era l'època en què es va fer palès que la seva sordesa avançava sense remei, el que explicaria aquest acostament a la religió cercant un consol que espero que hi trobés.
M'agrada molt la finor amb què Goerne canta aquest cicle tan diferent del repertori habitual. Com a mostra i com a tast del seu recital a Vilabertran, us proposo que n'escoltem el primer lied, Bitten ("Pregària"); és un lied estròfic, senzill i contingut, que li escoltarem amb l'acompanyament de Jan Lisiecki.
I fins aquí les entrades dedicades a la 28a Schubertíada!
Bitten
Gott, deine Güte reicht so weit,
So weit die Wolken gehen,
Du krönst uns mit Barmherzigkeit
Und eilst, uns beizustehen.
Herr! Meine Burg, mein Fels, mein Hort,
Vernimm mein Flehn, merk auf mein Wort;
Denn ich will vor dir beten!
Ich bitte nicht um Überfluss
und Schätze dieser Erden.
Lass mir, so viel ich haben muss,
nach deiner Gnade werden.
Gib mir nur Weisheit und Verstand,
dich, Gott, und den, den du gesandt,
und mich selbst zu erkennen.
So bitt ich dich, Herr Zebaoth,
Auch nicht um langes Leben.
Im Glücke Demut, Mut in Not,
Das wolltest du mir geben.
In deiner Hand steht meine Zeit;
Laß du mich nur Barmherzigkeit
Vor dir im Tode finden.
Déu, què lluny que arriba la teva bondat,
tan lluny com els camins dels núvols!
Ens premies amb misericòrdia
i t'apresses a córrer al nostre ajut!
Senyor, el meu castell, la meva roca, el meu refugi,
atén la meva pregària, escolta les meves paraules;
i jo oraré davant teu!
No et demano l'abundor
i els tresors d'aquesta terra.
Només que sigui digne,
dins del possible, de la teva gràcia!
Dóna'm saviesa i comprensió,
per a reconèixer-te a Tu, Déu meu,
al teu enviat i a mi mateix!
Per això, Senyor Sàbaot,
tampoc et demano una llarga vida.
Només que em donis humilitat
en la felicitat, força en la misèria!
Els meus dies estan en les teves mans;
fes que quan m'arribi la mort
trobi la teva misericòrdia!
(traducció de Manuel Capdevila i Font)
Articles relacionats