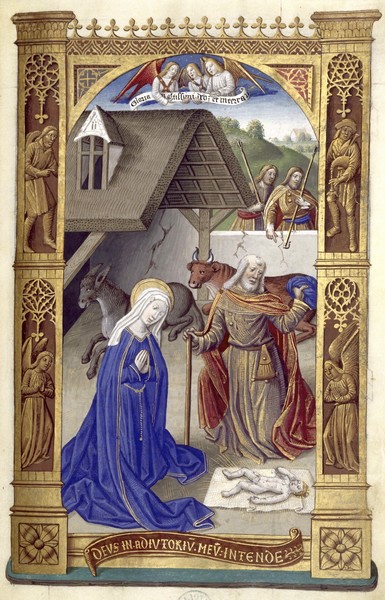 Llibre d'hores de Carles VIII. Nativitat - J. de Bensançon
Entrem en les últimes setmanes de l'any, que dediquem habitualment a cançons nadalenques, amb articles més breus. Aquest any també tindrem cançons nadalenques, però serà diferent, ja ho anireu veient; de moment, comencem amb Benjamin Britten.
L'estada de Britten a Amèrica entre 1939 i 1942 va ser productiva; el compositor, que va marxar d'Anglaterra amb vint-i-cinc anys, va compondre allà, per exemple, Seven Sonnets of Michelangelo, el Concert per a violí o Les Illuminations, i en el viatge de tornada va escriure A Ceremony of Carols, mentre ja anava treballant en Peter Grimes. També va ser durant aquells anys que el compositor es va començar a interessar en la música tradicional, i una de les cançons que va portar de tornada a Europa va ser I wonder as I wander, una cançó tradicional americana que parla de l'arribada al món de Jesús per salvar la humanitat.
És una nadala prou coneguda i és possible que l'hàgiu escoltat en altres versions, però cap té, per al meu gust, l'atractiu de la de Britten, que resol l'arranjament d'una manera sorprenent: les tres estrofes es canten a cappella, mentre que el piano hi intervé breument i també només en solitari: al començament i al final i en tres interludis. L'efecte és bellíssim, podeu apreciar-lo en la interpretació que us proposo, amb Gerald Finley i Julius Drake.
Britten i el tenor Peter Pears van interpretar sovint I wonder as I wander en concert, era una propina habitual, però no la van enregistrar mai (per sort, algú va anar a un dels seus recitals al Teatro Colón amb una gravadora); de fet, la cançó no es va publicar fins a l'any 2000, quan es va incloure en un recull anomenat Tom Bowling & other song arrangements. Els motius d'aquest retard us els explicaré la setmana vinent; per una vegada, estic a punt d'aconseguir ser breu.
Enguany, Nadal serà estrany, en el millor dels casos; i per a molts, serà molt difícil. Així que recupero el meu desig d'ara fa un any, perquè té més sentit que mai: que la llum que torna aquests dies il·lumini tothom, especialment els malalts, els que estan sols, els que no podran ser a casa aquests dies, els que tindran un lloc buit a taula. Bon Nadal.
I wonder as I wander
I wonder as I wander out under the sky,
How Jesus our Saviour did come for to die.
For poor or'n'ry people like you and like I,
I wonder as I wander out under the sky.
When Mary birthed Jesus 'twas in a cow stall,
With wise men and shepherds and farmers and all.
On high from God's heaven the star's light did fall,
And the promise of the ages it did then recall.
If Jesus had wanted for any wee thing,
A star in the sky, or a bird on the wing;
Or all of God's angels in heav'n for to sing,
He surely could've had it for he was the King!
Em demano tot vagant sota el cel
com Jesús, el nostre Salvador, va venir per morir
per gent normal com tu i com jo,
m'ho demano tot vagant sota el cel.
Quan Maria infantà Jesús, va ser en un estable,
amb els Reis d'Orient i pastors i grangers i tots.
De dalt del cel de Déu caigué la llum de l'estel,
i llavors es recordà la prometença de l'Antic Testament.
Si Jesús hagués volgut qualsevol cosa petita,
un estel al cel, o un ocell volant,
o tots els àngels de Déu cantant al Paradís,
segurament ho hauria pogut tenir perquè era el Rei!
Articles relacionats