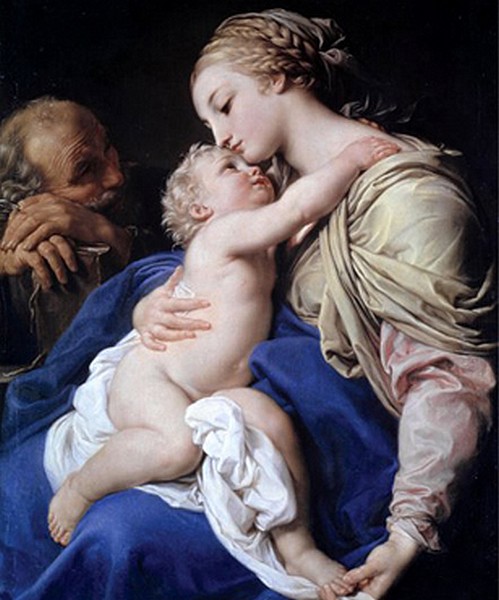 Sagrada Família - P. Batoni
Ja sabeu que de tant en tant m'agrada allunyar-me una mica del que és el tema fonamental del blog, la cançó artística dels segles XIX i XX, i fer petits viatges a altres èpoques o altres gèneres. Avui farem una d'aquestes excursions: tindrem peces compostes a partir de poemes, tindrem un instrument acompanyant, però no tindrem un cicle de cançons sinó una obra coral, interpretada per nens. Perquè és Nadal i el Nadal ens fa pensar en els nens, i perquè Britten va escriure una encantadora obra de Nadal perquè la cantessin nens.
Fa unes setmanes parlàvem de l'estada de Benjamin Britten i Peter Pears als Estats Units durant la Segona Guerra Mundial. El març de 1942 salpaven de tornada cap a Anglaterra i durant el viatge, que va durar cosa d'un mes, el compositor va escriure A Ceremony of Carols (Una processó de nadales), op. 28, una col·lecció de set nadales per a cor i arpa. Els textos de les nadales eren poemes medievals extrets d'un llibre que havia comprat durant una escala, The English Galaxy of Shorter Poems. El desembre de 1942 es va estrenar l'obra; sembla ser que a la seva correspondència, Britten havia explicat que l'obra estava pensada per a un cor de nens, però a l'estrena i en ocasions posteriors var ser interpretada un cor de dones.
L'any següent, Britten va continuar treballant en l'obra. Va afegir-hi una nova nadala, That yongë child (Aquest tendre infant), dues peces en llatí saludant el naixament de Crist por obrir i tancar la col·lecció i un interludi d'arpa; així l'obra va quedar amb la seva forma definitiva. També va ser aquest any, el 1943, quan es van fer les primeres interpretacions amb cor de nens; a partir de llavors totes dues versions han coexistit. A mi em sembla que els nens li donen espontàniament un toc d'ingenuïtat que és molt difícil que els adults poguem aconseguir, però també és cert que un cor de dones dóna més calidesa a la interpretació...
Avui escoltarem la nadala que us comentava que Britten va afegir el 1943, That yongë child, una cançó de bressol que interpreta només un nen soprano acompanyat per l'arpa (és a dir, de fet som molt a prop d'una cançó). He triat la versió que Britten va enregistrar amb el Copenhagen Boys' Choir i l'arpista Enid Simon el 1953; el nom del nen solista no us el puc dir perquè no l'he trobat... No l'he triat només perquè estigui dirigida per Britten, realment m'agrada molt.
Dijous vinent és Sant Esteve, molts estarem atrafegats amb els canelons i les reunions familiars; és per això que tindrem només una mini-entrada perquè escolteu, el mateix dijous o quan us vingui de gust, una altra nadala d'A Ceremony of Carols.
Una última cosa: us comentava que els poemes estan escrits en anglès antic i jo sóc agosarada amb les traduccions però no tant; per això vaig demanar auxili a un amic, l'Aaron, que va tenir l'amabilitat de posar-hi i traduir al castellà tots dos poemes, moltíssimes gràcies!
Que passeu un bon Nadal!
That yongë child
That yongë child when it gan weep
With song she lulled him asleep:
That was so sweet a melody
It passèd alle minstrelsy.
The nightingalë sang also:
Her song is hoarse and nought thereto:
Whose attendeth to her song
and leaveth the first then doth he wrong.
Cuando ese tierno infante empezó a llorar
Cantando, ella le arrulló.
Era una melodía tan dulce
Que superaba el arte de los ministriles.
El ruiseñor cantó también,
Pero su canto era ronco y nada en comparación.
Quien escuchase el canto del ruiseñor
Desatendiendo el primero cometería un error.