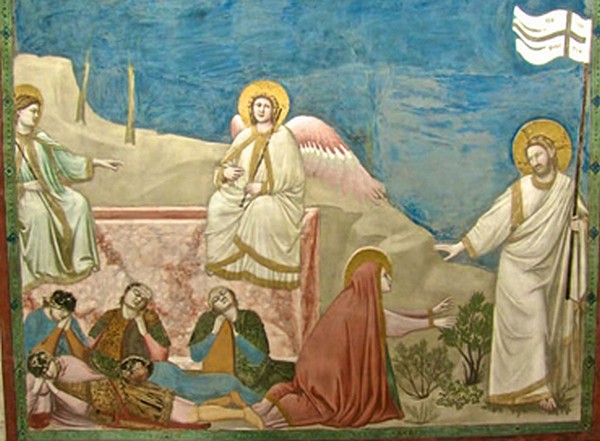 Ressurrecció - Giotto
A la Gran Bretanya el Romanticisme va tenir molta força en els àmbits de la pintura i la literatura. En canvi, si pensem en cançó (art song) en llengua anglesa els noms que ens vénen a la memòria són els de Britten, Elgar, Sommervell, Vaughan Williams, Butterworth, Quilter, Finzi..., compositors nascuts la major part d'ells a finals del segle XIX. Fos perquè el lied era un gènere eminentment urbà i la societat britànica estava molt vinculada al món rural, fos perquè ja tenia una llarga tradició pròpia de cançó a mig camí entre la popular i la culta, fos per altres motius, el cas és que les cançons que avui escoltem als recitals van ser escrites en bona part durant el segle XX.

Ralph Vaughan Williams, un dels compositors esmentats, va escriure prop de cent cançons per a veu i piano, a les quals podem afegir una trentena més d'arranjaments de cançons populars. La cançó que escoltarem avui, Easter (Pasqua), és la primera del cicle Five Mystical Songs (Cinc cançons místiques).

Aquesta obra es va estrenar el 1911 en una versió per a baríton, cor i orquestra. Vaughan Williams va triar quatre poemes religiosos de George Herbert, poeta i ministre de l'esglèsia anglicana que havia viscut tres-cents anys abans. Les dues primeres cançons, Easter i I got me flowers (Vaig collir flors), comparteixen un mateix poema que celebra la ressurrecció de Jesús i, a Easter, convida a cantar-la.

Vaughan Williams va escriure altres versions de les Five Mystical Songs, només amb orquestra, amb piano i quintet de cordes i amb piano sol, que és la versió que sentirem interpretada per Simon Keenlyside i Graham Johnson. Respecte la versió amb cor, la part del baríton a penes queda modificada: a la primera estrofa s'hi afegeixen algunes repeticions dels primers versos que inicialment pertanyien al cor mentre que la segona i la tercera no es modifiquen. Òbviament, la supressió del cor i la reducció de l'orquestra a piano sí són canvis significatius i el que era un goig compartit es converteix en l'íntima alegria d'un home sol que s'acompanya amb el seu llaüt.

Bona Pasqua!


Easter
Rise, heart: thy Lord is risen. Sing His praise

Without delays,
Who takes thee by the hand, that thou likewise
With Him may'st rise;
That, as His death calcined thee to dust,
His life may make thee gold, and much more, just.
Awake my lute and struggle for thy part
With all thy art.
The cross taught all wood to resound His name
Who bore the same.
His stretched sinews taught all strings what key
Is best to celebrate this most high day.
Consort both heart and lute, and twist a song
Pleasant and long;
Or since all music is but three parts vied,
And multiplied,
O let Thy blessed Spirit bear a part,
And make up our defects with His sweet art.
Ressuscita, cor; el teu Senyor ha ressuscitat.
Canta la seva lloança
sense trigar,
t'agafa per la mà perquè tu també, amb Ell,
puguis ressuscitar;
perquè, així com la seva mort et va reduir a pols
la seva vida et faci d'or i, encara més, just.
Desperta, llaüt meu, i esforça't
amb tot el teu art.
La creu mostrà a tota la fusta
com cantar el Nom de qui la va dur.
Els seus nervis en tensió mostraren a les cordes
en quina clau celebrar el seu dia més ple.
Que s'uneixin el cor i el llaüt i plegats entonin
una alegre i llarga cançó.
Puix que tota música en tres parts es divideix
i es multiplica,
oh, que el teu Esperit beneït en prengui part
i compensi els nostres defectes amb el seu dolç art.