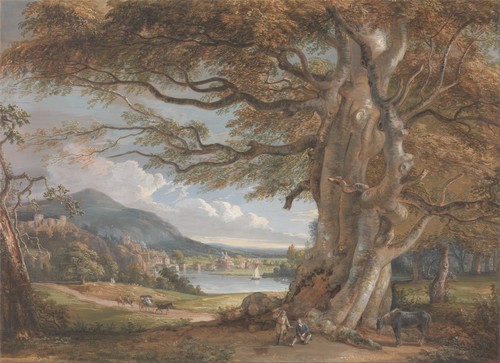 Bridgenorth, Shropshire - P. Sandby
Al seu assaig Inside the Whale (1940), George Orwell diu:
Entre la gent que era adolescent als anys que van del 1910 al 1925, Housman va tenir una influència enorme que avui no és fàcil d'entendre. El 1920, quan jo tenia uns disset anys, em sabia de memòria probablement el Shropshire Lad sencer.
Aquesta cita ens parla de la popularitat d'
A Shropshire Lad
, un volum de poesia publicat per Alfred Edward Housman el 1896. Housman no es considerava poeta; era un erudit, un home dedicat a la investigació en llengües clàssiques, però els anys anteriors havien estat durs per a ell i això l'havia impulsat a escriure aquesta col·lecció de poemes que parla de solitud, pèrdua, amors infeliços i morts prematures, tot això evocant un paisatge i una forma de vida idealitzades, una mena de paradís perdut. El volum va ser rebutjat per diversos editors i Housman va pagar-ne la primera edició, que es va vendre molt a poc a poc. Pocs anys després, però, coincidint amb la segona guerra boer (1899-1902) el llibre va començar a fer-se conegut perquè aquell joves que marxaven a la guerra i les seves famílies trobaven un cert consol en els seus versos. Durant la Gran Guerra els poemes es van fer imprescindibles (Housman, que n'era conscient, es va preocupar que es fessin edicions econòmiques a l'abast dels soldats) i avui dia encara es continuen publicant. Una referència relativament recent la trobem a la pel·lícula
Memòries d'Àfrica
: a l'enterrament de Denys Finch Hatton, Karen Blixen llegeix algunes estrofes de
To an athlete dying young
, un dels poemes d'
A Shropshire Lad
.
Els compositors no van ser aliens a l'impacte dels poemes de Housman. Pocs anys després de la publicació, el 1904, Arthur Sommervell va escriure'n el primer cicle de cançons; després van venir, entre d'altres, els de Ralph Vaughan Williams, Ivor Gurney, John Ireland, John Duke (del qual vam escoltar
Loveliest of trees
), Samuel Barber o, ja a les acaballes del segle XX, Ned Rorem. Dels seixanta-tres poemes només nou no s'han musicat, no sé si caldria afegir "encara"; dels centenars de cançons que s'han escrit a partir d'
A Shropshire Lad
les més conegudes són, sens dubte, les de George Butterworth.
Butterworth va néixer el 1885 a Londres però es va criar a Yorkshire, on es va traslladar a viure la família pocs anys després. Les seves passions eren la vida a l'aire lliure, l'esport i la música, i potser per això es va dedicar a recuperar la música tradicional rural anglesa (com ho van fer, entre d'altres, el seu amic Ralph Vaughan Williams), recorrent la contrada i recollint cançons que després catalogava amb cura. De les cinc-centes cançons que va recuperar va publicar-ne unes quantes amb acompanyament de piano en el recull
Eleven Folk Songs from Sussex
, un parell les va arreglar per a cor i d'altres les va citar a tres peces orquestrals:
Two English Idylls
i
The Banks of Green Willow
.
Les onze cançons d'
A Shropshire Lad
, compostes entre 1909 i 1911, respiren també un inconfusible aire tradicional i la detallista música de Butterworth realça l'esperit pastoral implícit als textos, tot i que no cita cap melodia de les recollides pel compositor. Les cançons, estrenades a Oxford el maig de 1911, es van publicar en dos reculls:
Six Songs from a A Shropshire Lad
i
Bredon Hill and other songs from A Shropshire Lad
. Van ser ben acollides, no només per la seva bellesa (almenys a mi m'ho semblen, Butterworth és una de les meves debilitats) sinó perquè a començaments del segle XX Anglaterra mirava de trobar el seu lloc a la música després del domini alemany durant el segle XIX i aquell jove de vint-i-pocs anys mostrava una veu pròpia que lligava amb la idea de "música cosmopolita d'origen nacional" que demanava i impulsava Vaughan Williams, per la qual cosa va ser rebut com una promesa.
Però el 1914 va esclatar la guerra i Butterworth es va allistar. Abans de marxar al front va posar en ordre les seves coses, va destruir una part de les seves composicions i va confiar la resta a Vaughan Williams. A banda de les obres que he esmentat només va conservar un altre cicle menys conegut,
Love blows as the wind blows
; després de la guerra es van recuperar un parell d'obres més que tenia el seu pare a casa seva. Butterworth va morir el 5 d'agost de 1916 a la batalla del Somme, aquell despropòsit, per dir-ne d'alguna manera, que va causar un milió de baixes. El tinent Butterworth i la seva obra a penes començada es van convertir en un dels símbols d'una generació perduda; aquelles cançons escrites en temps de pau a partir dels poemes d'algú que no va anar mai a la guerra van acabar sent premonitòries i el reflex d'una època i una forma de viure que ja no havien de tornar.
Fa un temps vam escoltar
The lads in their hundreds
, una de les cançons del primer recull,
Six Songs from a A Shropshire Lad
, que parla dels joves bells, bons i valents que moriran en el seu moment de glòria i no seran mai vells. Avui escoltarem la cançó que tanca
Bredon Hill and other songs from A Shropshire Lad
, que torna sobre el mateix tema però mirant cap el passat;
With rue my heart is laden
és una bellíssima elegia pels amics morts, és difícil dir més coses amb menys notes. L'escoltarem en una versió també preciosa, la del baríton John Cameron i Gerald Moore.
With rue my heart is laden

With rue my heart is laden
For golden friends I had,
For many a rose-lipt maiden
And many a lightfoot lad.
By brooks too broad for leaping
The lightfoot boys are laid;
The rose-lipt girls are sleeping
In fields where roses fade.
El meu cor està oprimit per la pena
pels daurats amics que vaig tenir,
per tantes noies de llavis de rosa
i tants nois de peus lleugers.
Per rierols massa amples per saltar-los
els nois de peus lleugers han caigut;
les noies de llavis de rosa dormen
en camps on les roses s'esvaeixen.