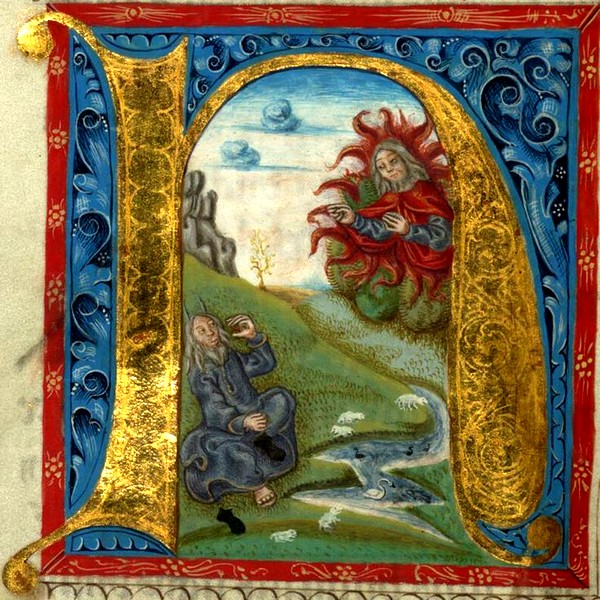 Moisès davant l'esbarzer en flames - Walters Art Museum (Bíblia datada el 1507)
Si la Il·lustració és la raó, el Romanticisme és la fantasia. Si la Il·lustració és la vetlla, el Romanticisme és el somni. Si la Il·lustració és la llum, el Romanticisme és la foscor. Si la Il·lustració és el dia, el Romanticisme és la nit. Durant el Romanticisme, la nit esdevé un símbol, és el món misteriós on és possible tot allò que és inexplicable amb la raó; la nit i el somni permeten accedir a la realitat mentre que la vetlla, durant el dia, ens amaga el autèntic sentit de l'existència. Resumit en quatre ratlles (és a dir, amb moltes mancances), veiem perquè la nit és tan important en la poesia del Romanticisme, en contraposició a la llum que regna només uns anys abans, a la Il·lustració (de fet, la llum està implícita en el propi nom). Diria que aquesta importància perdura més enllà del Romanticisme i arriba, tan evolucionada com demanin els temps, fins a primers del segle XX. I si la nit és un dels temes més importants a la poesia, també ho és al lied. Perquè us en feu una idea, en un repàs ràpid a la pàgina
Hem escoltat
he trobat més de quaranta cançons nocturnes. Calia donar-li a la nit la lletra N de l'
abecedari de Liederabend
!
Quin és el vostre lied preferit dedicat a la nit? Si n'hagués de triar només un, seria
Mondnacht
. Schumann plasma d'una manera tan acurada la pau que traspua el poema d'Eichendorff que seria difícil trobar-ne un de més bell, més emotiu o més perfecte. Però cal triar-ne només un? Un altre dels meus nocturns preferits és un lied en moviment, ben allunyat de l'estatisme de
Mondnacht
. A
An den Mond in einer Herbstnacht
, la lluna acompanya el caminant i arriba fins a on ell no pot arribar: a la seva infantesa, els seus amics i tot el que estima. L'última estrofa d'aquest lied parla de la mort com a repòs; morir per a descansar de les fatigues de tota una vida, com a d'altres dos lieder imprescindibles,
Nachtstück
o
Beim Schlafengehen
. I si és l'esperit el que necessita una treva, somnis que alleugin els patiments que tornaran quan surti el sol, per força hem de parlar de Nacht und Träume o Abendlied. Però la nit no és només per meditar, o per trobar la pau que el dia nega; la nit també és per a estimar. Amb serenates com les de
Schubert
i
Strauss
o, com a
Die Nacht
, prenent el capvespre, la por a la nit que avança, com a excusa perfecta per a l'abraçada dels amants.
Us heu fixat que quan els poetes volen inquietar-nos no ens situen en plena nit sinó al crepuscle? Potser perquè durant aquesta estona en què s'uneixen nit i dia (
Zwielicht
o
Twilight
, etimològicament, fan referència a dues llums) no hi veiem bé, les formes queden desdibuixades, i ens sentim més vulnerables. Així arribem a un altre dels meus preferits, el magnífic
Im Walde
. Friedrich Schlegel, un dels primers poetes romàntics, ens deixa enmig del bosc, en aquell moment en què a la llunyania s'intueix l'alba; l'esclat rogenc aguditza i revoluciona els nostres sentits i Franz Schubert ens arrossega amb un dels seus lieder més poderosos. I si fos l'altra cara de la moneda de
Mondnacht
?
Per acabar, volia contemplar els estels. La gent de ciutat no estem acostumats a la nit, no sabem què és la foscor ni la claror de la lluna. I dels estels, ja, ni em parlem: a ciutat no hi ha estels. Almenys podem escoltar-los, sentir que són allà quan els demanem ajuda, protecció, consol. I sentir com ens somriuen: hi ha estels més meravellosos que els d'
An die Geliebte
? Per això, entre totes les cançons que se m'han anat acudint mentre escrivia aquest article, tantes que he renunciat a apuntar-les a la llibreta, he volgut aturar-me en una nit estelada que consola un caminant.
Aquest cop el caminant no és alemany sinó escocès, Robert Louis Stevenson (només de llegir el seu nom ja ens imaginem aventures i misteris, oi?). Des de petit va pair una greu malaltia pulmonar que el va tenir allitat durant llargues temporades i a punt de morir en diverses ocasions, pero la seva salut delicadíssima no li va impedir seguir la seva passió, viatjar. Tothom a la seva família (els homes, s'entèn) eren enginyers i ell s'hi va dedicar durant un temps; això li va permetre viatjar per Escòcia de far en far, que és el que construïen els Stevenson. Quan va deixar l'enginyeria a estudiar Dret per complaure el seu pare, però un cop titulat no va exercir mai i es va dedicar únicament a viatjar i escriure. Va recòrrer primer França i Bèlgica; un temps després va viatjar fins a San Francisco seguint la qui seria la seva muller, Fanny van de Grift (una dona casada, deu anys més gran que ell i amb dos fills) i amb el temps es va establir a Samoa, on va morir el 1894, amb 44 anys. Poc abans havia enviat al seu editor un volum de quaranta-quatre poemes,
Songs of Travel and other verses
(publicat finalment el 1896) on insistia en els seus temes preferits: viatges i aventures.
Uns anys després de la publicació del llibre de Stevenson, entre 1901 i 1904, Ralph Vaughan Williams va escollir nou d'aquests poemes per al seu cicle de cançons
Songs of Travel
. Un altre dia parlarem més d'aquest cicle, de moment avui escoltarem la sisena cançó del cicle,
The infinite shining heavens
, que sentirem en la preciosa versió de Bryn Terfel i Malcolm Martineau. Encara que sigui de dia o siguem a ciutat, només cal parar atenció per veure els estels que titil·len i donen pau al caminant.
The infinite shining heavens
The infinite shining heavens
Rose, and I saw in the night
Uncountable angel stars
Showering sorrow and light.
I saw them distant as heaven,
Dumb and shining and dead,
And the idle stars of the night
Were dearer to me than bread.
Night after night in my sorrow
The stars stood over the sea,
Till lo! I looked in the dusk
And a star had come down to me.
Els cels infinits i resplendents
s'alçaren i jo veié en la nit
incomptables estrelles angèliques
vessant llum i tristor.
Jo les veié distants com el cel,
mudes, brillants i somortes
i les immòbils estrelles de la nit
eren per a mi més preuades que el pa.
Nit darrere nit, en el meu desconsol,
les estrelles eren damunt el mar
fins que, heus aquí! Vaig esguardar en la foscúria
i una estrella havia davallat al meu envers.
(traducció de Salvador Pila)