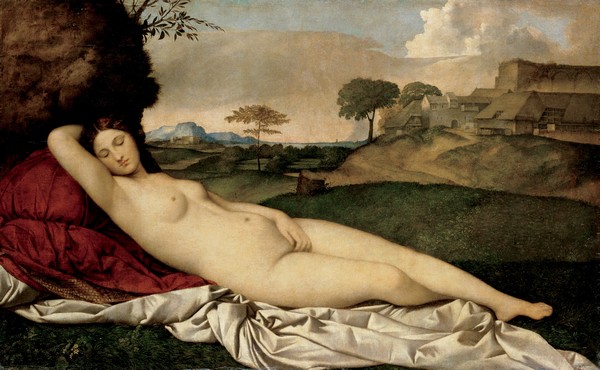 Venus dormint - Giorgione
A la lletra D de Dichterliebe de l'alfabet de Liederabend us parlava de la dificultat de definir què és un cicle; vaig posar-ne alguns exemples i avui amplio la col·lecció d'històries complicades amb l'estrany cas d'un cicle compost com a cicle, estrenat com a cicle i desaparegut com a tal durant cinquanta anys.
El desembre de 1904 s'estrenava a Londres Songs of Travel, de Ralph Vaughan-Williams. El programa de mà especificava que el cicle s'interpretaria com una unitat, comentari que no es feia respecte a un altre cicle del compositor que també es va estrenar aquell dia, The House of Life. Songs of Travel va tenir molt d'èxit entre els col·legues músics i bones crítiques a la premsa, però els editors Boosey & Co no van considerar oportú publicar-lo complet i van publicar-ne només tres cançons: The Vagabond, la primera; The Roadside Fire, la tercera, i Bright is the Ring of Words, la vuitena; les tres més expansives i, segons el seu criteri, més fàcils. Això va ser el 1905 i dos anys després, donades les bones vendes del recull, el van reeditar. Aquell 1907 van publicar quatre cançons més del cicle, les més intimistes: Let Beauty Awake, la segona; Youth and Love, la quarta; In Dreams, la cinquena, i The Infinite Shining Heavens, la sisena, que també van reeditar de seguida. La setena, Whither must I Wander, s'havia publicat el 1902 en una revista musical i Boosey & Co no la va publicar fins el 1912, també com a una cançó solta.
A primers de segle XX encara era el temps de les parlour songs, i cançons tan innovadores com les d'aquell prometedor jove no eren gaire comercials, això podria explicar l'estrany especejament del cicle que havien fet els editors, però passaven les dècades i continuava parlant-se que Ralph Vaughan-Williams, ja un compositor respectadíssim, havia compost dos reculls i una cançó solta a partir de la col·lecció Songs of Travel and other Verses de Robert Louis Stevenson. Si no vaig errada, el cicle no s'havia tornat a interpretar complet; sí s'interpretaven amb certa freqüència alguns grups de cançons, sobretot les tres del primer recull i Whither must I Wander. Quan Vaughan-Williams va fer vuitanta anys se'n va publicar una biografia que incloïa una relació de les seves obres; en llegir-la el compositor i adonar-se que Songs of Travel hi figurava repartit en tres obres va escriure a l'autor i li va explicar que aquelles vuit cançons formaven un cicle i que l'ordre en que s'havien publicat no tenia res a veure amb el real, afegint que no sabia si pagava la pena fer-hi res al respecte.
Ralph Vaughan-Williams va morir el 1957. Quan revisaven els seus papers van trobar la cirereta del pastís d'aquesta història: la novena cançó de Songs of Travel, I had Trod the Upward and the Downward Slope. La seva vídua sabia que existia, però la donava per perduda. A la partitura hi havia una nota que indicava que aquella peça era l'epíleg del cicle i no s'havia d'interpretar sola. És a dir, un cop més i de manera pòstuma, el compositor establia que aquelles cançons formaven un cicle. Per fi, el 1960, es van editar les nou cançons juntes i en l'ordre correcte i aquell mateix any se'n va fer el primer enregistrament.
Quan l'escoltem des de la nostra còmoda posició del segle XXI ens queden pocs dubtes que Songs of Travel és clarament un cicle, a més amb una estructura molt clàssica: és un cicle de caminant. No té la dimensió tràgica de La bella molinera o el Viatge d'hivern, però la semblança és prou evident. A la primera cançó, The Vagabond, que és també el primer poema del llibre (subtitulat "To an air of Schubert", és a dir, "Segons una tonada de Schubert"), el protagonista comença a fer camí amb una declaració d'intencions molt clara: "All I seek, the heaven above | And the road below me" (Tot el que cerco, el cel al damunt | i el camí al meu davant). A partir d'aquí, l'acompanyarem en les seves alegries i les seves penes fins al seu comiat, a l'epíleg.
Fa cosa d'un any vam escoltar The Infinite Shining Heavens, sisena cançó que coincideix també amb el sisè poema de la col·lecció; avui escoltarem Let Beauty Awake, la segona cançó i el novè poema. Totes dues precioses, totes dues intimistes, van anar a parar, com hem vist, al segon recull dels editors. Les dues estrofes de Let Beauty Awake descriuren l'esbalaïment del vagabund davant la bellesa de la natura; a l'albada a la primera estrofa, al capvespre a la segona. És talment com si en fos conscient per primera vegada; potser s'ha enamorat i ho mira tot amb uns altres ulls? En una cançó que té alguna cosa de romàntica, l'emoció del poeta es reflecteix en les frases àmplies de la veu, que sembla que sura sobre els arpegis del piano; les dues estrofes són molt similars, a penes hi canvien les dinàmiques de la veu (forte a la primera, piano a la segona) i la disposició dels arpegis. Si com a mi, la cançó us deixa amb la sensació que no acaba, penseu que si és un cicle potser hi ha una continuïtat... Així que escolteu Let Beauty Awake interpretada per Gerald Finley i Stephen Ralls i potser després voldreu saber-ne més...
Let Beauty Awake

Let Beauty awake in the morn from beautiful dreams,
Beauty awake from rest!
Let Beauty awake
For Beauty's sake
In the hour when the birds awake in the brake
And the stars are bright in the west!
Let Beauty awake in the eve from the slumber of day,
Awake in the crimson eve!
In the day's dusk end
When the shades ascend,
Let her wake to the kiss of a tender friend,
To render again and receive!
Que al matí es desperti la Bellesa dels seus bonics somnis,
Bellesa, desperta del repòs!
Que desperti la Bellesa,
per al propi bé de la bellesa,
a l'hora que els ocells es desperten al boscatge
i les estrelles brillen a ponent!
Que es desperti la Bellesa a la vetlla del dormiment del dia,
que es desperti en la rojor del capvespre!
A la fosca de l'hora baixa,
quan s'aixequen les ombres,
que es desperti al bes d'un tendre amic,
per donar-lo de nou i que li sigui tornat.