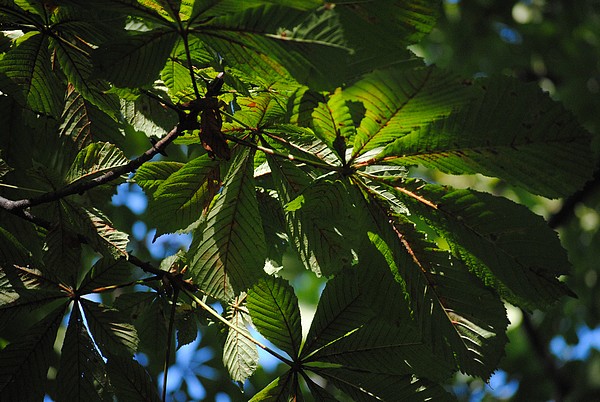 Diese Zeiten
Sind gewaltig,
Bringen Herz und
Hirn in Noth.
These times
are powerful,
bringing torment
to heart and mind.
It seems that whatever we listen or read leads us to the situation we are experiencing, don't you think? Oddly, those verses belong to a Strauss' Lied, and I say oddly because most of the songs of this composer pass without distress; sometimes with melancholy, but not anguish as they hardly talk about threatened souls.
And if Ruhe, meine Seele, is an atypical poem for Strauss, so is the music. Think of Strauss' lieder: catching, broad melodies, often with operatic reminiscences. Quite the opposite of what we find in this song: a tune that slips when we try to get it, some declaimed verses which have something of hypnotic. The first verses of the poem tell us about the reigning calm, "Not a breeze is stirring lightly", and this calm is reflected by the voice and the sober accompaniment, agitated only when the poem speaks about the anguish suffered by the soul. And despite this call for serenity, something disturbing in the song if you do pay attention to the music. This effect is due to an indefinite tonality, our brain is used to hearing clear musical rules and that slight instability places it on alert. But in the end, the music offers that rest we were longing for.
I wonder why Strauss included this Lied in the Opus 27, his wedding gift to Pauline de Ahne. Maybe the reasons were strictly musical; Ruhe, meine Seele is atypical, but gorgeous all the same, and the composer must have known that. Given that the other three lieder in the collection are Cäcilie, Heimliche Aufforderung and Morgen, that would be a good reason. However, I cannot help but thinking that Ruhe, meine Seele starts something that Morgen ends. The poems have some elements in common: the sun, the waves, the contemplation of nature, the calm they convey, and one thing that sets them apart: in the first one, the poetic self is alone while in the second one it's accompanied. Is the Op. 27 talking about to endure difficulties alone or with someone you love?
In December 1895, Strauss sent the score to Karl Henckell, the poet of that song. He replied that he had known the Lied six months before and had not dared to write to thank him. Now, however, he wanted to tell him how moved he was to hear those verses he had written when he was eighteen or nineteen, in his "tempestuous youth"; (Henckell and Strauss were born the same year, and were thirty-one when they exchanged these letters.) And he added:
"But now that you've sent me the song with such warm words, I must extend my hand to you. Will you allow me? Especially in the phrases "Stiehlt sich lichter Sonnenschein" and "Wie die Brandung, Wenn sie schwillt", with their emotional content, I think that you have transcribed the verses, or absorbed them, or whatever the correct expression is, magnificently."
The poet, who was living in exile for his socialist ideas, sent the composer a volume of his poetry, just in case some verses would inspire him again; Strauss answered affectionately and in the next years, he wrote six more Lieder with poems by Henckel. All of them of lyrical character except one, Das Lied des Steinklopfen [The song of the stonebreaker], whose content is clearly a social critique.
I wanted to tell you something more about Ruhe, meine Seele, but I've just realized this post would be too long, so I jotted it down in my blog notebook. I could have shared this song at any other time, because it's wonderful, but I would say it becomes especially convenient for these weeks that we need something to ease our anxiety; everything helps. I have chosen a version that I really like, the one by Jonas Kaufmann and Helmut Deutsch, but this Lied has often been recorded and there are many other good versions. So, if you need an extra dose, go ahead, choose a few more and repeat the hearing as many times as needed.
Ruhe, meine Seele
Nicht ein Lüftchen
Regt sich leise,
Sanft entschlummert
Ruht der Hain;
Durch der Blätter
Dunkle Hülle
Stiehlt sich lichter
Sonnenschein.
Ruhe, ruhe,
Meine Seele,
Deine Stürme
Gingen wild,
Hast getobt und
Hast gezittert,
Wie die Brandung,
Wenn sie schwillt.
Diese Zeiten
Sind gewaltig,
Bringen Herz und
Hirn in Noth –
Ruhe, ruhe,
Meine Seele,
Und vergiss,
Was dich bedroht!
Not a breeze
is stirring lightly,
the wood lies
slumbering gently;
through the dark
cover of leaves
steals bright
sunshine.
Rest, rest,
my soul,
your storms
have gone wild,
have raged
and trembled
like the surf
when it breaks.
These times
are powerful,
bringing torment
to heart and mind;
rest, rest,
my soul,
and forget
what is threatening you!
Related articles