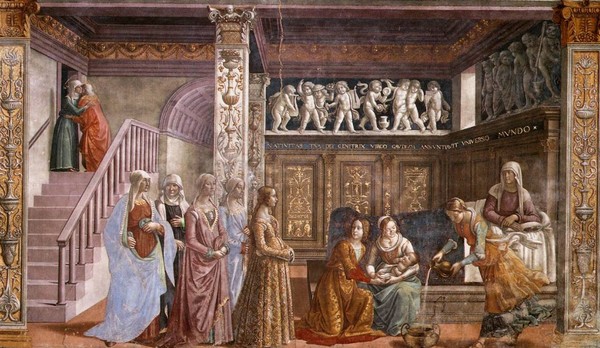 Birth of Mary - D. Ghirlandaio
When Das Marienleben was premiered, in June 1923, Paul Hindemith was twenty-seven. He wasn't unknown, either as an interpreter or as a composer, at least among the connoisseurs. Schott had been interested in his music a few years ago, and the publisher and the composer had just reached an agreement that guaranteed Hindemith a monthly allowance. This regularity of income would allow him to leave the concertino place at the Frankfurt Opera, which he had rejoined after the war, and to devote himself entirely to composition.
Das Marienleben is a 15-song cycle for soprano and piano, composed from the work of the same name by Rainer Maria Rilke, published in 1912. As the title states, The Life of Mary focuses on the life of the Virgin Mary from birth to death, with scenes based on both the Gospels and apocryphal texts. Hindemith composed it in three periods: four songs between June and July 1922, four more songs between November and December of that year and the rest in April 1923. Some sources say that he would have composed some songs the days before the premiere; as it usually happens, the version that was published in 1924 wasn't identical to the one that had been premiered.
The cycle was highly successful with audiences, and the composer felt legitimately proud; it was his most extensive work (a few minutes longer than a Winterreise), he admitted that it had not been easy for him to compose, and, as he wrote to a friend, he thought it was "the best thing he had yet written". But, as he would explain 25 years later, that unexpected success made him aware "of the ethical demands of music and the moral obligations of a composer" (questions still relevant), and he began to reflect about "the ideal of a noble and consummate music".
This led him, eventually, to rewrite Das Marienleben. He began in 1936, when Hindemith had already drawn the attention of the Nazi regime, which was always dangerous; his opera Mathis der Maler caused him (and Wilhelm Furtwängler) many problems, and he struggled to remain in Germany. His music was officially declared degenerate in 1938; that moment the personal risk was too high, and he went into exile; first to Switzerland and then to the United States. For twelve years, until the publication in 1848 of the second version of Das Marienleben, the composer revised once and again; only one song, No. 12, remained unchanged. If we compare the two versions of the cycle, we find completely new and slightly modified songs; in the preface to the second edition the composer tells us that he rewrote some passages about twenty times, and that he made five new versions of some songs. Hindemith also said that the new Marienleben was "entirely based on the old version, but technically and spiritually renewed".
We'll listen to a sample of the first version later, it has some significant defenders (Glenn Gould, for instance, said it was the best cycle of songs ever written), but this week we'll pay attention to the composer opinion, and we'll listen to one song of the second Marienleben. It's the opening Lied, Geburt Mariä, and the performers are Soile Isokoski and Marita Viitasalo. Christian tradition states that Saint Anne and Saint Joachim never lost hope of having a child, and they kept praying to God even when they were too old. The three stanzas of Rilke's poem tell us of the confusion in their home, faced with such unusual event as a labour, and of the joy of the angels, who can hardly avoid bursting into sing to celebrate the birth of Mary, the Virgin.
Last week I told you that I had taken notes for some articles this season during the Schubertíada, and this is one of them. During the great concert of Arnau Tomàs, Anna Puig, Bernat Prat and Joan Seguí, with works by Bach and Hindemith, I took mental note: to introduce Paul Hindemith on Liederabend. Said and done. Just by chance, if you are reading this article the day is posted, 8 September, today is the feast of the Nativity of Mary.
Geburt Mariä
O was muß es die Engel gekostet haben,
nicht aufzusingen plötzlich, wie man aufweint,
da sie doch wußten: in dieser Nacht wird dem Knaben
die Mutter geboren, dem Einen, der bald erscheint.
Schwingend verschwiegen sie sich und zeigten die Richtung,
wo, allein, das Gehöft lag des Joachim,
ach, sie fühlten in sich und im Raum die reine Verdichtung,
aber es durfte keiner nieder zu ihm.
Denn die beiden waren schon so außer sich vor Getue.
Eine Nachbarin kam und klugte und wußte nicht wie,
und der Alte, vorsichtig, ging und verhielt das Gemuhe
einer dunkelen Kuh. Denn so war es noch nie.
Oh, what it must have cost the angels
not immediately to burst into song, as one bursts into tears,
since they indeed did know: on this night
the Mother is born to the Child, to the One who soon is to appear.
Soaring in flight, they kept silent and gestured toward
the place, where, alone, Joachim's farmstead lay,
ah, they felt in themselves and in space the pure thickening,
but none of them could go down to him.
For the two by now were so beside themselves with things to do.
A woman neighbour came and pretended wisdom and did not know how,
and the old man, as a precautionary measure, went and restrained the lowing
of a dark cow. For never yet had things been like this.
(translation by Naxos)
Articles relacionats