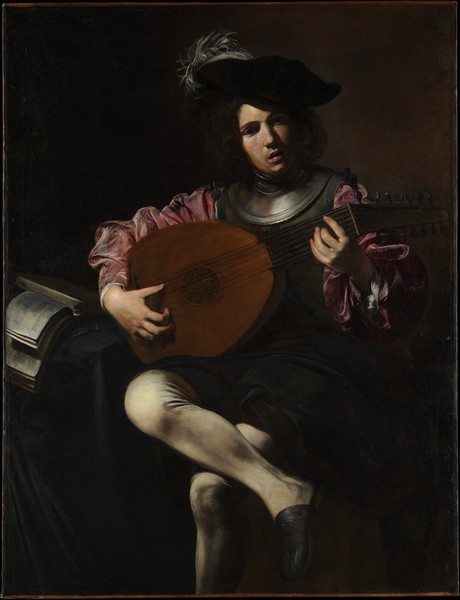 El llautista - V. de Boulogne
Is there any internal logic in Myrten that allows this work to be considered as a cycle? I don't have the answer to this question, but at least I can set out some ideas just as an excuse to listen to one of my favourite songs in that cycle.
Schumann composed Myrten as a wedding present for his fiancée Clara Wieck. He began to write in February 1840, when the wedding date wasn't chosen yet, and ended the last song in May, still without a wedding date due to Clara's father opposition to that marriage. But Robert hoped that they could get married in August, when she would reach the age of majority and wouldn't need the parental consent anymore. The wedding was finally in August, after living very bitter times, and Clara received her gift beautifully published as Robert had ordered for her.
Going back to the initial question, whether or not Myrten is a cycle, there's an additional problem, to define what a cycle is; we talked about it a while ago, to conclude that there is no sufficiently comprehensive definition. Talking about Myrten in particular, we know that Schumann conceived it as a unity, and this points to the cycle concept; however, it doesn't have an internal musical structure, and this moves the work away from being a cycle. In addition, it's rarely performed complete, as cycles are, but this usually happens with works requiring two singers.
We should also consider if the lyrics provide with the consistency needed to talk about a cycle. From the start, not because it doesn't leave from a single poetic source: we have twenty-six Lieder upon poems by eight different poets. However, scholars in favour of Myrten being a cycle argue that there is unity, provided by Schumann when he carefully chose the poems thinking of his beloved. He talks about it in his letters, and there are several theories: the poems would talk about their love story, or about their living together (a time still to arrive), or they would be Schumann's self-portrait (and I must admit I think this is the most interesting theory).
I consider Myrten intuitively (a scientific method at all) a cycle; I think Schumann wanted it that way, even if he didn't explain it to us. I also think it by process of elimination: if it is not a cycle, it is a collection, that is, a handful of lieder gathered to publish them together. But, leaving the question in the air, I wanted us to listen to the song No. 15, Aus den hebräischen Gesängen; no matter how little we know Schumann, we'll find the verses very close to his melancholic character.
The poem is by Lord Byron. Do you remember I talk about his Hebrew Melodies some time ago, a collection of poems that were initially song lyrics? Our text belongs to this collection; it's poem No. 9, My soul is dark, which is based on a few verses (16:14-23) from the First Book of Saul in the Old Testament (also related to another great song, King David). The German translation is by Karl Julius Körner, and its title is The lute.
Schumann divided the two stanzas of the poem into four. The prelude, a motif of descending scales, takes us to the first musical stanza, a lament of the poetic voice that reminds us of a recitative. After a brief interlude, the second stanza arrives, with a beautiful, very lyrical tune. The descending passages of the piano we heard at the beginning of the song now become an interlude, and when it seems that the voice will repeat the music of the first stanza, a different one arrives, also a kind of recitative. Finally, the last stanza repeats (at least at the beginning) the beautiful melody of the second one, before ending with a long descent of the lute, that is, of the piano.
I hope you like Aus dem hebräischen Gesängen and the performance of baritone Iván Paley and pianist Stephan Matthias Lademann.
Aus dem hebräischen Gesängen

Mein Herz ist schwer! Auf! Von der Wand
Die Laute, nur sie allein mag ich noch hören,
Entlocke mit geschickter Hand
Ihr Töne, die das Herz betören.
Kann noch mein Herz ein Hoffen nähren,
Es zaubern diese Töne her,
Und birgt mein trocknes Auge Zähren,
Sie fliessen, und mich brennt's nicht mehr!
Nur tief sei, wild der Töne Fluss,
Und von der Freude weggekehret!
Ja, Sänger, dass ich weinen muss,
Sonst wird das schwere Herz verzehret!
Denn sieh! vom Kummer ward's genähret,
Mit stummen Wachen trug es lang,
Und jetzt vom Äussersten belehret,
Da brech es, oder heil im Sang.
My soul is dark—Oh! quickly string
The harp I yet can brook to hear;
And let the gentle murmurs fling
Its melting murmurs o'er mine ear.
If in this heart a hope be dear,
That sound shall charm it forth again:
If in these eyes there lurk a tear,
'Twill flow, and cease to burn my brain.
But bid the strain be wild and deep
Nor let thy notes of joy be first;
I tell thee minstrel, I must weep,
Or else this heavy heart will burst;
For it hath been by sorrow nursed,
And ached in sleepless silence long;
And now 'tis doom to know the worst,
And break at once—or yield to song.
Articles relacionats