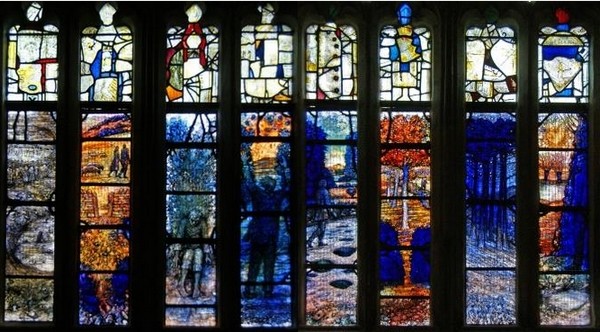 Gloucester Cathedral: window in honour of Ivor Gurney
When I got the program of Sarah Connolly and Malcolm Martineau's recital at the Schubertiade Vilabertran, my eyes just saw one name: Ivor Gurney. Neither Schubert nor Schumann not even Britten. Gurney. I was really excited because I was about to be the first time that I heard his songs in a recital, as I only did in recordings before. I explained to everybody who wanted to hear that there were Gurney's songs at the SV15 and I shared one of them with you. Connolly and Martineau's recital was excellent and according to the audience comments, the winner of that night was ... Gurney! I told you, it was worth listening to his songs...
This week we'll revisit this composer, as I promised you
in summer
. As I said back then, Ivor Gurney was part of the generation that fought in World War I and his story, alike to so many men, is terrible. In the summer of 1914, the young Ivor was twenty-four years old and studied on a scholarship at the Royal College of Music. When the war broke out, he tried to enlist but he was rejected because of his poor eyesight; in February 1915, he was accepted and after a training period, he was sent to Flanders in May. In April 1917, he was wounded in the arm and he spent some time in hospital. Shortly after going back to the front, in September 1917, he was gassed with mustard gas and from then on, his misery really began.. In fact, either because of the gas effects, or the war trauma, or a recurrent depression, or a syphilis he suffered or because all those reasons together, the truth is that Gurney didn't ever recover. He spent the rest of the war changing hospitals and eventually, he tried to commit suicide; He got better for a while, at least better enough to return to the Royal College of Music, and for a couple of years he was able to lead a sort of normal life. But in September 1922, he was admitted to a mental hospital where he spent the rest of his life until he died of tuberculosis in 1937. He was only forty-seven.
In my post in August, we listened to one of the first great songs that Ivor Gurney composed,
Sleep
, one of the
Five Elizabethan Songs
, composed between 1912 and 1914. At that time, he had also begun to write poetry and despite his poor health, he did it all his life. As for songs, he wrote around three hundred, a third part of them have been published; most of them belong to his most fertile musical period, the years after the war until his hospitalization. We are listening today to one of the few songs (only four or five) that Gurney wrote in the trenches, all of them talking about homesickness and death:
By an Bierside
. It was written in August 1916 and sent by mail to his friend (also a composer) Herbert Howells, the letter said that he would have liked to orchestrate it but for the time being, there was only the piano accompaniment. Howells orchestrated it immediately and his version was released the following year under the direction of Charles Villiers Stanford, one of the most important composers at that time and Gurney's composition teacher at the Royal College of Music.
The poem, by John Masefield, mourns the death of a young warrior. Gurney sings with lyricism the lament of the first three verses with a "conventional" structure but from here he introduces new musical material for each of the five following verses, all of them talking about death; It's worth listening to the song more than once to better appreciate its details. For instance, how the voice
wanders
on the first syllable of "wander" like the soul does, or how the two sentences in the last verse are separated by an interlude. Or how at the end, after what sounds like a postlude, the voice says again how
grand is to die
.
A brief comment before listening to the song, about the post title and the image that illustrates it. The stained glass in the picture is at the
Gloucester Cathedral
and it is dedicated to Ivor Gurney; The composer was born in that city and as a child, he sang in the cathedral choir. The author of the stained glass, Tom Denny, was inspired by different Gurney poems to create the eight windows; the window at the right comes from two poems included in
Severn and Somme
, his first collection, published in 1917:
Pain and Song
(the post title) and
Purple and Black
, that are consecutive at the manuscript.
Now let's listen to the song; Sarah Connolly and Malcolm Martineau performed By a Bearside in their recital at the Schubertiade and we can remember that night by listening to their recorded version. Don't miss it!
By a Bearside

This is a sacred city, built of marvellous earth.
Life was lived nobly there to give such Beauty birth.
Beauty was in that heart and in this eager hand.
Death is so blind and dumb, death does not understand.
Death drifts the brain with dust and soils the young limbs' glory.
Death makes justice a dream and strength a traveller's story.
Death drives the lovely soul to wander under the sky.
Death opens unknown doors. It is most grand to die.