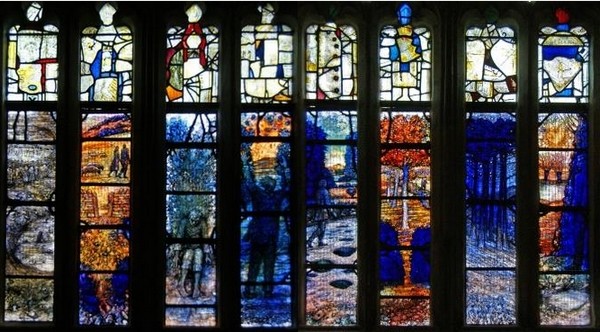 Vitrall en honor d'Ivor Gurney a la catedral de Gloucester
Quan vaig tenir a les mans el programa del recital de Sarah Connolly i Malcolm Martineau a la Schubertíada a Vilabertran els ulls se'm van anar a un nom: Ivor Gurney. Ni Schubert, ni Schumann, ni Britten. Gurney. Em va fer molta il·lusió perquè era un compositor que encara no havia escoltat mai en un recital, només en enregistraments; anava dient a tothom que volgués escoltar-me que a la SV15 tindríem cançons de Gurney i vaig compartir-ne una amb vosaltres. El recital de Connolly i Martineau va ser excel·lent i d'acord amb els comentaris del públic el triomfador de la nit, la gran descoberta, va ser... Gurney! Si ja us ho deia, que pagava la pena d'escoltar-lo...
Aquesta setmana tornem al compositor anglès, com us vaig prometre a l'estiu. Deia llavors que Ivor Gurney pertanyia a la generació que va lluitar a la I Guerra Mundial i la seva història, com la de tants altres homes, és terrible. A l'estiu de 1914, el jove Ivor tenia vint-i-quatre anys i estudiava amb una beca al Royal College of Music. Així que va esclatar la guerra va anar a allistar-se però el van rebutjar per no tenir prou bona vista; el febrer de 1915 el van acceptar i després del període de formació el maig d'aquell any va ser enviat a Flandes. A l'abril de 1917 va ser ferit en un braç i va passar un temporada a l'hospital. Poc després de tornar al front, el setembre de 1917, va ser gasat amb gas mostassa i així va començar realment el desastre per a ell. Fos per les seqüeles del gas, pel trauma de la guerra, perquè va reaparèixer una depressió que havia patit anys enrera, perquè s'havia encomanat de sífili o per tot plegat, Gurney no es va recuperar mai. Va passar la resta de la guerra d'hospital en hospital i va intentar suicidar-se; després va semblar que millorava, almenys prou com per tornar al Royal College of Music, i durant un parell d'anys va anar fent. Però el setembre de 1922 va ingressar en un hospital per a malalts mentals i així va passar la resta de la seva vida fins que va morir de tuberculosi el 1937. Tenia només quaranta-set anys.
A l'
article de l'agost
vam escoltar una de les primeres cançons que va compondre Ivor Gurney,
Sleep
, una de les
Five Elizabethan Songs
, compostes entre 1912 i 1914. En aquella època havia començat també a escriure poesia i malgrat els seus problemes de salut va continuar creant tota la seva vida. Pel que fa a les cançons, en va escriure unes tres-centes, de les quals se n'ha publicat la tercera part; la majoria pertany al seu període més fèrtil pel que fa a la música, els anys que van des de després de la guerra fins a la seva hospitalització. Nosaltres escoltarem avui una de les poques cançons (només quatre o cinc) que Gurney va escriure a les trinxeres, totes parlant de nostàlgia i mort: la colpidora
By a Bierside
. La va escriure l'agost de 1916 i la va enviar per correu al seu amic (també compositor) Herbert Howells, dient-li que li hauria agradat orquestrar-la però que de moment ja faria el fet amb acompanyament de piano. Howells la va orquestrar de seguida i la seva versió es va estrenar l'any següent sota la direcció de Charles Stanford, una de les figures més importants de l'època i professor de composició de Gurney al Royal College of Music.
El poema, de John Masefield, plora la mort d'un jove guerrer; Gurney canta amb lirisme el lament dels tres primers versos amb el que podríem dir-ne una estructura "convencional" però a partir d'aquí introdueix nou material musical per a cadascun dels cinc versos següents, tots ells referits a la mort; val la pena escoltar més d'un cop la cançó per apreciar-ne millor els detalls. Per exemple, com la veu vagareja sobre la primera síl·laba de "
wander
" com ho fa l'ànima o com les dues frases del darrer vers queden separades per un interludi i encara al final, després del que sembla un postludi, torna la veu per dir com és de gran la mort.
Un darrer i breu comentari abans d'escoltar la cançó sobre el títol de l'entrada i la imatge que la il·lustra. El vitrall de la fotografia es pot veure des de l'any passat a la
catedral de Gloucester
i està dedicat a Gurney; el compositor era fill d'aquesta ciutat i havia estat de petit membre del cor i més tard alumne del seu organista. L'autor del vitrall, Tom Denny, es va inspirar en diferents poemes de Gurney per fer els vuit plafons; el de més a la dreta parteix de dos poemes de
Severn and Somme
, el primer volum de poesia de Gurney, publicat el 1917; els poemes són
Song and Pain
(el que he pres com a títol de l'entrada) i
Purple and Black
, que en el manuscrit són consecutius.
Ara sí, passem a la cançó. Sarah Connolly i Malcolm Martineau van cantar
By a Bearside
al seu recital a la Schubertíada i com que la tenen enregistrada escoltarem també la seva versió. No us la perdeu!
By a Bearside

This is a sacred city, built of marvellous earth.
Life was lived nobly there to give such Beauty birth.
Beauty was in that heart and in this eager hand.
Death is so blind and dumb, death does not understand.
Death drifts the brain with dust and soils the young limbs' glory.
Death makes justice a dream and strength a traveller's story.
Death drives the lovely soul to wander under the sky.
Death opens unknown doors. It is most grand to die.
Aquesta és una ciutat sagrada, construïda amb terra meravellosa.
S'hi visqué noblement per donar naixença a tal bellesa.
Hi hagué bellesa en son cor i en la seva mà impacient.
La mort és cega i sorda, la mort no entén res.
La mort omple de pols el cervell i embruta la glòria dels joves membres
La mort fa justícia a un somni i enforteix la història del caminant.
La mort guia l'ànima adorable per vagar sota el cel.
La mort obre portes desconegudes. Morir és molt impressionant.
(traducció de Manuel Capdevila i Font)