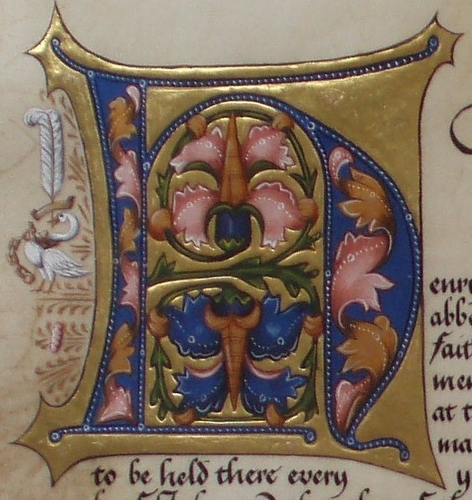 Illuminated Initial "H" from a Prayerbook, 15th century
Here one more letter in my
Liederabend's alphabet
, H is for humour. Yes, you've read that right, humour, sense of humour. I know, most of the songs we usually hear here are sad, or very sad, or rapturous, or solemn; Romantics didn't have much of a sense of humour, and poets were engaged in serious, deep thoughts. But even they couldn't occasionally help laughing! Also, we've often listened to an English or French song, and they usually make us laugh more than a German song. So today we're stopping to go over those fun songs that cheered us up among so much darkness.
I get the feeling that French composers are prone to disguise his sense of humour in their songs, they tell very seriously stories which aren't that so. Maybe it's not the case of Chabrier and his
Les cigales
, but Ravel tells their
Histoires naturelles
in perfect seriousness, and surely that's what makes them so fun. Poulenc demanded that
Le bestiare
was sung with not a bit of irony, and he pushed the boundaries of that disguised humour with his
Chansons gaillardes
: the bawdier the text, the more the music conceals it, and results are really funny.
"Serious" English music has peacefully coexisted with light music, probably that's why many British singers include light songs as encores in their song recitals. That allowed us to listen to
Misalliance
, the sad love story between the right-handed honeysuckle and the left-handed bindweed, or
Green-Eyed Dragon
, a terrifying story about a dragon that dies when it eats a rich plum pie. Then, we have the uninhibited American composers; Charles Ives, and
Memories
, for instance, where two boys are sitting in the opera house waiting for the curtain to arise; Or the beloved Bernstein, with his
recipes
and his
delightful child
. And, if we talk about children, I shouldn't forget those of Mussorgsky, as
naughty
as
innocent
.
Among the German songs we've heard so far, as I told before, there's little humour. I don't know whether we can consider
Das Veilchen
as black humour, not because of Goethe's poem but because of Mozart's approach. Some weeks ago, we listened to a Schubert's funny song,
Liebhaber in alle Gestalten
, and maybe we could also mention
L'incanto degli occhi
; I think that's about it. While revising the songs we've listened so far, I realised that some Mahler and Strauss' lieder could be on this list, but we haven't heard them (a new entry in my blog notebook, of course). No doubt that the Lieder composer with more sense of humour is Hugo Wolf, but we've just listened to two of his funny songs (I wonder if it's me who has a problem with sense of humour!), the lovely
Storchenbotschaft
and
Epiphanias
. Today we're listening to a new one,
Wie
lange schon
war immer
mein
Verlangen
, number 11 from
Italienisches Liederbuch
.
The verses of this song don't give us many clues about what's happening, and neither does the voice when is singing. But the piano... oh Gosh! That's quite a different thing. Let's see: a girl tells that she always wanted a lover who was also a musician. Her prayer is heard, God sends her a violinist, and she's dying to hear him play. During the first verses, the piano doesn't draw our attention, but when she sings that he's coming we realise that something is wrong. Then the girl keeps quiet and listens, and we also hear the violin, transmuted into a piano. The score has the general indication "
Sehr langsam und nicht ohne Humor
" (Very slowly and not without humour) and in the postlude it's very clear: "
recht zaghaft und schwankend
" which could be translated as "very timid and vacillating". The piano writing is not that sophisticated in general, even less in the postlude; however, we can hear the violinist in difficulty. The penultimate measure still insists, "
zögernd
" (hesitantly), and the clumsy violinist must face a trill to finish the song. Will he succeed? Wolf marks a "
langsamer Triller
", a slow trill, so... he won't. In short: we listeners hear a great pianist, as our pianist today, or as Wolf used to be, becoming an intimidated violinist who suffers with an easy score.
We're listening to
Wie lange schon war immer mein Verlangen
with Dawn Upshaw as the young girl and Helmut Deutsch as the violinist. I'm sure he'll draw a smile on your face.
Wie lange schon war immer mein Verlangen

Wie lange schon war immer mein Verlangen:
Ach wäre doch ein Musikus mir gut!
Nun ließ der Herr mich meinen Wunsch erlangen
Und schickt mir einen, ganz wie Milch und Blut.
Da kommt er eben her mit sanfter Miene,
Und senkt den Kopf und spielt die Violine.
How long has my yearning always been:
Ah, if only a musician loved me!
Now the lord has granted me my wish
And sends me one, all pink and white.
Here he comes, with gentle mien,
And lowers his head, and plays the violin.
(translation by Donna Breitzer)