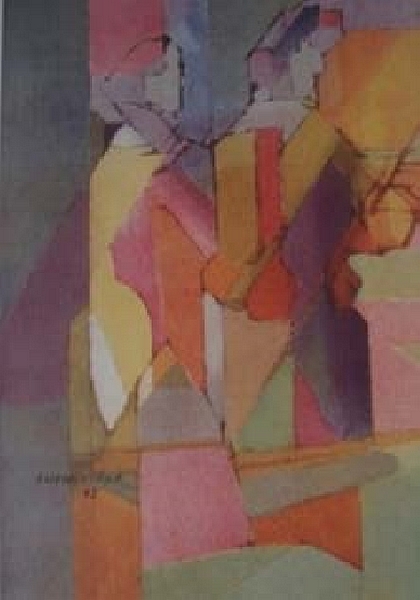 À quatre mains - J. Villon
Jacques Villon is a French painter who lived between 1875 and 1963. He belonged to a family of artists; His real name was Gaston Duchamp and the painters and sculptors Marcel Duchamp, Suzanne Duchamp and Raymond Duchamp-Villon were his brothers (curiously, Raymond also adopted Gaston's pseudonym). Jacques Villon began his career as an illustrator in several magazines; a few years later, he engaged himself into "serious" painting and cultivated different styles such as impressionism, cubism and futurism. His work is extensive, but I would say that he's not as well-known as his contemporaries Picasso, Chagall, Braque, Gris, Klee and Miró (perhaps some art expert could share his or her opinion about Villon).
You might be wondering why I'm talking about painters. I'm doing so because we find Villon and the other six names I mentioned at the song cycle
Le travail du peintre
(The work of the painter), by Francis Poulenc, with poems by Paul Éluard. Like Britten and Auden, whom we were talking about
last week
, Poulenc and Éluard were friends. They met in 1917; the composer was eighteen and the poet twenty-two, and his friendship lasted until Éluard's death in 1952. Poulenc tells about his first impression: "I have to say I was immediately attracted to Éluard. First of all, because he was the only Surrealist who could tolerate music. And also because all his poetry is musical vibration." Despite meeting each other so young, Poulenc did not compose any melody with Éluard's poem until almost twenty years later, in 1935. In all, he wrote thirty-four of them; together with Apollinaire, he was the poet who most frequently visited.
The poems of
Le travail du peintre
are taken from the book
Voir. Poèmes Peintures Dessins
, published in 1948; I would like to have a copy in my hands, because the edition must have been gorgeous: it included sixty-four illustrations, works from thirty-two painters, and forty-four poems referring to these works (many of them published previously). Poulenc, as much a painting lover as his friend as much a painting lover as his frien, had in mind the project of this cycle for a few years; he had even asked him for a poem about Matisse, because he wanted to end the cycle with his light. Éluard, as the composer tells, "half promised" him to write this poem, but Matisse wasn't really his cup of tea and he didn't keep his (half) promise; in 1956, when Poulenc finally composed the cycle, it was too late and he left it "unfinished", closing it with the melody about Jacques Villon, his favourite together with that of Juan Gris.
Jacques Villon
is also my favorite, that's why I wanted to share it with you. I really like the poem (accompanied in Voir by the painting that illustrates this post, À quatre mains), a hymn to life despite all its horrors. The composer described it as "strict and violent"; for me, it's more hopeful than violent, maybe because I don't understand the blood of the last verse as shed blood but as a source of life.
We will listen to this song sung by Pierre Bernac with the composer at the piano. Bernac, his song partner for twenty-five years, tells in his book Francis Poulenc et ses mélodies that the only source of friction about an interpretation they had in all these years was precisely Jacques Villon. The composer had indicated almost the whole score in
fortissimo
, and asked for
forte
at the words "
l'aube l'horizon l'eau l'oiseau l'homme l'amour
" (Dawn horizon water bird man love). For Bernac, these words marked the passage from hate to love and need a
piano subito
; Bernac also discussed the
forte
in "
l'homme léger et bon
" and they finally settled it with a conciliatory mezzoforte, reluctantly accepted by Poulenc. Those two guys should have had such interesting conversations!
Jacques Villon

Irrémédiable vie
Vie à toujours chérir
En dépit des fléaux
Et des morales basses
En dépit des étoiles fausses
Et des cendres envahissantes
En dépit des fièvres grinçantes
Des crimes à hauteur du ventre
Des seins taris des fronts idiots
En dépit des soleils mortels
En dépit des dieux morts
En dépit des mensonges
L'aube l'horizon l'eau
L'oiseau l'homme l'amour
L'homme léger et bon
Adoucissant la terre
Éclaircissant les bois
Illuminant la pierre
Et la rose nocturne
Et le sang de la foule.
Irremediable life
life ever to be cherished
Despite scourges
and base morals
despite false stars
and encroaching ashes
Despite grinding fevers
crimes belly-high
dried up breasts foolish faces
despite the mortal suns
Despite the dead gods
despite the lies
dawn horizon water
bird man love
Man light-hearted and good
smoothing the earth
clearing the woods
illuminating the stone
And the nocturnal rose
and the blood of the crowd.
(translated by Winifred Radford)