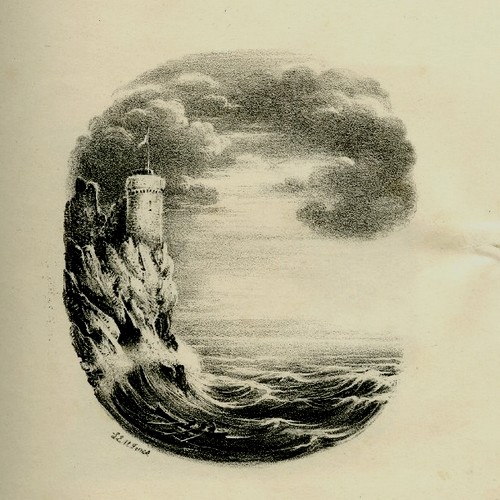 L'alfabet amb paisatges - C. J. Hullmandel (British Museum)
L'
A va ser d'amor
, no podia ser d'una altra manera, quantes cançons a Liederabend no parlen d'amor? La B va ser, també inevitablement, per als
barítons
(i la baritonofília). La C és de contemporani responent a una pregunta que em fan sovint: encara se n'escriuen, de cançons? I la resposta és: i tant! Després ve el matís: no amb la mateixa freqüència que al segle XIX, no cal dir-ho, però se'n fan. Avui n'escoltarem una de preciosa, una cançó d'amor cantada per un baríton. Hi ha coses que no canvien per més anys que passin.
Durant aquests quatre anys hem escoltat
Ai ondas que eu vin veer
(2012), d'Eduardo Soutullo;
Dark House
(2011), de Jonathan Dove;
Das Paradies
(1999) de Hans Werner Henze o
On a echoing road
(1998) de Ned Rorem. Penso que no hi ha gaires dubtes que totes quatre són cançons contemporànies però ¿quants anys ha de tenir una obra com a màxim per continuar fent servir aquest adjectiu? No he trobat una resposta clara a aquesta pregunta; a moltes fonts la "música contemporània" es remunta fins a la fi de la segona guerra mundial i m'he quedat amb aquesta data perquè en el cas del lied en particular té rellevància.
Per a una part dels aficionats el lied va acabar amb Richard Strauss i els seus
Vier letzte Lieder
, compostos el 1948 (així com per a una part dels aficionats a l'òpera aquest gènere va acabar amb Turandot el 1924). Si ens fixem en els programes dels recitals, hi trobem poques cançons posteriors a aquesta data, i si ens fixem en aquest blog, passa si fa no fa el mateix. Per una banda és lògic perquè el lied és un gènere romàntic i el gruix del corpus es va compondre durant el segle XIX, aquell segle que es va allargar fins a la primera guerra mundial. Per altra banda, però, si ens aturem en el 1948 prescindim de les cançons de molts compositors: els que es van exiliar durant la guerra, com
Korngold
o
Eisler
; els que feien les seves primeres obres en aquella època, com
Benjamin Britten
, o una mica després com
Mompou
,
Montsalvatge
o
Walton
, o dels que he esmentat al començament. Això és el que volia recollir en aquesta lletra C de l'abecedari, totes aquestes cançons "post-Strauss" que he procurat no deixar de banda per la senzilla raó que m'agraden, per més que Schubert sigui el rei de la casa.
Avui escoltarem una cançó d'un dels grans músics del segle XX, un senyor que m'agrada moltíssim: Leonard Bernstein. Recordeu que fa un temps vam parlar de
La bonne cuisine
, un cicle de quatre cançons que tenen com a textos receptes de cuina? Aquest cicle tan divertit i un parell més els va escriure als anys quaranta del segle XX; fins passats trenta anys no en va escriure el següent,
Songfest
, una obra encarregada per celebrar el bicentenari de la independència dels Estats Units el 1976. No va estar enllestit a temps i finalment es va estrenar l'octubre de 1977, tot i que algunes cançons ja s'havien interpretat uns mesos abans.
Songfest
és un cicle de dotze cançons per a sis cantants i orquestra amb el qual Bernstein va voler fer un retrat atípic de la societat americana durant tres-cents anys d'història; per això va triar tretze poemes de tretze escriptors que, d'una manera o una altra se sortien de la norma, des d'Anne Bradstreet, que va arribar a Nova Anglaterra el 1630, fins a contemporanis seus com June Jordan o Gregory Corso. Entre aquests escriptors hi ha
Walt Whitman
, de qui ja vam parlar fa uns mesos.
Bernstein va triar un poema de Whitman,
To what you said
, que molt poca gent coneixia perquè s'havia trobat per casualitat només uns anys abans en el manuscrit d'una de les seves obres,
Democratic Vistas
; Whitman, com tanta gent, reaprofitava el paper. No se sap del cert quan va escriure aquest poema; una teoria diu que era part de
Calamus
i que no es va publicar perquè era massa explícit. Aquesta teoria té dos punts febles: el primer, que hi ha molts poemes a
Calamus
més explícits que aquest; el segon, que entre
Calamus
i
Democratic Vistas
hi ha deu anys de diferència i normalment no conservem els paperots durant tant de temps abans de reutilitzar-los. Una altra teoria diu que és a l'inrevés, que
To what you said
està escrit reaprofitant un dels fulls de
Democratic Vistas
, i per tant és posterior a 1871. Aquesta teoria lliga amb una altra hipòtesi, que la destinatària del poema fos l'escriptora Anne Gilchrist, amb qui finalment s'havien conegut en persona el després d'anys de relació espistolar i a la qual donava carbasses amb aquests versos. Això també explicaria que Whitman no hagués publicat el poema, per delicadesa; només li faltava a la senyora Gilchrist que les coneixences comunes la reconeguessin en els versos. Si aquestes històries de papers reaprofitats i elucubracions us agraden tant com a mi, us recomano que llegiu l'article
A Study of the Text and Music for Whitman's "To What You Said"
, escrit per Thomas Hampson i Carla Maria Verdino-Süllwold el 1995.
El poema de Whitman és directe i delicat alhora, i Bernstein en va fer una melancòlica cançó. En la primera versió del cicle, l'orquestral, la cançó era per a baix; tot just després de l'estrena va publicar la versió amb acompanyament de piano i aquesta és la que escoltarem nosaltres, intepretada per Thomas Hampson i Craig Rutenberg.
To what you said

To what you said, passionately clasping my hand, this is my answer:
Though you have strayed hither, for my sake, you can never belong to me,
Nor I to you,
Behold the customary loves and friendships the cold guards
l am that rough and simple person
l am he who kisses his comrade lightly on the lips at parting,
And l am one who is kissed in return,
I introduce that new American salute
Behold love choked, correct, polite, always suspicious
Behold the received models of the parlors --
What are they to me?
What to these young men that travel with me?
Al que em vas dir, prement apassionadament la meva mà, aquesta és la meva resposta:
Encara que ho deixis tot per mi, no em podràs pertànyer mai,
ni jo a tu,
observa els amors i les amistats convencionals que el fred guarda.
Jo sóc aquella persona tosca i senzilla,
jo sóc qui besa lleugerament als llavis el seu camarada quan marxa
i sóc el que igualment és besat,
jo presento aquesta nova salutació americana.
Observa l'amor sufocat, correcte, educat, sempre sospitós,
observa els models admesos als salons,
Què són per a mi?
Què són per a aquests joves que viatgen amb mi?