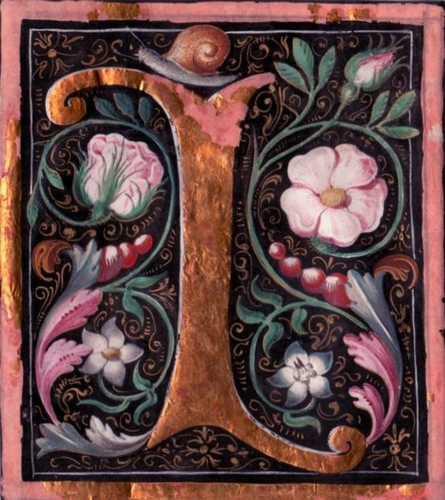 I d'idil·li. No d'idil·li entès en la seva accepció original, "gènere poètic que descriu la vida rústica, els amors dels pastors, en una perspectiva de felicitat ideal" sinó en la més moderna d'història d'amor en sentit ampli. No fa gaire em vaig adonar que us havia explicat amb més o menys detall unes quantes històries d'amor relacionades bé amb un poeta, bé amb un compositor, bé amb tots dos; una mena de crònica rosa involuntària del lied prou extensa com per merèixer una lletra a l'
alfabet de Liederabend
.
El primer idil·li que us vaig explicar, si no vaig errada, va ser el de Josep Janés i Maria Victoria, que va inspirar el poemari
Combat del somni
, del qual Frederic Mompou va musicar cinc poemes. Després, seguint amb els poetes enamorats, va venir la història d'Henri Duparc i Ellie McSwiney, qui seria la seva muller durant cinquanta-tres anys, després que el pare d'ell, en desacord amb el prometatge, imposés tres anys d'espera per assegurar-se que aquella relació no era un caprici del seu fill. Ellie va inspirar, entre d'altres, la meravellosa
Chanson triste
. També vam parlar de Heinrich Heine i la seva dona, Mathilde (nascuda Eugenie Mirat), quan vam escoltar
Verfehlte Liebe
. L'escriptor Louis MacNiece va dedicar el seu volum de poesia
Plant and Phantom
a la també escriptora Eleanor Clark, amb qui va tenir una breu relació; amb l'últim poema,
Sleep, my darling, sleep
, Benjamin Britten va compondre la seva
Cradle Song for Eleanor
. Una altra història d'amor va ser la de Victor Hugo i Juliette Drouet, que, fent servir una paraula antiga, va ser la seva amistançada durant més de cinquanta anys; Gabriel Fauré, amb només quinze anys, va compondre la seva primera obra, la deliciosa cançó
Le papillon et la fleur
a partir d'un dels poemes dedicats a Juliette. I, de moment, l'últim idi·li d'un poeta que us he explicat és el que va mantenir Johann Wolfgang von Goethe amb Charlotte von Stein, de la qual
Rastlose Liebe
n'és una conseqüència.
Els
Seven Sonnets of Michelangelo
tenen al darrera dues històries d'amor: Miquel Àngel va escriure els sonets per a Tommaso Cavalieri, quaranta anys més jove que ell i Britten les cançons per a Peter Pears, va ser la primera obra que va compondre per a ell. Continuant amb els compositors, us he parlat de Franz Schubert i Therese Grob, a la qual va regalar el que es coneix com a "Quadern de Therese", una col·lecció de disset lieder, entre ells
Edone
. També, molt breument i aquí i allà, de Richard Strauss i Pauline de Ahna; del regal de noces que li va fer el compositor a la seva dona, els
Vier Lieder
, op. 27 (
Morgen
i
Cäcilie
entre ells), o el seu regal quan va néixer el seu primer fill,
Ich liebe dich
. També de Gustav Mahler i Alma Schindler, i una preciositat que va néixer de la seva història d'amor,
Liebst du um Schönheit
. A Mahler, a més, el tenim com a compositor i poeta amb un altre idil·li, el que va tenir amb la cantant Johanna Richter: pensant en ella va escriure uns poemes que es van acabar convertint en les
Cançons del camarada errant
.
Si us dic la veritat, no m'acabo de sentir còmoda explicant aquestes històries, i encara menys remenant cartes i diaris; m'hi sento tafanera, més com més recents són els protagonistes. Quan llegeixo que tal o qual personatge va cremar les seves cartes o va deixar instruccions perquè els seus hereus ho fessin no puc evitar pensar: ben fet! Per altra banda, aquestes històries ens donen context i informació per conèixer millor poemes i cançons així que... continuaré explicant idil·lis. De fet, tinc anotades un parell de cançons amb història d'amor tant de poeta com de compositor al darrera (per separat, cadascun la seva); havia pensat explicar-les en aquesta entrada però quedaria massa llarga així que he deixat pel final l'idil·li més famós i més fructífer musicalment parlant de la història del lied, el de Robert Schumann i Clara Wieck. No sé si hi ha cap lied del 1840 que Robert no compongués per a Clara! Avui en sentirem un més, inclòs a
Myrten
, el seu regal de noces.
Der Nussbaum
, el tercer lied del cicle, és un dels més coneguts. El poema és del quasi desconegut Julius Mosen, i podem pensar que Schumann el va triar no tant per les seves virtuts poètiques com per l'escena que descriu: una noia asseguda a la porta de casa seva, a sota d'una noguera, somia dia i nit sense saber ben bé què somia. Les flors de la noguera sí ho saben: tot xiuxiuejant parlen d'un promés, i d'un casament el proper any... No sé si les nogueres ja estan florint, però ara que tot just estrenem la primavera no ens costarà gaire d'imaginar les flors acariciades pel vent, i el somriure embadalit de la noia... Der Nussbaum és una cançó gairebé etèria, on la veu sovint queda en suspens i el piano acaba la frase amb el seu motiu tan característic... Quan Schumann li va enviar la partitura a Clara li va dir: "Canta-la suament i amb senzillesa, així com ets tu" (Ho veieu? Ja estem una altra vegada remenant cartes privades). La nostra versió, amb Victòria dels Àngels i Gerald Moore, en un enregistrament de 1951, ens portarà l'aroma de la noguera i ens farà somriure també.
Der Nussbaum

Es grünet ein Nussbaum, vor dem Haus,
Duftig,
Luftig
Breitet er blättrig die Blätter aus.
Viel liebliche Blüten stehen d'ran,
Linde
Winde
Kommen, sie herzlich zu umfahn.
Es flüstern je zwei zu zwei gepaart,
Neigend,
Beugend
Zierlich zum Kusse die Häuptchen zart.
Sie flüstern von einem Mägdlein, das
Dächte
Die Nächte
Und Tagelang, wüsste ach! selber nicht was.
Sie flüstern – wer mag verstehen so gar
Leise
Weis'?
Flüstern von Bräut'gam und nächstem Jahr.
Das Mägdlien horchet, es rauscht im Baum;
Sehnend,
Wähnend
Sinkt es lächelnd in Schlaf und Traum.
Verdeja un noguer davant de la casa,
Olorós,
airós,
extenent les seves branques plenes de fulles.
Moltes flors amoroses són allà;
amables
vents
vénen, per acariciar-les carinyosament.
Xiuxiuegen aparellades de dues en dues,
Inclinades,
doblegades
gràcilment per besar els sus tendres capets.
Xiuxiuegen d'una noia
Que pensava
Les nits
I el llarg del dia, sense saber, ai! ni ella mateixa el què!
Elles xiuxiuegen -- qui comprèn tan
suau
cançó? -
Xiuxiuegen sobre el promès I el pròxim any.
La noia escolta, hi ha murmuris a l'arbre;
sospirant,
desitjant,
caient somrient en el son i el somni.
(traducció de Salvador Pila)