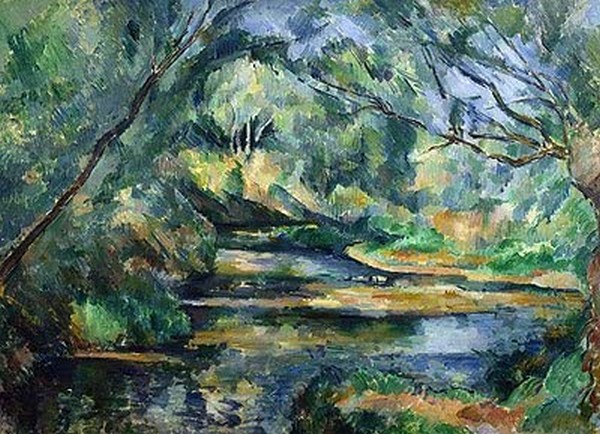 El rierol - P. Cézanne
The Schubertíada begins in a week and I'm starting with this post the miniseries about the recitals there. As usual, they'll be shorter posts that intend to be useful to refresh the Lieder performed at the festival.
To begin with, the two first recitals, those of Florian Boesch and Malcolm Martineau on Thursday 20 and Juliane Banse and Wolfram Rieger on Friday 21. The first duo will perform Die schöne Müllerin and the second one, Winterreise, two works that have in common the great team made up of Franz Schubert and Wilhelm Müller. I've talked at length on them, but I think it's the first time that I talk about both at one time.
The two cycles also have in common that the main character is a wanderer, although their reasons for leaving home and wandering are different. The poetic speaker of Die schöne Müllerin is a very young boy, probably a teenager that asks his parents to leave for a job as an apprentice; he leaves excited, his eyes sparkling with joy. On the contrary, the man in Winterreise has his eyes filled with tears and his hopes are dashed when he leaves. I imagine him young but mature, because of his tendency to introspection and his ability to analyse himself.
We find In both cases a love disappointment; in Die schöne Müllerin, it triggers the end of the cycle; in Winterreise, it's the starting point. In both cases the beloved is in the background, as if she were just an idea. She doesn't even have a name; we can call "the miller maid" one of them, but the other is just "the girl".
The two works are also linked by a few words, Gute Nacht [Good Night], which end one cycle and start the other. Could we assume, according to this, that both wanderer are the same person? That's a not infrequent hypothesis, but the truth is that I don't see it that way. Firstly, the miller shouldn't die at the end of the cycle, of course. The two last songs could be seen as a symbolic death: the young man would leave, while his innocence would remain at the bottom of the brook. Florian Boesch himself gives a similar interpretation in this interview. If the miller survives the love disappointment, we could find him working in another mill a few years later, because it's explained at the beginning of Winterreise that the young man lives with the family of his beloved. However, I always think about him as a tutor, an assistant or a distant relative.
Well, we can imagine many stories, but we will all agree that, despite some similarities we can find, both cycles have a completely different nature, both poems and music, and they also arouse different feelings: a sweet sadness the first one, a bitter sorrow the second one. And let me stop here, because this was supposed to be a short post.
As a musical illustration, I chose Danksagung an den Bach, the fourth song of Die schöne Müllerin, a work that Florian Boesch and Malcolm Martineau recorded together. In the previous Lied, Halt!, the young apprentice stops, euphoric, when he finds the mill, and the song ends with a question: "War es also gemeint?" [Was this, then, what you meant]. Danksagung an den Bach [Thanks to the brook] begins with this same question; now the young man has met the miller maid and tells us about her or, rather, talks the stream about her. It's a quiet, beautiful song, which reveals to us that the boy has fallen in love.
Besides this new song, you have below the songs of both cycles we heard so far; you will find details about the cycle in most of the posts.
Die schöne Müllerin
Winterreise
Danksagung an den Bach
War es also gemeint,
Mein rauschender Freund,
Dein Singen, dein Klingen,
War es also gemeint?
Zur Müllerin hin!
So lautet der Sinn.
Gelt, hab' ich's verstanden?
Zur Müllerin hin!
Hat sie dich geschickt?
Oder hast mich berückt?
Das möcht' ich noch wissen,
Ob sie dich geschickt.
Nun wie's auch mag sein,
Ich gebe mich drein:
Was ich such', hab' ich funden,
Wie's immer mag sein.
Nach Arbeit ich frug,
Nun hab' ich genug,
Für die Hände, für's Herze
Vollauf genug!
Was this, then, what you meant,
My rushing friend?
Your singing and your ringing?
Was this what you meant?
To the miller-maid!
it seems to say...
Have I understood?
To the miller-maid!
Has she sent you?
Or am I deluding myself?
I would like to know,
Whether she has sent you.
Now, however it may be,
I commit myself!
What I sought, I have found.
However it may be.
After work I ask,
Now have I enough
for my hands and my heart?
Completely enough!
(translation by Emily Ezust)
Articles relacionats